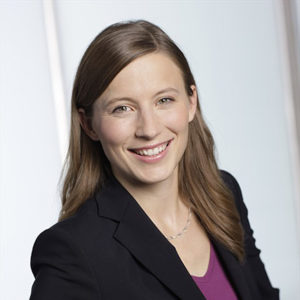 The battle to increase its carbon efficiency is one that Deutsche Post DHL Group seems to be winning. "At the heart of our GoGreen environmental protection program is the goal we set ourselves in 2008 – to improve our CO2 efficiency by 30% by the year 2020," says Katharina Tomoff, VP shared value, GoGreen at Deutsche Post DHL Group. "We have improved year-on-year, and by 2015 had increased our efficiency by 25%. We're very confident about reaching our 2020 target."
') } else { console.log ('nompuad'); document.write('') } // -->
Tomoff explains some of the initiatives in place: "We are constantly making improvements to our vehicle fleet and infrastructure, while optimizing the operations of our transport subcontractors, which generate the majority of our emissions," she says. "These efforts focus on reducing energy consumption and the use of alternative drive systems and fuels."
') } else if (width >= 425) { console.log ('largescreen'); document.write('') } else { console.log ('nompuad'); document.write('') } // -->
Efficiency measures such as aerodynamics, telematics and eco-chip tuning – applied to Deutsche Post DHL Group's global environmentally optimized fleet, amounting to 13,500 vehicles – is only part of the story. The group uses an increasing number of electric vehicles, with numbers rising from 350 to 880 in 2015 alone. For last-mile delivery, in 2016 the group began the series production of its own electric delivery vehicle – the StreetScooter.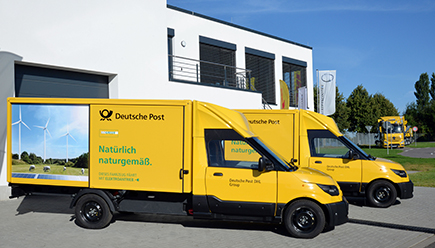 "The StreetScooter is a real green success story," says Tomoff. "Key criteria during its development were to make it both durable and optimized for delivery operations, which is why we included our couriers in the development process." This makes the StreetScooter a true Deutsche Post DHL Group product, custom-built to meet the needs of its workers. "The vehicle uses renewable electricity and is extremely efficient and ergonomics. It has passed field tests with flying colors," Tomoff adds.
"Around 2,000 StreetScooters will be in operation by the end of 2016. In 2017, production will expand to 10,000 vehicles, and we have recently presented a second model, the Work L, which features twice as much cargo space as the standard version." With such environmental knowledge – and tried and tested methods for reducing carbon emissions – has the company ever considered offering advice to others? "Yes, we already offer our expertise to customers through our GoGreen services," Tomoff confirms. "We provide customized solutions to optimize the supply chains of our customers in order to reduce greenhouse gas emissions."
In the meantime, Tomoff is happy to offer a few basic tips to companies hoping to match Deutsche Post DHL Group's environmental record. "It's important to begin with your customers' needs," she says. "Our customers are mindful of carbon emissions, and also local pollution, noise and waste. It is all about shared value – implementing initiatives which are good for business, as well as for the environment. The two must go hand-in-hand in order to be successful and sustainable. Managers must also buy into the idea. This works better if you show them how the initiatives can be good for business.
---
Environmental Achievement of the Year Shortlist:
Bpost
United Parcel Service (UPS)
United States Postal Service (USPS)
Deutsche Post DHL Group
OSCAR, the UPU's climate solution