PackRobot is an automated smart storage locker, which uses an innovative 3D lift system to store and retrieve parcels. It is a collaboration between two firms – Cleveron, based in Estonia, and Bell and Howell, based in Chicago, USA. Nara Abbaszade, business development manager at Bell and Howell, explains the setup: "Cleveron is the original developer of PackRobot, and conceived, designed and manufactured the system. As the exclusive distribution partner in North America, Bell and Howell has guided its adaptation for use in the region, identifying changes to support software integration, regulatory compliance and serviceability."
A single PackRobot can hold more than 500 parcels, features climate control, weighing and measuring, has sensors and cameras for security and maintenance, and can be accessed by delivery companies or recipients using smartphone and smartwatch apps. Bell and Howell believes such storage innovations will be a huge growth area over the next 10 years, and began working with Cleveron in 2015.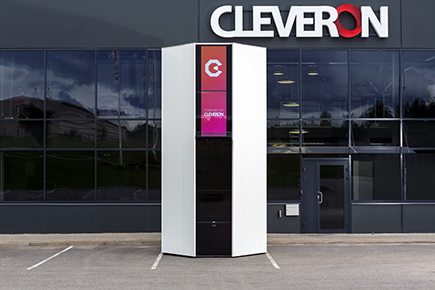 For Arno Kütt, Cleveron's founder and CEO, PackRobot had already achieved a small following by that point. "We came up with the idea in 2011, and in 2014 the first prototype had been installed in a shopping mall," he reveals.
Bell and Howell is already planning to introduce PackRobot to retailers, universities, and parcel delivery and logistics companies across the US. For Estonia, there is a slightly different approach, with Cleveron launching its own branded network of PackRobots, called CollectNet.
"The open network is accessible for every company and logistics firm in Estonia," adds Kütt. "CollectNet is a concept that works like an airport – instead of each airline building their own, all use a single location." In the future, Cleveron has plans to develop the technology further. "We are currently developing a modular version of PackRobot, which will expand the possibilities," Kütt reveals. "We are also actively testing the integration of drones into our system."
---
Delivery Innovation of the Year Shortlist:
Bpost's Bringer app
Lithuania Post's new SMS service
DPD Precise
Prime Vision's Smart Lock concept
Keba's on-site KePol parcel container
PackRobot by Cleveron, and Bell and Howell
SingPost Rent-a-POP service