Download apps
Download the Postal and Parcel Technology International App NOW to read the latest issue! The App is free and gives you access to a library of back issues.
---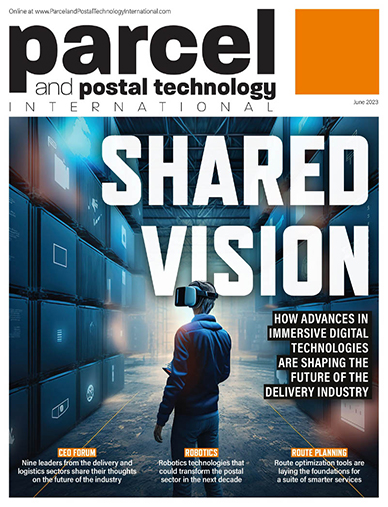 The June 2023 issue is now available online! Packed full of news, interviews and features, including:
Virtual Reality : According to the chief operating officer of supply chain consultancy TMX Global in Asia, Carl Hemus, "The metaverse is the future for supply chain designs. It can bring plans to life, digitally." And it is this capability that could help shippers and logistics firms cut development costs, improve supply chain visibility and optimization, problem solve, and quickly test new solutions before they reach the market.
CEO Forum : The delivery and logistics market has been through a turbulent period, from sky-high parcel volumes accelerated by the pandemic, to forming contingency plans to tackle staff shortages, through to automation and digitalization, all while investing in breakthrough technologies to reduce carbon emissions.
Robotics : According to a report from Future Market Insights in February, the logistics robots market is expected to grow at a CAGR of 16.5% over the next 10 years, with the market value increasing from US$8.28bn in 2023 to a predicted US$38.18bn a decade later.​​​​​​​
Route Optimization : The parcel and postal sector has been challenged by a decade of disruptive events. Already adopting electric fleets, automation and digitalization, the industry began the 2020s facing pandemic-fueled demand for home deliveries, closely followed by a once-in-a-generation spike in energy prices and global component shortages that have affected vehicle lifespans, running costs and downtime.
Interview: Canada Post : On the face of it, Canada looks like a tough place to electrify last-mile delivery. Remote communities abound in the world's secondlargest country and many of its 39.5 million inhabitants experience a long, cold winter. But around 90% of Canadians live in major cities in the south, within 160km of the US border.
Handheld Technology : As parcel volumes have soared, so too has the demand for handheld tech that can help improve the delivery process – particularly in the last mile where fast routing and proof of delivery are vital functions for drivers already stressed by tighter-than-ever schedules.​​​​​​​

---
Note to iPad and iPhone readers: to view this digital edition with the latest interactive features, please ensure you have upgraded your tablet or iPhone to at least the iOS 5 Operating System.
Note to Android tablet and Android phone readers: to view this digital edition with the latest interactive features, please ensure you have upgraded your tablet or Android phone to at least the Version 4.0 Operating System.