The winners of this year's Parcel and Postal Technology International Awards have been announced during a live evening awards ceremony at PARCEL+POST EXPO in Frankfurt, Germany. The ceremony, held on Tuesday, October 18, revealed who triumphed in each of the eight award categories.
Service Provider of the Year: Ukrposhta
This year's top prize of Service Provider of the Year was collected by an emotional Julia Pavlenko, director of international, operations department at Ukrposhta, who delivered an impassioned speech praising her colleagues on the dedication shown working under the most extreme circumstances. For more than seven months, Ukrposhta has been working in war conditions every day. On the second day of the invasion, Ukrposhta reopened its post offices all over the war-torn country. Within a week, export to all destinations was resumed, despite the suspension of flights from Ukraine.
During that time the national postal operator has processed 23.5 million money transfers and pensions, and delivered 2,700,000kg of exports for more than 30,000 entrepreneurs. Ukrposhta also launched postal railway carriages to transport 40 million letters and 16.3 million parcels across Ukraine.
To date, more than 900 of Ukrposhta's postal facilities have been damaged in the war. As a result, nearly 1,800 mobile post offices have been put into daily operation to serve people in the liberated areas, where post office buildings had been destroyed by Russian missiles and tanks.
Also shortlisted:
PostLocal – marketplace linking SME online sellers with local delivery partners
Pos Malaysia – post-covid transformation and digitalization program including seven-day pickup and extended opening hours
Cainiao Network – launch of regional eHubs at Kuala Lumpur and Liege airports
DHL Group – record revenue for 2021 with increase of more than 22% YoY
Supplier of the Year: Beumer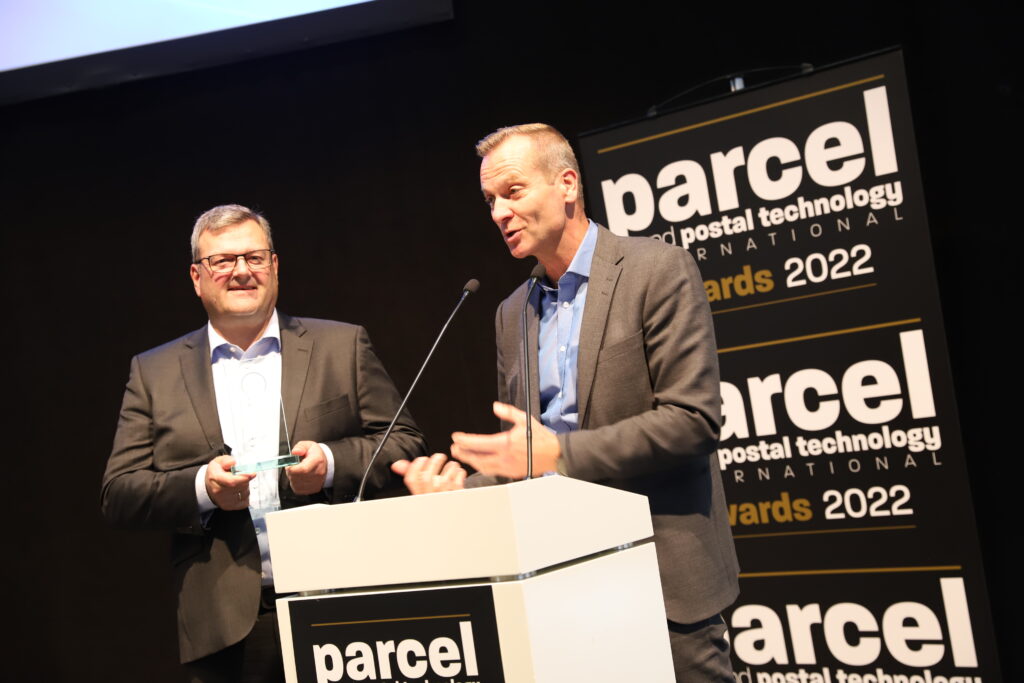 Beumer Group has succeeded in extending its automated solutions to relieve the last-mile pains of the courier, express and parcel industry.
Through its innovative system design, Beumer Group has focused on enabling a more efficient way of sorting the growing number of small and medium-sized e-commerce parcels handled by operators such as DHL, Royal Mail and FedEx.
With the introduction of new technologies, such as its BG Pouch System, Beumer Group has continuously contributed to increasing the flexibility of sorting within today's modern parcels hubs with the aim of eliminating the challenges associated with handling the growing amount of small and irregular-shaped parcels.
Also shortlisted:
Quadient – rollout of Parcel Pending carrier-agnostic smart locker network in the UK
MyFlexBox – agnostic smart locker network in Austria and Germany that integrates the top four courier, express and parcel service partners (CEPs) on one platform
Geek+ – completion of several high-profile mobile sorting robot contracts globally plus introduction of its PopPick goods-to-person robotic solution
Cleveron Mobility – Europe's first parcel delivery using autonomous unmanned vehicle on public roads
Kodiak Robotics – autonomous freight delivery partnerships and safeguard technology
Business Diversification of the Year: Norway Post – Glow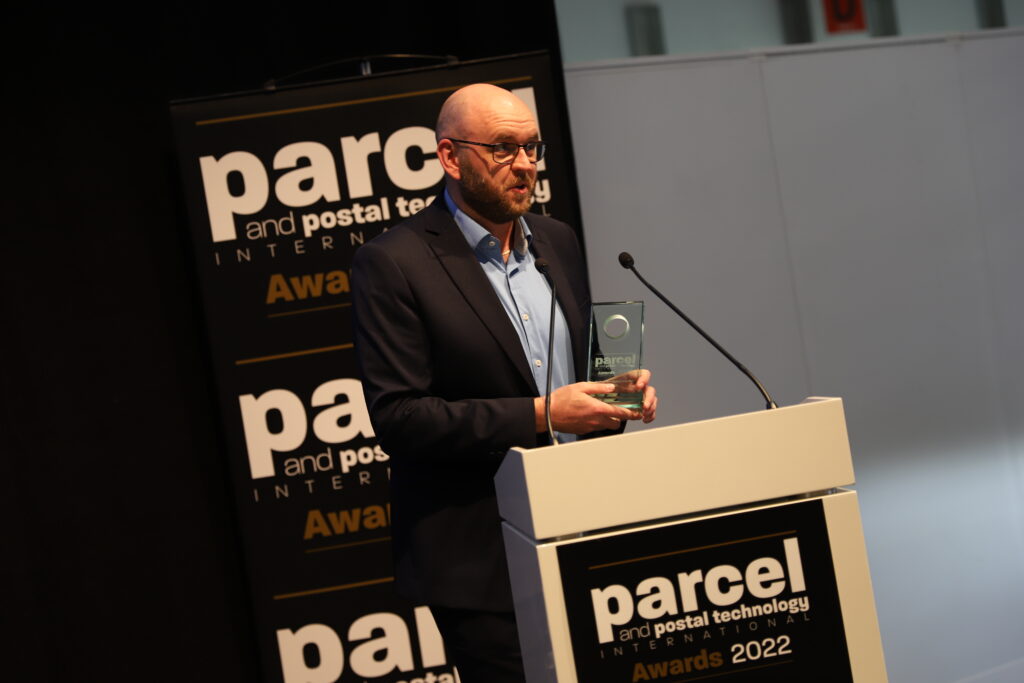 Norway Post began offering its in-house-developed delivery platform Glow to logistics providers and retailers all over Europe as a Software as a Service (SaaS) product, generating a new revenue stream for the business.
Glow is more than just a traditional transport management system (TMS). The SaaS platform has a strong focus on the recipient experience and was designed for all actors involved in the delivery space. Its modular design enables it to be used as a full TMS or just as a last-mile orchestration delivery system. This, and its best-in-class driver app, provides an impressive recipient experience.
Also shortlisted:
Kern – addition of e-commerce marketplace Manzaning to Kern's locker and PUDO offerings
Correos Cash – cash withdrawals and deposit service
Pos Malaysia – cash-on-delivery offering
Cainiao Network – launch of a digital e-commerce logistics solution on Shoplazza
Post Fiji – selling groceries and household products at post offices
Last-Mile Delivery Innovation of the Year: Sew-Eurodrive – innovative delivery robots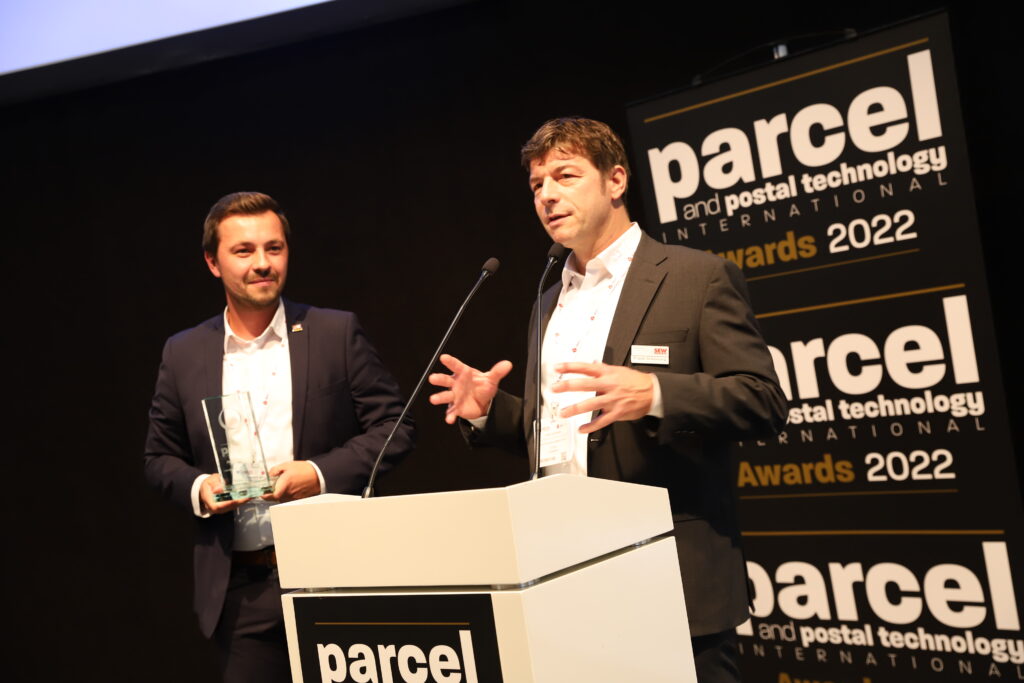 Sew-Eurodrive has developed an innovative delivery robot for use in and around warehousing and sorting facilities, as well as for the last mile in urban logistics.
With its many special technical features, the delivery robot makes urban last-mile delivery more cost-effective while also reducing congestion. Its specially developed all-wheel-drive system and chassis not only enable the vehicle to negotiate uneven surfaces, edges and inclines but also ensures permanent contact with the ground for maximum all-terrain use.
The MoviTrans contactless energy transfer system also enables the delivery robot to absorb energy via a charging point on the floor, meaning the system is virtually maintenance-free.
Also shortlisted:
Adiona – FlexOps last-mile delivery platform
Quadient – rollout of Parcel Pending carrier-agnostic smart locker network in the UK
Sort&Group Solutions – AI-based planning tool
PostEurop – COG-LO project examining opportunities for cognitive logistics and ad-hoc collaborations from growth in e-commerce
SwipBox – parcel locker location generator tool
Transport Innovation of the Year: PostNord – automated truck fill-rate measurement tool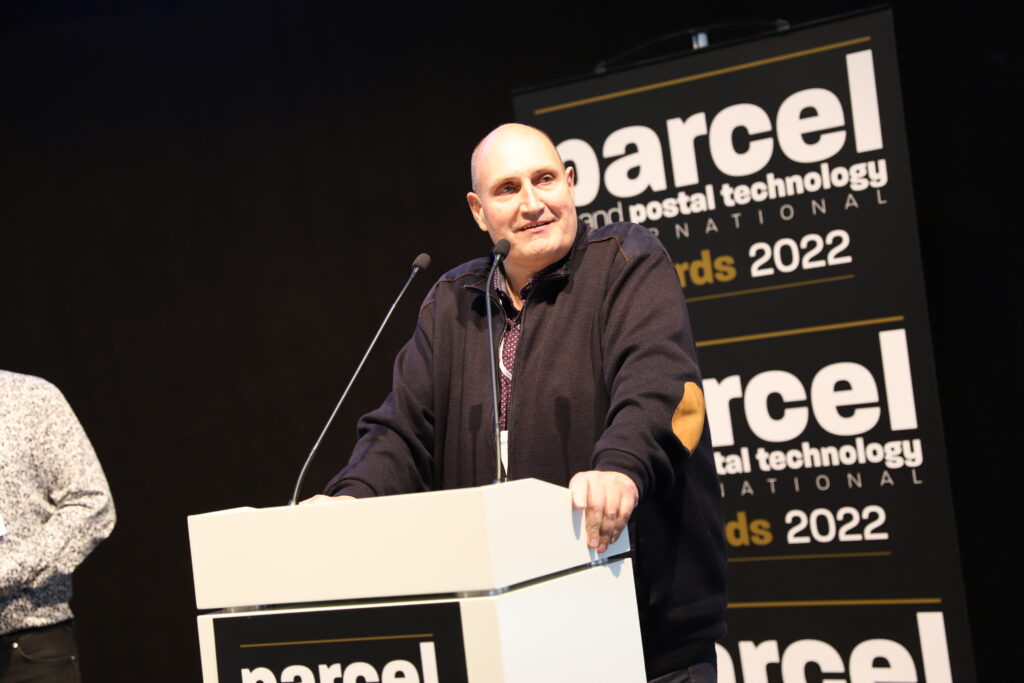 For many logistics operators, certain KPIs are still dependent on manual processes – such as PostNord's fill-rate KPI – which require production staff to scan the first and last parcels being loaded into a carrier.
PostNord's cost-leadership program looked to create a more valid and automated way of capturing fill rate in its line-haul network.
The resulting automated truck fill-rate measurement tool uses computer vision implemented on existing surveillance cameras to ensure that the capacity of the trucks is fully utilized, helping to optimize planning and operations.
This industry-first initiative has helped PostNord achieve a paradigm shift in line-haul operations.
Also shortlisted:
Correos – Correos Frío temperature-controlled delivery
Gaius – Rapide 3 electric three-wheel vehicle
An Post – hydro-treated vegetable oil (HVO) HGV project
Renault Trucks – launch of E-Tech Master OptiModale delivery vehicle
Dronamics – Black Swan cargo drone for global freight (long distance)
Sorting and Fulfillment Technology of the Year: DPD NL – Parcel Intelligence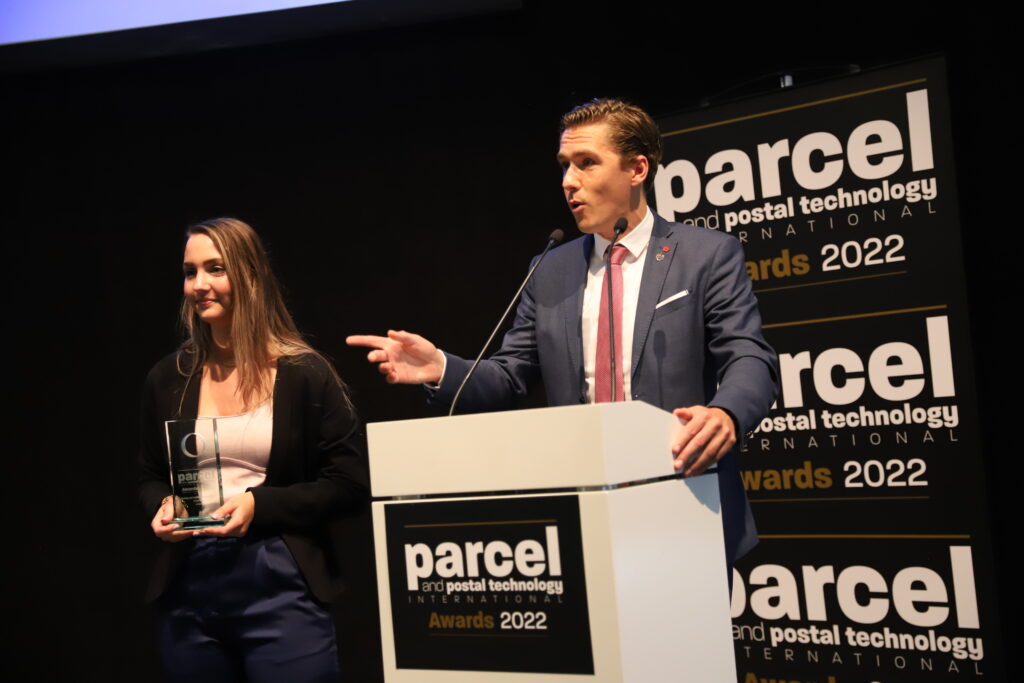 DPD NL collaborated with Countercheck to create Parcel Intelligence. With 99.9% accuracy from its machine learning technology, DPD NL began utilizing machine learning to protect its employees and society, aiming to replicate airport-level security.
DPD NL created special processing flows for parcels containing illicit goods as well as those with hazardous labels such as LQ and ADR. Pilots began in September 2021, with the final solution activated in January 2022. Since its activation, Parcel Intelligence has intercepted illicit items with a combined street value of €5m (US$4.9m), including drugs, guns, ammunition, fireworks, explosives, and counterfeit products.
The same software is also being utilized to make DPD NL's sorters even smarter, influencing performance, downtime, throughput, wrong addresses, misrouted parcels from other carriers, and deviating parcel content.
Also shortlisted:
Prime Vision – Smart Store secure storage of parcel images
VarioPick – robotic solution for robotic picking from Körber Supply Chain Logistics
Asendia UK – automated sorting and robotics for over-labeling parcels
Tompkins Robotics – xChange AMR autonomous tote exchange robot
SwissSort – E-Sorter eco-friendly switch wheel and crossbelt sorting system
Packaging Innovation of the Year: Bpost/Hipli – parcel packaging that can be reused 100 times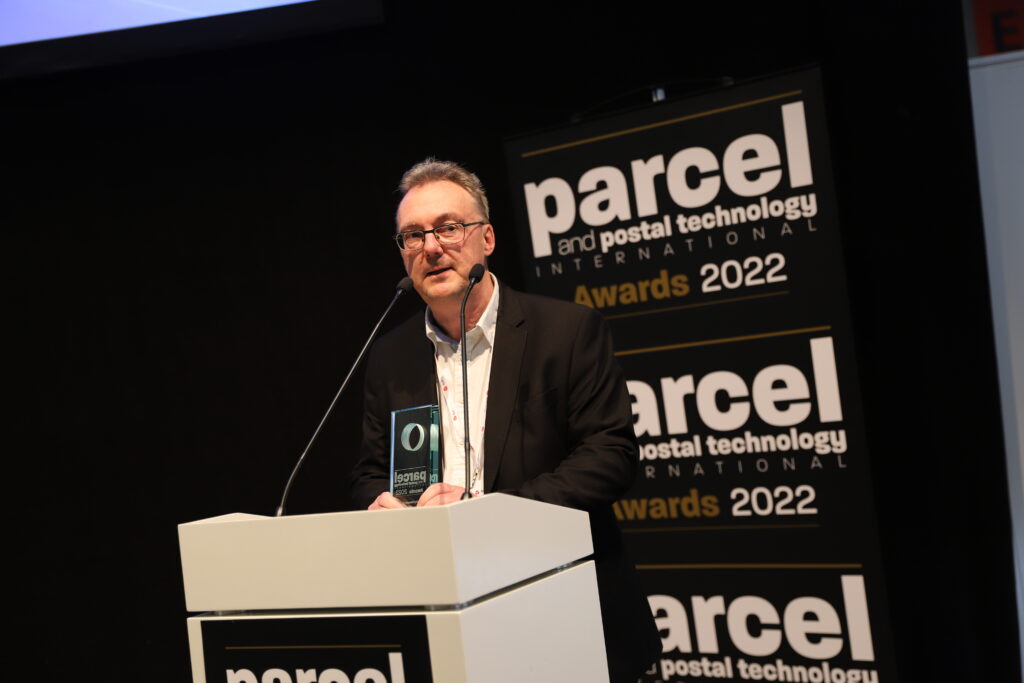 In June 2022, postal operator bpost began testing reusable packaging in the Belgian market. The company offered two large national retailers – AS Adventure and Torfs – the opportunity to use a green alternative to their usual packaging, with reusable, water-tight and tearproof packaging from French company Hipli.
Following delivery, consumers can return the empty bags via a Red Mailbox or one of 2,000 bpost drop-off points, or take them to the retailers' stores directly.
The packaging is then cleaned by bpost and returned to the retailer for reuse. The packaging can be reused up to 100 times, thereby reducing waste and the impact of e-commerce on the environment.
Also shortlisted:
DPD/Vinted – reusable packaging pilot
TubeSense – secure transportation of biomedical samples and temperature-sensitive pharmaceuticals
Sparck Technologies – versatile print-on-box system for CVP Impack and Everest packaging solutions
DHL Supply Chain – launch of AI-based optimized packaging system
GXO Logistics – Small Order Automated Packing (SOAP)
Environmental Achievement of the Year: An Post – hydro-treated vegetable oil (HVO) HGV project
An Post is Ireland's national postal operator, serving 2.2 million addresses every working day and more than 1.7 million post office customers every week. It employs over 9,000 people, making it one of Ireland's largest companies.
In September 2021, as part of the organization's commitment to the UN's sustainability goals, An Post became the first company in Ireland to trial the use of hydro-treated vegetable oil (HVO) for fleet fuel. By January 2022, its trucks had already traveled more than 119,000km on HVO fuel. This resulted in a 91.8% reduction in carbon emissions compared with diesel fuel.
Also shortlisted:
Correos – Responsible Deliveries, a non-urgent eco-delivery service
Cainiao Network – carbon-neutral bonded warehouse zone
Asendia – 100% carbon-neutral international e-commerce shipping service
Amazon UK – first UK micromobility hub for London deliveries
Canada Post – committing C$1bn (US$727.3m) to reach net zero by 2050 – full fleet of 14,000 vehicles to be fully electric by 2040

2022 judging panel
Abdulla Mohammed Al Ashram, group CEO, Emirates Post Group
Bernhard Bukovc, chairman, Postal Innovation Platform
Cyril McGrane, director of international trade, An Post
Derek Osborn, business coach, Whatnext4U
Elmar Toime, director, E Toime Consulting
Eric Dietz, COO Europe, GeoPost/DPDgroup
Hazel King, editor, Parcel and Postal Technology International
Ian Kerr, founder, Postal Hub Podcast
Joseph Gafa', CEO, MaltaPost
Julia Pavlenko, director of the international operations department, Ukrposhta
Luka Škacan, business improvement director, Croatian Post
Nikola Trubint, head, RATEL Postal Regulation Unit
Marek Różycki, managing partner, Last Mile Experts
Michel Defloor, vice president, marketing, bpost
Patrick Keefe, executive director, strategy and planning, Qatar Post
Paul Donohoe, manager, digital economy and trade program, UPU
Simona Tarabasanu, head of international mail department, Romanian Post
Wendy Eitan, coordinator of e-commerce, physical services integration and POC matters, UPU
Commenting on this year's entries, judge Ian Kerr, founder, Postal Hub Podcast, said, "Ukrposhta is the embodiment of resilience. The Ukrainian postal operator is a worthy winner of the Service Provider of the Year award.
"While technology has always been at the core of these awards, we are increasingly seeing the intersection of technology and the environment. Our sector must harness technology to minimize our impact on the environment, whether by reducing tailpipe emissions, improving livability of cities, or creating sustainable sorting facilities. For me, this is the greatest challenge for us to confront."