Post Logistics is a service from An Post, in partnership with logistics firm DB Schenker, that enables Irish SMEs to easily export their goods to the rest of Europe.
Launched in November 2016, the pallet collection and delivery service enables Irish retailers to fulfil a B2B delivery function. The venture represents the first time An Post has diversified into the area of logistics for SMEs. It came about after research identified that a simple service to help Irish SMEs export goods, particularly in rural locations, would help grow Ireland's economy. Additional benefits for the post include a new source of revenue and the better utilization of their HGV fleet throughout the day.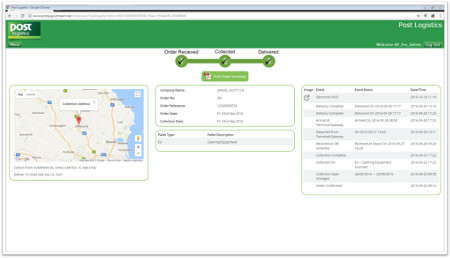 An Post initially approached DB Schenker about using their European network. Software developer and logistics IT systems consultancy Proximity was then brought in to provide the entire end-to-end solution for the SMEs and to integrate An Post and DB Schenker's IT systems. The software that makes Post Logistics possible is called Stream. David Pickburn, director of Proximity, says, "The Stream software platform is helping enable the Irish economy to export goods in a simple and cost-effective way.
"The cleverest part of Stream is that it is simple for the consumer to use. It provides an accurate price up-front from one location to another anywhere in Europe, which was a challenging thing to accomplish. "The platform then provides end-to-end visibility of the delivery process with email notifications. It does this by integrating An Post and DB Schenker's systems and data." Liam O'Sullivan, mail operations director at An Post, says, "We have the vehicles, the drivers, the depots and the trusted brand, plus we identified the export leg of the freight market as the sweet spot.
Previously, small Irish businesses had to use local couriers or transport companies to export pallets – with limited tracking capabilities and often at high cost determined by the shipper. "Now, regardless of where you are in the country, there is a reliable, good value network for exporting at your disposal. It has spread employment, with businesses setting up where they could not before."
As Ireland's national postal service, An Post has expertise in logistics throughout Ireland, an appropriate fleet of vehicles and the ability to collect from any address. DB Schenker has provided its considerable experience in delivering to businesses in the UK and continental Europe. O'Sullivan says, "Post Logistics is fully into its stride, with hundreds of customers signed up since the beginning of the year. "We're already handling significant volumes and that number is continuing to grow. Plus we have better utilization of the fleet and our brand."
---
New Business Diversification of the Year Shortlist:
Austrian Post's shöpping.at
Deutsche Post's SIMSme Business
i2C and Australia Post's payments platform
---
An interview with the award winner – Dave Pickburn, Director:
Postal Technology International Awards Winners 2017 – New Business Diversification of the Year