Ian Kerr, founder and host of the Postal Hub Podcast, presents highlights of research into the current progress of drone postal deliveries in the USA
Is the world ready for delivery by drone? Amazon seems to think so! The e-commerce giant ran an ad for Amazon Echo during this year's Super Bowl that featured a delivery drone.
Retailers such as 7-11, and delivery companies including DHL, Singapore Post and Swiss Post (above) have all experimented with drone delivery. To this point, regulation has been singled out as the reason why drone delivery hasn't, ahem, taken off.
Putting aside cost, practicality, and regulatory challenges, what does the public think of delivery by drone? The USPS Office of Inspector General surveyed people aged 18 to 75 across the USA, to find out what they think about the prospect of their parcels being delivered by drone.
According to the survey, Americans anticipate delivery by drone being offered within the next five to 10 years. About 75% think it will be here within five years. Reception of the concept is mixed, however: more like it than dislike it, but there are many people who haven't yet decided whether or not they're interested in drone delivery.
For the public, one-hour delivery is the most interesting application for drone delivery, followed by delivery in cases of emergency.
Trust is an issue
Trust issues are looming as the major barrier to widespread acceptance of drone delivery – drone malfunction is the major concern. Will the drone fall out of the sky, injuring people or damaging the parcel?
Security is another significant concern – will my parcel be stolen in transit or when delivered? Worries about parcel theft were prominent in less urbanized areas.
Overall, urban residents trust drone delivery more than rural residents. This is an interesting finding, since drone delivery may be more suited to rural areas than to densely populated urban areas where drones may have nowhere to land. So while remote areas might be more suited to drone delivery than urban areas, there is little interest and trust in drone delivery among those living in remote areas.
Different generations have differing views on drone delivery; millennials have high interest and trust in drone delivery, whereas baby boomers are less trusting of the technology.
A boost from innovation
While companies such as Amazon and Flirtey may have hogged the headlines when it comes to delivery drones, there is good news for USPS (United States Postal Service) if it decides to launch delivery by drone – the research showed that the public's perception of USPS as an innovative brand would increase if it introduced drone delivery.
The drone industry needs to overcome trust and awareness issues for drone delivery to be a success, especially in rural areas where drones might be most useful.
Postal and parcel operators need to move on from drone trials that have previously been branded "PR stunts" –flying a branded drone around a paddock won't help the cause. The public need to see drone deliveries being made successfully and safely for their trust and security concerns to be assuaged.
Mercedes-Benz's futuristic Vision Van – a van that can transport and launch drones – is an interesting innovation, and could prove to have real-world applications. But as long as ideas like this remain concepts, the public perception of drone delivery is unlikely to change.
Bio:
Ian Kerr is the founder and host of the Postal Hub Podcast, the weekly podcast for the postal and delivery sectors.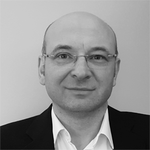 Marek Różycki is managing partner at Last Mile Experts, specializing in CEP and e-commerce last-mile advisory.
February 13, 2019