SwipBox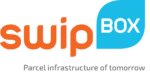 SwipBox is focused on creating the world's best user experience for delivering and picking up parcels using parcel lockers. Through a combination of intuitive network management software and hassle-free, app-operated parcel lockers, SwipBox delivers maximum convenience to logistics providers, retailers and end users alike.
The company is headquartered in Denmark and has additional offices in Pakistan, Poland and Australia. Together with partners, SwipBox always strives to optimise their solutions to reduce the carbon footprint in the first and last mile area.
Parcel infrastructure of tomorrow.
Key features of the SwipBox Infinity solution
SwipBox parcel lockers are more than just lockers – they are complete software and hardware solutions that deliver maximum convenience from factory to end user.
Key features
Battery-powered
Bluetooth Low Energy (BLE) connection
Smartphone operated
14 or 16 compartments
Modularity for superior network flexibility
Indoor and outdoor
Up to seven parcel lockers can be bundled as one service point
Hazzle-free installation in three easy steps
Place locker using pallet jack
Adjust the levelling
Test and install using the Maintenance app
Fast scaling
<15-minute installation time per locker
No ground hardening
No wiring (230V) or data network