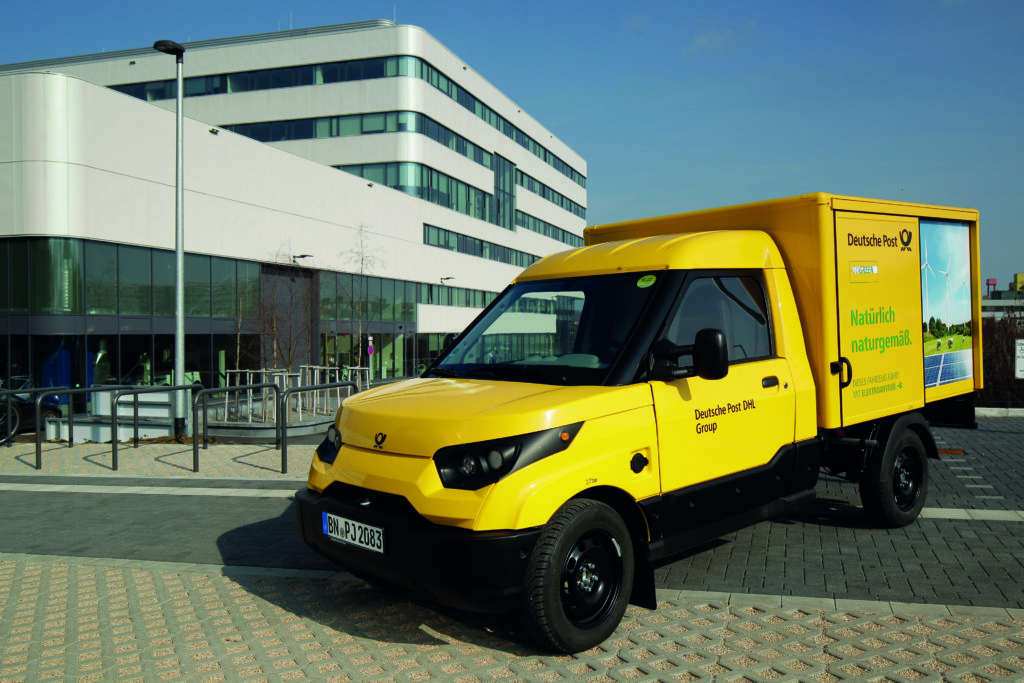 In May 2018 electric delivery vehicle manufacturer StreetScooter opened its second manufacturing facility in Germany. The new 78,000m2 (840,000ft2) factory in Düren joined the company's existing facility in Aachen and brought StreetScooter's manufacturing capacity up to 20,000 electric vehicles per year. The new facility illustrated the growing demand for the company's environmentally friendly delivery solutions.
StreetScooter is a versatile electric vehicle designed for a wide range of industries. The company's first vehicle, the E-Transporter, was developed in 2011 in a cooperation between Deutsche Post DHL Group and StreetScooter, which became a wholly owned subsidiary of the DHL Group in 2014. Today more than 7,000 StreetScooter vehicles are on the road for DHL alone and used to deliver letters and parcels. "These vehicles have driven 36.5 million kilometers [23 million miles] and thus save 23,000 tons of carbon dioxide emissions per year," says Prof. Dr. Achim Kampker, CEO of StreetScooter.
StreetScooter is available several bodies, including as a dumper, delivery van, refrigeration unit or as a pickup. Depending on the model, StreetScooters can achieve a range of up to 200km (125 miles) with a 900kg (1,985 lb) payload and hit a top speed of 120km/h (75mph). They are fitted with lithium-ion batteries, which range from 20kWh to 40kWh depending on the model. The Work and Work L StreetScooter models have been available to external customers since summer 2017. The company also offers the Work Bike, with a carrying capacity of 50kg (110 lb) and the Work Trike, with a capacity of 90kg (200 lb). Both the Bike and the Trike offer speed assistance at 25km/h (15mph).
The company has also recently introduced two new models, as Kampker explains, "We have added the Work XL and Work Cool to our product range. These new solutions illustrate our product philosophy – we consider the StreetScooter to be a tool that improves our customers' processes. Therefore, they are custom-fitted for many companies in different industry sectors. The Work XL, for example, offers significantly larger loading capacity, which considerably broadens the possible types of use for the vehicle."
The Work XL has a load volume of 20m3 (700ft3) and provides space for more than 200 parcels. This is compared the Work's 4m3 (140ft3) load volume and the Work L's 8m3 (280ft3) load volume. The XL's load area is also fitted with shelves and is accessible from the driver's cab.
The Work Cool is an off-the-shelf solution, which is fitted with a cool box for deliveries that require refrigerated conditions. In May this year, UK-based home delivery service Milk & More ordered 200 Work Cool vehicles.
Besides Deutsche Post, the biggest single operator of StreetScooters, many other business customers in diverse industrial sectors use the electric vehicle. "As our vehicles are individually adjustable, we are able to offer a suitable solution for many requirements," says Kampker. "Our customers cover a broad range of company sizes, from small craftsmen to big industrial companies, including food manufacturer Deutsche See, food and drinks provider Milk & More and car service provider Vergölst Autoservice."
StreetScooter continues to look at how it can expand its product range further to meet different customer needs. "At the moment, we are looking at developing a vehicle powered by fuel cells, with a range of 500-700km [310-435 miles]," says Kampker. "We are also working on developing autonomous driving solutions. At the moment, we are testing a new self-driving delivery van, which will follow delivery personnel at a slow pace. By using this type of van, there will be no need for staff to constantly embark and disembark vehicles while on short stretches of the delivery journey. This follow-me function has the potential of being a really meaningful assistance to the driver."
For StreetScooter, looking at how it can constantly improve its product range to meet its customers' changing needs and overcome industry challenges has helped the business to continue growing and be successful. "Long before the current discussion about restrictions on diesel fueled engines, we, as scientists of production engineering, decided to become actively involved in the field of electrically driven vehicles," explains Kampker. "This was because we were convinced that the electric drivetrain would be the superior method of propulsion in the future urban environment. We still believe this. From the start, we have wanted to develop an innovative product that could feasibly be manufactured in a high-wage country like Germany and still be internationally competitive. Back then, many people told us that this would simply not work. With StreetScooter we have proven them wrong – it does work.
"For us, the Postal and Parcel Technology International Supplier of the Year Award is the recognition that our concept of electric mobility is the right path. We are very happy about this honor and feel confident that the award will help us to further advance the subject of StreetScooter globally," adds Kampker.
Watch this video to learn more:
Also shortlisted
FarEye
Metapack
GreyOrange
BlueCrest