POST-EXPO 2018, the world's leading postal, parcel and courier industry exhibition, opened its doors in Hamburg, Germany, today, for what promises to be the most exciting show yet.
More than 3,500 visitors from 100 different countries are expected to visit POST-EXPO 2018 over the next three days. The key industry event this year boasts more than 160 exhibitors and expert speakers from around the world, who are showcasing and discussing the latest and greatest technical innovations for the postal and parcel sectors.
Tony Robinson, CEO of UKi Media & Events and founder of POST-EXPO, said, "The event got off to a great start today. It is full of really excellent new technologies, particularly in the areas of last mile delivery and sortation. There are also a lot of new players this year, which we haven't seen at the show before. This is indicative of the way the postal industry is changing, with a lot of new opportunities for innovative and start-up companies. We are looking forward to a great event here in Hamburg – the city where the show first began 22 years ago."
In the exhibition hall a number of companies launched new products to the market. Independent software vendor, The Information Factory, for example, launched the[i]platform. The new platform is a plug and play approach to software development, combining the unique features and flexibility that custom-built solutions offer with the convenience and price advantage provided by off-the-shelf packages. Read more here.
Gordon Steward, marketing director at The Information Factory, said, "POST-EXPO 2018 has been great fun already. We had a surge of interest from visitors at 9:00am on the very first day, so I'm looking forward to seeing what the rest of the show holds."
Elsewhere, Hong Kong-based Pakpobox revealed its smart locker solutions created for use in smart cities. Pakpobox is a network of smart lockers that connects merchants, couriers and consumers in addressing the pain points of last mile delivery. Read more here.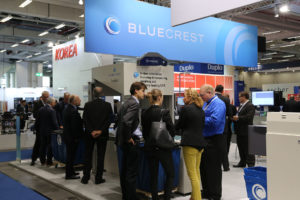 Furthermore, BlueCrest, which was formerly Pitney Bowes Document Messaging Technologies (DMT), made its global debut at POST-EXPO 2018. The new company offers a comprehensive line of printers, inserters, sorters and parcel solutions, and data management software, to clients around the world.
Speaking at the event, Grant Miller, president and CEO at BlueCrest, said, "We will continue to work closely with Pitney Bowes as the two companies are still very much intertwined. However, we will now be focusing on investing in new innovative solutions in our product areas to help improve efficiencies for our clients."
New innovations on show this year from BlueCrest include mixed mail capabilities for its Vantage Sorter. "Traditionally technologies that deal with these mail pieces run at approximately 14,000 per hour," says Miller. "However, our Vantage runs up to 45,000 an hour and for thicker mail runs at about 35,000 an hour, so it is a significant improvement in productivity."
BlueCrest also revealed its new SortEngine360, which allows sortation solutions to be connected across a customers' network, and its OneSort platform for dimensioning and data capture available. Read more here.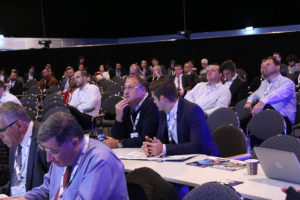 Meanwhile, in the conference, which officially opened its doors on October 8, leading industry figures took to the stage to address the latest trends, technologies and challenges present in the postal industry. In the Exploring New Frontiers session on Monday October 8, Richard Wishart, enterprise solutions architect at Delivery Management, explored the fourth industrial revolution and addressed how disruptive it will be for the postal sector.
During sessions on Day two of the conference (October 9), experts from some of the world's leading posts looked at the key challenges and opportunities facing operators. Speakers included Thomas Baldry SVP, international mail and relations, Deutsche Post DHL, and Holger Winklbauer, CEO, International Post Corporation.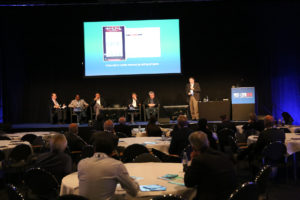 Alongside the conference presentations the Postal Innovation Platform held its PostalPitch and Start-up competition, which included around 15 new start-ups presenting their businesses in front of an expert judging panel. Innovations covered included route optimization, automated parcel lockers, tracking, and addressing. The winner of the competition will be revealed during the Postal and Parcel Technology International Awards ceremony on Wednesday, October 10 at 5:00pm.
POST-EXPO will open its doors again tomorrow from 9:00am to 6:00pm (October 10) and on Thursday (October 11) from 9:00am to 3:00pm. There is still time to register and attend the event. For more information, click here: https://postexpo.com/en/
Wednesday 10 October – key highlights
Opening times: 9:00am to 6:00pm
Postal and Parcel Technology International Awards 2018 ceremony: 5:00pm in Upper Hall B1
Universal Postal Union (UPU) World Postal Business Forum: 9:00am-3:45pm in conference Room 1
UPU workshops, including postal supply chain integrated solutions (2:15pm) and inclusive e-commerce(4:30pm): UPU booth, Upper Hall B1