As Parcel and Postal Technology's sister show kicks off in Cincinnati, Ohio, we bring you news of the latest solutions and innovations impressing visitors on the expo floor.
Package Fulfillment, Logistics & Delivery Expo, North America  is the first-ever end-to-end expo for the e-commerce and parcel industry in the USA, covering everything from package fulfillment all the way through to final delivery and returns. Exclusively focused on the complete parcel and e-commerce journey, the show runs today and tomorrow at the Duke Energy Convention Center.
Mettler Toledo displays its high-speed dimensioners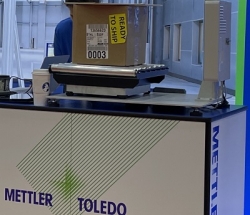 Mettler Toledo is showing its newly launched dynamic parcel dimensioners, the TLD950 SingleHead and the TLD950 MultiHead at the show.
These dimensioners are designed for parcel carriers and distribution centers that are processing higher package volumes than before. This is because, according to Mettler Toledo, the products have the highest read rates in the industry, to maximize revenue recovery. Additionally, the systems can measure at speeds up to 3.3m/s to keep throughputs high and maximize uptime. These features are intended to improve operational efficiency and reduce costly manual processes.
Combining a wide dynamic range with large optics, the TLD950 has been created to measure challenging reflective and light-absorbent surfaces, including difficult-to-read black plastic. The company futureproofed the design by ensuring the TLD950 could integrate with weighing and identification equipment for data communication.
Dave Martin, Mettler Toledo's national key account manager, said at the show, "It's not easy to do well – accurately and legally. One of our big benefits is that we can do it anywhere on the globe and provide boots on the ground if there's a problem."
To learn more about Mettler Toledo's projects and services, visit Booth 628 at Package Fulfillment, Logistics & Delivery Expo, July 13 and 14.

Lightning eMotors showcases its digital dashboard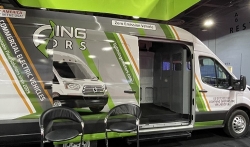 Lightning eMotors is showcasing its newest digital dashboard Glass Cockpit.
As the newest addition to the company's commercial electric vehicle fleet, this digital dashboard has been designed to give vehicle operators a complete at-a-glance understanding of the past, current and future vehicle status. The company expects this to ensure the safe operation of the vehicle without compromising its performance.
In its instrument cluster, the dashboard features a power usage meter, state-of-charge gauge, and an average energy usage indicator to keep the driver updated on the EV's operation. The power usage meter visualizes how the driver has operated the vehicle over the last 60 seconds, giving them an understanding on how best to use both the vehicle acceleration and regenerative braking. The 'range remaining' metric uses past driver behavior and machine learning to present an accurate estimate of how much range remains given the current battery power. This is designed to reduce drivers' range anxiety. These features come alongside a speedometer, an odometer, a lane departure warning system, malfunction indicator lights (MIL) and a trip meter.
"We specialize in electrification with our powertrains and batteries," commented Marcie Willard, product manager at Lightning eMotors, at PFLD Expo. "This is a great opportunity to showcase our Class 3 cargo van which has a 350 lb capacity and is the ideal application for final-mile package delivery. This combines really well with what the show is accomplishing and the attendees its attracting as we show off our industry-leading, 100% battery-electric cargo van."
To learn more about Lightning eMotors' projects and services, visit Booth 901 at Package Fulfillment, Logistics & Delivery Expo, July 13 and 14.

Leopard Systems reveals its updated ugly freight measurement solution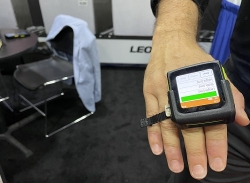 Mobility solutions provider Leopard Systems has revealed its updated ugly freight measurement solution Leopard Cube at Package Fulfillment, Logistics & Delivery Expo.
Leopard Systems has updated its system with two new devices from Zebra Technologies, WS50 Wearable Computer and the cubic dimensioning system TC58. These solutions are designed to enable a wireless and hands-free approach to data capture and data processing. According to the companies, the products are the first of their kind and will make the solution more efficient, especially in high-volume user sites.
Leopard Cube combines rugged mobile scanning computers, a durable measuring tape and a real-time data management system to efficiently capture, store and communicate measurement data of parcels and pallets. The company has pointed out that because ugly freight often requires businesses to rely on estimates and customer-declared measurements, inaccurate freight data can arise – resulting in revenue leakage, safety issues and inefficiencies.
This solution is designed to reduce the labor, time and costs associated with ugly freight through more accurate measurements and therefore billing.
With Leopard Cube, companies can accurately measure the 5-20% of freight volumes that are non-conveyable and ugly. The company reports that its customers have found that the solution not only provides real-time revenue protection but that it can save them approximately US$500,000/year due to accurate data on sizing. Leopard Cube also enables customers to offer more competitive rates or dedicated 'awkward freight' shipping options.
Alex Koumaras, managing director of Leopard Systems, said, "PFLD Expo presents an exciting opportunity for Leopard Systems to demonstrate the power of Leopard Cube to solve ugly freight management challenges to our North American and international customers. It's a great opportunity to meet the team at our booth where we're unveiling the latest Leopard Cube innovations – the support for the WS50 wearable computer that provides a scan-intensive, wireless and hands-free approach to data capture and processing. We're also giving free demos of Leopard Cube and showcasing its many benefits and capabilities. Visitors are getting to see the latest in parcel cubing technology via mobile camera technology and Leopard Cube. This expo is our first shot at being face-to-face with North American clients. We've had a lot of interest over the last couple of years, but we just haven't been able to meet people in person, so this is a great opportunity to listen to what their main points are and take those on board."
To experience the Leopard Cube, the WS50 and the TC58 firsthand, visit Booth 808 at Package Fulfillment, Logistics & Delivery Expo, July 13 and 14.

Opticon demonstrates hands-free barcode scanning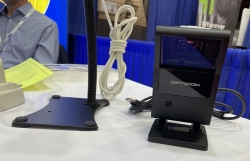 Opticon is demonstrating its hands-free barcode scanning solution, the RS-3000, at the expo.
The wearable RS-3000 is a small, lightweight, Bluetooth 2D ring scanner. It is designed to increase companies' productivity, safety and mobility by enabling hands-free operations in receiving, put-away, picking (including voice picking), sorting, loading, replenishment, inventory management, parts tracking and shipping. According to Opticon, barcode scanning offers a cost-effective way to improve traceability, accuracy and ease of data entry within a variety of applications.
The 2D imager barcode scan engine can process 100fps and can scan cell phones, tablets and computer displays. It has also been built to be able to scan curved, wide, poorly printed and damaged barcodes. The adjustable finger strap promotes the comfort of the solution for various hand sizes and for left- or right-hand use. In addition, each worker can have their own ring bracket. If a team works in shifts, a member can detach the scanner from the bracket and click it onto the next worker's bracket in a few seconds. Opticon sees applications for the tech in parcel lockers, package automation solutions and kiosks.
"We've been doing barcode manufacturing for nearly five decades," said Jay Lauer, sales and marketing manager at Opticon. "The ring scanner provides hands-free, heads-up, safe scanning abilities, so people aren't having to physically pick up the scanner, find the item and set down the scanner and then maybe pick up a box. With a ring scanner, you can easily scan the barcode for traceability tracking reasons so you're safer moving the package."
To learn more about Opticon's projects and services, visit Booth 714 at Package Fulfillment, Logistics & Delivery Expo, July 13 and 14.

Dorner presents its latest material handling workhorse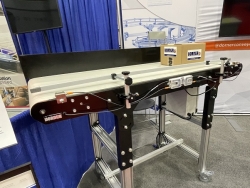 Dorner is presenting its new release, the 3200 material handling industrial workhorse.
While similar in specification to Dorner's original 3200 series, this version has a selection of additional features, including gearmotor mounting packages and a variety of product guiding options. The 3200 material handling conveyor is expected to better serve the logistics and e-commerce industry by providing an economical painted-steel frame paired with Dorner's commitment to precision conveyance. Dorner asserts that the tech's accuracy is ideal for package labeling, inkjet printing, layer forming and robotic integrations.
Marco Pardo, product manager of Dorner, said, "This solution will be launched in the next couple of months. Our 32MH for material handling is the simplified version of our 3200. It has fewer features so that it really focuses on material handling, package movement and logistics. It's constructed out of carbon steel and bolted together, has adjustable guiding features and is simplified to be very cost-competitive. We chose to exhibit at PFLD Expo because we want to show these solutions to the logistics and warehouse executives at the event."
To learn more about Dorner's projects and services, visit Booth 324 at Package Fulfillment, Logistics & Delivery Expo, July 13 and 14.

Morgan Olson presents an ergonomic step van body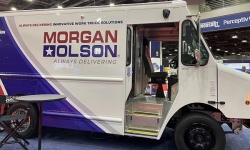 Morgan Olson, a subsidiary of JB Poindexter and Co, is displaying a new, smaller step van body with improved delivery efficiencies and ergonomics compared with cargo van and cutaway delivery vehicles.
The model has been designed to provide customers with a low-height, shorter-wheelbase, 'urban road-friendly' step van body. The step van's mirrorless system is designed to provide drivers with better visibility than traditional side-view mirrors, especially during inclement weather.
Morgan Olson is also currently collaborating with all alternative fuel and powertrain solution providers, including Xos, Freightliner Custom Chassis, Ford, Motiv, Roush CleanTech, Lightning eMotors, Sea Electric, REE, Agility and XL Fleet.
Ken Klein, director of marketing at Morgan Olson, commented, "Our customers drive our step vans in rural areas often with low-hanging branches and short driveways. This new body size and wheelbase combination offers a shorter height and length step van option to cargo van and cutaway truck owners while providing all the productivity, protection and profitability advantages of a step van."
Bret Magnuson, sales manager of Morgan Olson, added, "Morgan Olsen produces aluminum bodies for the last-mile space, ranging from parcel delivery to baking and beverage to the linen industry. It's built as an optimized tool for longevity with a 20-year lifecycle that meets all the needs for the last-mile space. This expo fits our model as the focus seems to be on distribution and facility but each one of the companies here has to figure out how to get it from distribution and facility and fulfillment to businesses and homes across America."
To learn more about Morgan Olson's projects and services, visit Booth 604 at Package Fulfillment, Logistics & Delivery Expo, July 13 and 14.

Advanced Technology & Research presents its modular sorting system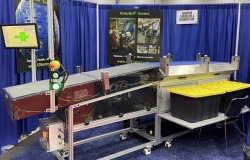 Advanced Technology & Research Corp (ATR) is presenting RollerBall, a new package sorting system that has been designed to be more flexible and inexpensive than traditional sorters.
The design uses Regal Rexnord System Plast roller-top belting and is driven by low-voltage motorized drive rollers. RollerBall can sort all package types and boasts a small footprint, low noise and low operating costs. The sorter has a modular design and is constructed from identical sections that connect to provide up to 200 sort points. According to ATR, new sort sections can also be added at any time with no change in software. The modular design is intended to keep spare parts requirements to a minimum, and modules are designed for rapid remove-and-replace servicing if necessary.
To increase the ease of installation, ATR provides fully assembled sorter sections that have been made to fit through a standard double door. Its standardized induction station accepts packages that are simply faced and placed in the scanning zone. Options are available for automated feed conveyors, high-resolution weighing, dimensioning and package imaging. These features can be easily added even after initial installation.
The control software and a comprehensive HMI provide a set of operational displays and troubleshooting screens. RollerBall's database maintains a complete set of operational records and is designed to integrate with a variety of warehouse management systems.
"This sorter is a smaller, easier-to-install, modular system designed for dispatch operations," said Rob Lundahl, vice president of the automatic division at Advanced Technology & Research Corp, speaking at the show. "It's 2 to 25 pieces an hour and you can install anything from 4 to 200 sort points. The niche that we've found is in last-mile delivery when packages are given out to drivers. This is because it's very hard to find and keep labor in this area."
To learn more about ATR's projects and services, visit Booth 632 at Package Fulfillment, Logistics & Delivery Expo, July 13 and 14.

JLC Industrial demos its AMRs with payload and towing capabilities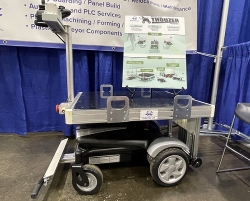 JLC Industrial is busy demoing its Doog's Thouzer AMRs at the expo. The AMRs can handle payloads and towing.
The AMRs' follow-me function enables the solution to follow a human, other AMRs or carts/dollies without a tracker. Similarly, the memory trace function makes it memorize the route, so it can later be played back using the follow-me function or with a joystick. Finally, the line trace function is performed with reflective tape or paint on the floor. These features have been designed to be helpful during labor shortages and reduce wasteful time walking. According to the company, this and the product's simple-to-use design can increase fulfillment productivity. The AMRs also support heavy and multiple-load transportation.
"During a trial of our AMR for a group that fulfills orders, we were able to achieve 100% throughput and reduce needed labor by 50%," commented Jamie Callihan, president of JLC Industrial and JLC Robotics, at the show. "When we heard about Package Fulfillment, Logistics & Delivery Expo, we knew we had to share the technology. We're excited to be part of an expo that will have excellent speakers, sessions and products that support overcoming today's challenges."
To learn more about JLC Industrial's projects and services, visit Booth 321 at Package Fulfillment, Logistics & Delivery Expo, July 13 and 14.

ID Parcel & Mail Solutions displays its flexible, high-speed parcel sorting system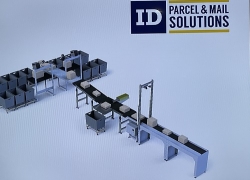 ID Parcel & Mail Solutions' Packet Parcel Sorting System (PPSS), on show at Package Fulfillment, Logistics & Delivery Expo, handles a wide variety of mail and parcels from small packets up to medium-size parcels.
The PPSS can do this at speeds from 2,000 to 4,000 pieces per hour. The system reads package barcodes and dimensions, weighs and sorts. If labeling is required, packages are queued for manual labeling before sorting. Optional OCR and automatic labeling can be added. Several sorting technologies are available, including a pneumatic diverter roller system for dual-sided outputs. The sorting outputs can accommodate postal bags, gaylords or wheeled containers, or a combination. The sorting system handles packages and parcels up to 610 x 457 x 457mm. The maximum weight per piece is 10kg. If heavier weight processing is necessary, a larger version is available that can handle items up to 34kg, with a maximum processing speed of 3,000 pieces per hour. ID Parcel & Mail Solutions also provides OCR and touchscreen workstations and higher-speed small-packet sorting solutions with its Dispatcher sorting systems.
Jerry Fenerty, president and CEO of ID Parcel and Mail Solutions, commented, "We've designed the Packet Parcel Sorting System for shipping facilities that are relatively new to automation or are making the shift from manual sortation to an automated system for the first time. The PPSS has been specifically designed as a flexible and affordable solution for these types of organizations. It can be configured in a number of ways with a range of features, whether it be a small or large setup.
"At ID Parcel & Mail Solutions it is this flexibility and our comprehensive, hands-on approach that sets us apart. When working with clients we're there for them through every step of the process including planning, design, installation, training, service and support.
"We've been really looking forward to PFLD Expo. We hope to learn more about the specific automation needs of shipping facility operators and to get a fresh perspective on how our products for smaller operations can play a role in helping them get a leg up in the ever-evolving parcel shipping industry."
 To learn more about ID Parcel & Mail Solutions' projects and services, visit Booth 836 at Package Fulfillment, Logistics & Delivery Expo, July 13 and 14.

Two-Way Radio Gear is presenting its 360 camera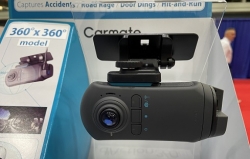 Two Way Radio Gear is presenting its 360 camera at the expo.
Motorola Solutions 360 camera operates through two 360° lenses to enable a full view of what's happening inside a delivery vehicle. This is designed to increase operators' understanding of normal operations as well as unusual scenarios and accidents. The camera also comes with a removable SD card and a downloadable app.
"It's the only 360 camera on the market," said Todd Spitzer, business development manager at Two Way Radio. "It comes with a downloadable app and there's no monthly recurring cost, which is a big deal for a lot of cameras in the market space. Within the app, you can scroll; for example, if you have a truck that gets T-boned – which accounts for over 50% of accidents – you can scroll and see what happened, maybe someone ran a red light. We're new to the logistics space and we're a lot more warehouse and industrial typically, so the show is allowing us to expand into vehicles."
To learn more about Two Way Radio Gear's projects and services, visit Booth 648 at Package Fulfillment, Logistics & Delivery Expo, July 13 and 14.

PAC Machinery demos its bagger machines with sustainable packaging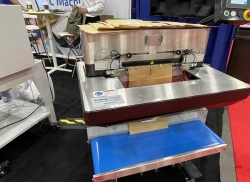 PAC Machinery is presenting its automatic bagging solutions and running several environmentally friendly bags on its machines at Packaging Fulfillment, Logistics & Delivery Expo.
 The company's automatic bagging solutions include the Rollbag R785 automatic bagger, and the R3200 and R3200XL fulfillment automatic baggers. These systems are designed to reduce shipping costs by right-sizing bags, eliminating excess bag materials and reducing material usage.
The Rollbag R785 is an all-electric, automatic, tabletop polybagger that operates at up to 40 bags/min, ensuring that machine speed is not the limiting factor in packaging operations. It is engineered to accommodate bags on a roll up to 12in (30.5cm) wide and 20in (51cm) long. The high-power sealing magnet creates hermetic seals in materials up to 5mm thick.
According to PAC Machinery, the Rollbag R3200 fulfillment machine is ideal for e-commerce, order fulfillment and distribution facilities that require the highest level of performance in their order fulfillment packaging operations. The standard Rollbag R3200 works with bags up to 16in (41cm) wide and 24in (61cm) long and has a seal bar opening of up to 6in (15cm) with an optional 8in (20cm) opening available. The XL version works with bags up to 22in (56cm) wide and 36in (91cm) long and features a seal bar opening of up to 11in (28cm).
PAC is also exhibiting its new high-performance, eco-friendly Fiberflex pre-opened paper mailers for automatic bagging, which consumers can recycle curbside. These innovative paper mailers are designed for use on PAC's bestselling Rollbag automatic bagging machines.
Blake Knisley, regional sales manager for the mid-Atlantic at PAC Machinery, commented, "Our sustainable packaging and the shift toward baggers is something that we're trying to roll out at the start of 2023. There's a lot of desire in companies to move toward a more sustainable packaging option over straight poly. We've designed a new workaround in our machines that allows us to take our normal machines and run curbside, recyclable paper mailers on them. We're at this show in particular because areas of Ohio and Kentucky are becoming more and more massive distribution centers."
Tom Zamiska, product line manager of Rollbag at PAC Machinery, added, "This solution is important because it is eliminating plastic from the environment. Its inside coating is water-resistant, so this also protects the environment. At this expo, we're interested in moving toward the order fulfillment part of the industry that has emerged over the last three or four years as there is more need for one-step solutions like a bag with the address label on it. It has prompted us to look more toward the logistic services and order fulfillment type people. We're excited for inquiries, leads and post-show sales at this expo."
To learn more about PAC Machinery's projects and services, visit Booth 428 at Package Fulfillment, Logistics & Delivery Expo, July 13 and 14.