Simon Treichler, head of business development and project, Swiss Post, talks to Parcel and Postal Technology International about the post's new home delivery solutions, which won the Retail/Customer Service Innovation of the Year award in this year's Parcel and Postal Technology International Awards.
Tell us more about Swiss Post's home delivery service and the services it offers customers?
The home delivery service is available to around 400,000 households in 1,788 towns, most of which are located in rural areas. It is an essential element in the development of Swiss Post's future branch network and ensures easy access to postal services at the customer's front door in areas without Swiss Post branches. Collection of parcels and letters is also free of charge for customers. 
Why was the home delivery service order pen developed?
Previously, customers could indicate to the mail carrier when they wanted to use a service by affixing a plastic sign to their private letter box. This system no longer meets the changing requirements. This led to the launch of the project, resulting in two solutions for our customers: the order pen and the online solution. The new ordering solutions are designed to further strengthen Swiss Post's presence through attractive services and support.
What challenges does it address?
When it comes to digitization, it is important to proceed carefully. The order pen and online solution enables us to bridge the gap between different user needs and profiles, and we can support customers and companies with process changes. Bridging this gap would not have been possible with a purely online solution. Furthermore, the new solutions bring Swiss Post very close to its customers, and not just at the private letter box or the front door, as was previously the case.
How successful has it been?
The pilot phase of the digitized home delivery service was launched in October 2019. The service was refined in several iterations, based on customer feedback. The response from customers to the new digital solutions, including the order pen, has been very positive. The nationwide roll-out to around 400,000 households across Switzerland began in Q3 2020 and will continue into Q2 2021. The project was also an in-house success, as we were able to successfully develop an agile, customer-centric and cross-unit innovative solution.
Tell us more about the technology behind the pen and why this specific solution was chosen?
The home delivery service order pen combines several innovative technologies to offer a range of amazing features:
• LoRaWAN radio technology and a sophisticated antenna design enable long-distance communication (more than 10km) with minimal energy effort.
• No connection to a local WLAN or mobile network is required. The user can order immediately without any preparation or configuration.
• Smart battery management including high end supercaps enhances battery lifetime significantly. The device works without charging or battery change for at least 10 years.
• OID (object identified) code technology combines maximum flexibility with absolute ease of use.
• State-of-the-art encryption of every radio message protects against fraud. Furthermore, no information about the user is transmitted; mapping of device ID to a user is performed in a highly secured backend environment.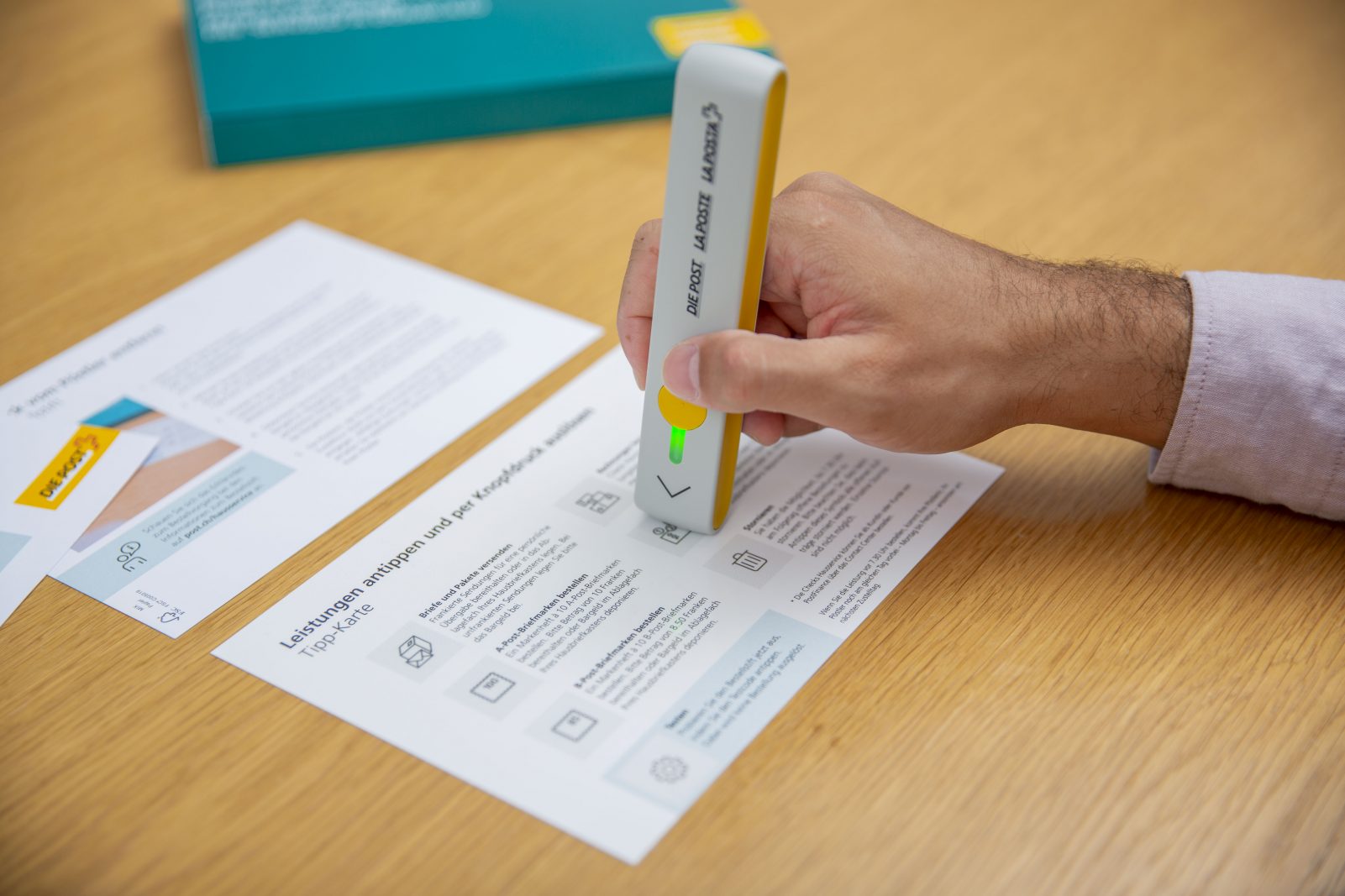 Do you have any other plans to further improve the home delivery service?
Home services, which include the home delivery service, are continuously developed based on customer needs and for the relevant customer segments and will be expanded to the whole of Switzerland in the future. These may include services provided by Swiss Post or third parties from the circular economy which can be ordered at home. Swiss Post provides innovative power for the Swiss economy, and this will remain the case in the future.
What is EspaceLab and how does it generate new ideas?
The EspaceLab people support teams to develop and scale validated offerings and business models. Being part of the team, they bring in new ideas and approaches (for example, growth hacking) to develop successfully – or to stop as soon as possible, to learn and to start again.
How closely does the lab work with Swiss Post and its employees to identify areas for improvement?
That happens on a large scale. We provide a group-wide idea management system in which all employees are invited to pitch in their ideas for improvement. Several idea managers across the company organize the review and give – most importantly – detailed feedback. In the event the idea is realized, the authors are financially rewarded. Besides that, we have built up a system in which all employees can develop their ideas from scratch.
How is a new idea tested before it is rolled out?
In the example of the home delivery service, contextual enquiries were first conducted at the premises of home delivery customers, in order to better understand the customers and their needs. Two different customer segments (personas) were then identified, for which the order pen, online solution and telephone service were developed. Prototypes of the solutions were developed in accordance with the user-centered design framework, and along with the communication material, were tested, validated and continuously adapted in cooperation with the customers. After several iterations, the current marketable all-in solution was developed. Even during roll-out and operation, changing customer needs are recorded, evaluated and implemented to ensure a positive user experience.
Are there key areas the lab will be focusing on over the next few years?
We are the engine for a modern Switzerland. Our mission is the core of our strategy. We truly believe that digitizing the whole logistic process, processing and providing data for companies and the public allows us to boost Switzerland in the 21st century. We also believe that transporting valuable information (for example, financial and health) is more important than ever. For over 150 years we have proven to be an independent and trusted partner in providing exactly this. Supporting teams and their efforts to bring these strategic approaches into real life is what EspaceLab does.
More information on all the winners of the Parcel and Postal Technology International Awards can be found in the December 2020 issue of the magazine.