Sandra Roling, head of The Climate Group's EV100, a global initiative accelerating the transition to electric vehicles (EVs), shares more details on the global program and encourages posts to get involved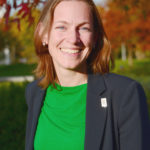 How is EV100 progressing?
EV100 has grown significantly, both in its membership and in the impact it is making.
Our first EV100 annual progress report (published in February 2019, with data from members who had joined by September 2018) covered 23 members, who between them had committed 145,000 vehicles to be switched to EVs. When we published our second annual progress report in February this year, EV100 had grown to 67 members and around 340,000 vehicles covered by the commitments.
I'm particularly excited about the fact that our members aren't just making commitments for the future, but they are already well into the implementation as well, with over 80,000 electric vehicles already deployed today.
Even more important than the individual strategies companies are implementing is the impact they are having on the broader market. EV100 members are setting an example for their industry peers on what credible climate leadership looks like on transportation. By setting out long-term commitments, they also send a clear message to policy makers and manufacturers that businesses want electric vehicles and need supportive framework conditions and increased vehicle supply to achieve their ambitions.
Why is it important for postal operators to join EV100?
Transportation accounts for about a quarter of global emissions. If we are to stand a chance in keeping climate change to a manageable level, we need to halve those emissions over the next decade and get on track for net zero emissions by 2050. Electromobility – if powered from renewable sources – has the potential to entirely eliminate a large chunk of those emissions.
With a major part of global fleets registered to business, companies have a key role to play in driving that transition forward in their own operations. Their leadership sets an important example for their staff and customers as well, who may get to first drive an electric vehicle at work, or see their daily mail arrive in an electric postal van.
The companies we work with really see the EV100 commitment as part of future-proofing their business. They recognize climate change, as well as the growing concerns around air pollution, as key global trends that their strategies need to incorporate if they are to be competitive in the future. Shifting to electric vehicles now means being ready for regulatory measures like the zero emission zones many international cities are starting to establish. It also sends a positive message to staff and customers who care about climate and public health and expect the brands they associate with to show credible corporate citizenship.
Especially for last-mile delivery, the business case is also compelling, as vehicles are in constant use and operate within relatively limited geographic areas and with predictable patterns. This means charging is easy enough to factor into daily routines, and companies get to maximize the operational savings on fuel, maintenance and repair. Our EV100 member Deutsche Post DHL, for example, finds that their electric postal vans are saving 60-70% on fuel and 60-80% on maintenance and repair.
Balancing such savings against higher upfront vehicle costs, EV100 member Austrian Post is expecting its electric postal vans to be 10% cheaper than ICE over an eight-year lifecycle.
What do companies have to commit to when they join EV100?
Companies joining commit to electrifying their fleets by 2030, which can include full battery-electric vehicles, hydrogen fuel-cell vehicles, as well as plug-in hybrids/extended range vehicles with a minimum of 30 miles/50km purely electric range. In line with the state of technology development, we're differentiating between vehicles up to 3.5t, of which 100% need to be electric by 2030, and vehicles between 3.5t and 7.5t, where we're asking for 50% to be electric by that date. Postal and logistics companies can alternatively pledge to have all first- and last-mile delivery electric by 2030, if they are finding that easier to align with their strategies than the cut by weight category.
What are the main benefits of being part of EV100?
EV100 is first and foremost about leadership. Lots of postal companies are already working to electrify their fleets. Making a commitment through EV100 means gaining public recognition for these efforts and joining a peer group of global leaders to share best practices and experiences.
EV100 is also about having an impact beyond one's own operations, and actively shaping the market. Of course, there are still challenges, such as the availability of the right kinds of vehicles, or developing public charging infrastructures. By coming together as a collective voice, EV100 members are much more effective in sending a message to policy makers and manufacturers about the change that is needed to enable their ambitions.
What do posts have to do to be part of EV100?
The key mechanism for joining EV100 is the public commitment to go electric by 2030. Each company can then define its own trajectory toward achieving that goal and set interim milestones as they see fit. Members also agree to update us on their progress once a year through a standardized reporting structure. This is important for the initiative's credibility, and also allows us to tell an exciting story every year about the collective impact EV100 is making.
Beyond these two core requirements – public commitment and annual reporting – there is a broad range of activities that are available to members. This includes: profiling in media/social media work and through speaking roles at events; an ongoing program of events and webinars to foster best practice sharing between members; and opportunities for joint policy positioning. All of these we would see as offers to our members rather than requirements, where of course, the more a company gets involved, the more value they might get out of their membership.
Do you believe more needs to be done by automotive manufacturers to speed up the development of EVs?
Absolutely. As part of our annual reporting, we also survey members about drivers and barriers for their EV engagement. The top barrier identified by EV100 members is about availability of vehicles. We need a broader choice of options, in particular for commercial vehicles, to meet all specification requirements. And we also need vehicles to be available in large enough quantities across all geographies.
The commitments of our members clearly show that the demand is already there. We now need manufacturers to step up their supply and provide businesses with the solutions they want.
What role can posts play in helping to speed up the development of commercial EVs?
Joining EV100 is a great way to support the movement. The more companies join and publicly state their intention to go electric, the stronger the message to manufacturers that these segments are worth further investment.
Additionally, I would encourage companies to individually speak to manufacturers and to their leasing providers to make their requirements known, and perhaps identify early collaboration opportunities for trialling new models.
What do the next few years hold for EV100?
EV100 is growing continuously, and we look forward to welcoming further members from around the world, especially from industries with major transportation footprints such as the postal sector. It is exciting to see electrification become a major topic of conversation at industry events and in sectoral publications, and our members have a wealth of experiences to share with others that want to follow in their footsteps.
With a critical mass of over 60 companies now involved, we are also expanding our engagement in policy conversations. In this year's international climate conversations, COP26, for example, we are expecting electric transportation to become a priority theme. The more the business community gets involved and showcases its own ambitions, the more we can give policy makers the confidence to push electrification through policy frameworks as well, which then in turn makes it much easier for individual companies to achieve their targets.
What would you say to encourage more posts to join the initiative?
Going electric is a no-brainer for posts, for climate as well as economic reasons. Joining the movement now is the best way to get ahead of the curve and ensure your business is set up for the future.