William Xiong, chief strategist at Alibaba's logistics arm, Cainiao Smart Logistics Network, and general manager for Aliexpress Global Logistics, talks to Parcel and Postal Technology International about the company's plans to extend its global reach
How did Cainiao perform in 2020? 
Cainiao Smart Logistics Network is a digital logistics platform that adopts a collaborative approach by integrating existing industry logistics resources to connect partners with an innovative and open data platform. Today, we have more than 3,000 logistics partners and three million courier personnel on our platform. Through our partners and couriers, we are able to offer merchants cost- and time-efficient delivery options based on real-time data determining the optimum service and route for the particular job. 
Revenue results from our previous quarter (July to September 2020), which represent revenue from the domestic and international one-stop-shop logistics services and supply chain management solutions, increased by 73% compared with the same quarter in 2019. This is primarily due to the increase in both average revenue per order and volume of orders fulfilled from our fast-growing cross-border and international commerce retail businesses.  
Operations-wise, in China we have expanded the coverage of Cainiao Post (neighborhood and campus stations), as well as the services of Cainiao Guoguo (parcel pickup and courier service). We also improved customer experience on the Cainiao mobile application, making it possible for customers to receive real-time delivery updates.
Internationally, we have broadened our export business by collaborating with more global partners and establishing local logistics networks in 15 countries and regions. Our 2021 open tender, which closed on December 15, 2020, will also help to reinforce logistics resources to support cross-border e-commerce growth and B2B import and export businesses.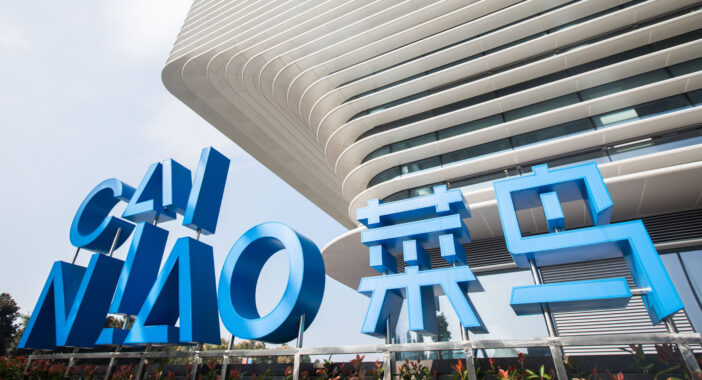 Please tell us more about how Cainiao tackles Singles' Day. 
On average, we handle 100 million orders on a daily basis. During specific events such as the 11.11 (Singles' Day) global shopping festival, the number of parcels we handle daily rises significantly. During 11.11 2019, we processed 1.3 billion delivery orders with a gross merchandise value (GMV) of US$38.3bn; last year, we achieved 2.32 billion delivery orders with a GMV of US$74.1bn. 
The annual 11.11 shopping event is an opportunity for us to assess how we can improve our services and technology capabilities. For example, we were able to efficiently process 2.32 billion delivery orders during last year's 11.11 shopping event by leveraging machine learning and predictive analytics technologies to forecast demand ahead of the event. This enabled us to pre-stock many popular items and respond more quickly to orders, reducing the delivery time and improving customer experience in the process. 
We also leveraged Apollo, our proprietary logistics technology, to enhance our parcel processing capacity by up to 10 times, which is important when we face the kinds of volumes that we do during 11.11. The full implementation of Apollo led to a 50% increase in delivery accuracy as well as a 10% reduction in average cost through smart order splitting, route optimization and pricing technologies.
Capacity-wise, we ramped up our global logistics infrastructure by chartering over 700 flights to deliver 90% of parcels that were delivered outside of China. By doing so, European cities such as Madrid, Paris and Berlin could receive their parcels within as little as three days. For flights into China, we prepared 3,000 chartered flights and long-haul cargo ships to help cater to Chinese consumers' growing demand for foreign goods.
We also used Sky Eye, a cloud-based video monitoring system that uses IoT technology across the entire logistics value chain, especially warehouse and last-mile delivery, to improve efficiency and visibility. The system can identify idle resources and abnormalities in the logistics process and send real-time status updates to the operators in charge so they can respond accordingly. 
It is currently used by logistics partners including ZTO Express, Deppon, YTO Express, STO Express, Best Express and Yunda Express. 
How is Cainiao's store-to-customer delivery service performing? 
We have seen an improvement in our store-to-customer delivery service. One such service is Cainiao Guoguo, our one-stop digital platform for parcel delivery. It is a mobile application that allows customers to send and track parcels. In China, the service saw a 20% surge in daily delivery volume in 2020 as China's national delivery volume reached 83 billion. The surge became a catalyst for our service to expand, and currently we have more than 100,000 pick-up stations for customers to send express deliveries. 
We have also partnered with cross-border e-commerce logistics providers to inaugurate low-cost international mailing services for customers in China's towns and villages, to allow for quick package collection and real-time tracking. These partnerships have also enabled us to expand this service internationally to countries including the USA, the UK, France, Germany and Japan.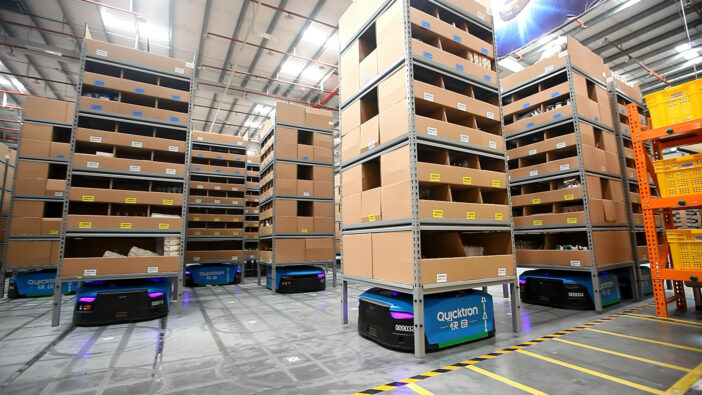 Tell us more about your smart warehouses. 
Traditionally, logistics warehouses tend to be labor-intensive operations and rely heavily on manual loading, scheduling and monitoring. We are revitalizing this by digitalizing the warehouse experience with IoT applications, big data, edge computing and artificial intelligence (AI).
For example, our smart warehouse in Wuxi, an eastern Chinese city near Shanghai, has close to 700 automated guided vehicles (AGV) working in it. The robots are aided by IoT components that help them avoid collisions and pick up parcels to deliver to another part of the warehouse, where they are then picked up by a courier company. The self-charging AGV robots reduce staff walking by an average of approximately 50,000 steps per working day, improving personnel efficiency by 30%. The IoT technology also enables us to connect employees inside and outside the facility and assist in vehicle guidance and the operation of equipment and monitoring systems. 
We are leveraging advanced technologies that provide real-time assessment of warehouse storage capacities and the height of inventory stacking. They also guide traffic and point vehicles toward available parking spaces, to facilitate movement of goods into and out of the facility. 
Going forward, we aim to expand from 30 warehouses spanning 1,000,000m2 to more than 2,000,000m2 in the next three years. Chinese SMEs would be able to pre-stock their goods in these overseas warehouses, allowing 90% of cross-border orders to be fulfilled within a shorter period of time in 100 key cities. 
How does Cainiao handle returns – both domestic and cross-border? 
In December 2020 we launched a reverse logistics channel between China and Hong Kong to simplify the return process for Taobao/Tmall customers. This reverse logistics channel comprises 42 drop-off locations across Hong Kong. The entire returns process, including digital customs clearance, is handled by Cainiao, and customers can monitor the process through the Taobao app. Around 85% of goods are eligible for return within seven days, excluding non-returnable items such as food and health products/supplements. Beyond Hong Kong, we are planning to launch similar channels in Singapore, Malaysia, Taiwan, Macau and Russia. 
What is the most popular final-mile delivery solution for Cainiao's customers? 
In China, the most commonly used final-mile delivery solution is Cainiao Post Station's pick-up service. Here, courier personnel on Cainiao Guoguo's courier delivery platform will deliver parcels from merchants to the 100,000 Cainiao Post Stations in China for customers to pick up at their convenience. 
We have recently expanded our network of Cainiao Post Stations across China, and introduced value-added lifestyle services such as group buys and laundry services to benefit our customers. These post stations are also situated within communities or campuses for ease of collection. Customers can also opt to have their parcels delivered from these post stations to their buildings using one of our logistics robots, Little G.
How is the business looking to improve its cross-border delivery offering? 
Under the Electronic World Trade Platform (eWTP) – an initiative to facilitate exports by SMEs and young entrepreneurs worldwide, and for them to reach a wider global market in the digital economy – we will be establishing six regional eHubs to enhance cross-border logistics infrastructure, with an ultimate goal of boosting the speed, cost-efficiency and quality of logistics services in 100 cities globally. These eHubs make up the backbone of our global network. 
For example, our eHub in Kuala Lumpur, Malaysia, involves multiple partners carrying out numerous functions to facilitate cross-border trade. They include an e-fulfillment hub near Kuala Lumpur International Airport, which will function as a customs clearance, warehousing and fulfillment center for the region. It will be a one-stop, online, cross-border trading services platform that will link the Malaysian eHub to the original one in Hangzhou, enabling easier trade for SMEs between the two countries, e-payments and financing to facilitate business-to-business trade for Malaysian SMEs, and training programs for startups to support Malaysia's digital ambitions.
What has been one of Cainiao's most notable sustainability initiatives in recent times? 
A notable initiative is our three-pronged approach that we undertook to reduce waste during last year's 11.11 shopping event. As part of this approach, we tapped on technology-driven green innovations, such as
our self-developed smart-packaging algorithm, which helps to sort products into right-size boxes to minimize waste from overpacking. 
Our second approach ensures that boxes and other packaging materials are biodegradable and tape-free, enabling them to be easily recycled. We also used electronic shipping labels, which reduce the consumption of paper labels. In a third approach, we focused on partnerships, teaming up with notable customers during 11.11 2020, including Nestlé, Philips and P&G to encourage them to opt for reusable packaging across their warehouses.
As a result, nearly 100% of the packaging shipped from our warehouse was recyclable, on top of being able to save 2.2 billion pieces of paper through the use of electronic shipping labels. These satisfying results continue to motivate us as we look for more sustainable initiatives to further our great logistics masterplan.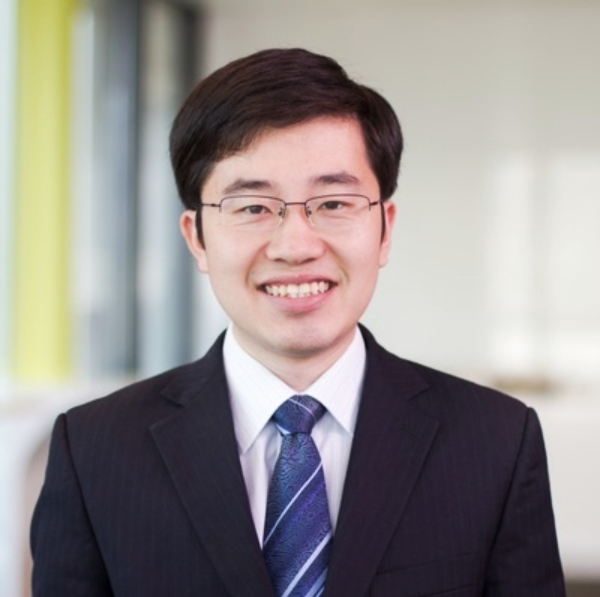 What are Cainiao's three key takeaways from 2020? 
The pandemic has highlighted the importance of a digitalized logistics value chain and its role in ensuring the safety and stability of supply chains. There were three key takeaways that we expect to continue shaping the industry.
Changes in consumer behavior and demand.
The adoption of digital technologies has accelerated dramatically in the past year. This means that e-commerce platforms are recording high traffic volumes. In this saturated business environment, instant gratification is a key differentiator as brands strive to deliver their goods and services in the shortest time possible, while ensuring that costs remain low and competitive. This places immense pressure on brands to establish greater control over their operational costs and greater transparency in the entire process to offer real-time updates to consumers from purchase to delivery. 
To capture this demand, businesses will need to ensure that they have a reliable delivery platform to bring their goods to their customers. 
Digitalization of the logistics network
The logistics industry is seeing transformation from within as industry players leverage technology to improve their service. Technologies like IoT and data analytics have stitched together different components of the logistics value chain – including first mile, international freight forwarding, warehousing and last-mile delivery – into one seamless workflow. These technologies have facilitated greater efficiency and improved delivery time, thereby improving the experience for customers. Technology has transformed the fragmented, high-volume, labor-intensive industry. This technology benefits not only logistics players but also the merchants, who can use data to better predict consumer demand and manage their production output. 
Emphasis on the last-mile delivery to win the game
Efficiencies and on-time deliveries are meant to elevate the customer experience, and the last-mile delivery can make or break that experience.
As customers grow savvier, personalization becomes essential in last-mile delivery. Offering options for doorstep delivery, self-collection at post stations or locker pickups provides a customizable service where customers can select an option that suits their needs and lifestyles. Meanwhile, providing them with visibility and transparency through real-time updates manages their expectations of when their purchases will reach them.
This article was originally published in the April 2021 issue of Parcel and Postal Technology International.