The John Lewis Partnership may fervently deny it held talks with Amazon about selling its Waitrose grocery stores – but whether it likes it or not, there's no denying their acquisition would be a big win for Amazon. ParcelHero's head of consumer research, David Jinks MILT, reveals why buying Waitrose would boost Amazon's fresh food supply chain and create even more Amazon Prime members.
Amazon now has over 100 million Prime members. That's good news for the all-conquering e-commerce giant, as its Prime members spend twice as much with the company as non-members. Amazon uses deliveries as its chief weapon to entice new members: offering free regular deliveries and many options around timed and one-hour deliveries in many areas. Amazon's take-over of Whole Foods in the USA last year shows how it is now using its fresh food service as an innovative new way of enticing Prime Members with delivery options.
The news Amazon at least tentatively approached Waitrose's owners, the John Lewis Partnership, about a potential takeover of the upmarket supermarket chain shows it has big plans for food retail on this side of the pond as well, in a bid to boost its Prime numbers in the UK.
The proposal was not surprising to many industry watchers. Waitrose's generally well-heeled customer base would be a great fit for Amazon: many of the upmarket store's regular customers are the kind of consumer who have considerable spending power, but perhaps a certain reluctance to join the Amazon bandwagon. The integration of Waitrose deliveries into Amazon's Fresh and Prime Now services could create delivery options and savings too tempting for these customers to resist.
And a Waitrose-Amazon 'marriage' would mean Amazon could greatly expand the range of its Fresh and Prime Now grocery delivery services – many of which are restricted to a handful of major urban areas – into the 350 towns and cities across the UK where there are Waitrose stores. It's already happened in the USA, where Amazon used the 440 Whole Food stores it bought last year to instantly expand its online Amazon Fresh deliveries to many new areas. It has also incorporated seven London Whole Food stores that came with the deal into its network – but ruthlessly closed two other UK stores, in Cheltenham and Scotland, that couldn't be incorporated into the Fresh delivery network.
But don't go thinking Amazon has no interest in Waitrose's physical high street stores and that it's purely e-commerce the company is interested in. Amazon has been busy opening brick and mortar book stores in the USA, including a book shop and a checkout-free grocery store called Amazon Go. Go is likely to be the first of many such queue-free stores in the USA and beyond. Add to this Amazon's purchase of Whole Food stores in the USA, Canada and London, and Amazon is clearly no longer a 'pure play' online retailer.
And the 350 Waitrose stores represent another instant opportunity. Amazon could use the Waitrose stores much as Sainsbury's has used Argos, easily integrating Amazon's general merchandise e-commerce business into a supermarket, just as Sainsbury's has with Argos. The stores would be an ideal physical order point for those shoppers still reluctant to order from Amazon online, and also serve as a pick-up and returns point for Amazon orders.
There's no doubt though that Amazon's purchase of Waitrose would open up a whole can of worms. The existing delicate balance of UK supermarket deliveries has already been upset by a number of torrid affairs between Amazon, Morrisons, Ocado and Waitrose. Waitrose was a pioneer of home deliveries with its Ocado-based services – but that relationship went rather sour in recent years. Ocado then hooked up with Morrisons, only for Morrisons to then jump into bed with Amazon themselves to offer one-hour delivery services in London and Herefordshire. Where a Waitrose buyout would leave Amazon's relationship with Morrison's is a juicy question.
Of course, with John Lewis publicly and loudly denying any interest in Amazon, the latest speculation is that Morrisons themselves would make good long-term bedfellows with Amazon. That does make sense in terms of the existing tie-up they already have, and as a way of protecting Morrisons against the impact of the proposed Sainsbury's-Asda merger.
But Morrisons stores are still a far more familiar site in the north than the south of the UK, which might not give the ideal distribution range Amazon is looking for; and Morrisons may not have quite the same customer demographic Amazon would be targeting with a Waitrose merger.
There's no doubt we are in store for a radical shake-up of the UK supermarket scene as online shopping eats further into physical store sales. It will be fascinating to see who Amazon finally climbs into bed with.
For more details about how Amazon ultimately plans to be the pipeline through which consumers make all their purchases, see ParcelHero's report.
About the author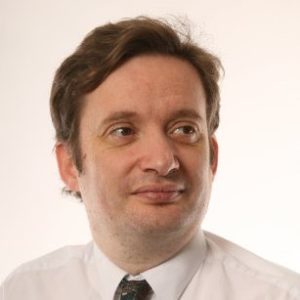 David Jinks MILT is head of consumer research for the online parcel broker ParcelHero. He is lead author of 2030: Death of the High Street and appears regularly on national radio and in the national press discussing the impact of e-commerce, as well as topics such as the potential consequences of Brexit for exporters and music festival logistics. He also presents masterclasses and webinars for the Government's Exporting is GREAT initiative. Jinks has over 20 years' experience as a transport journalist, and for many years was the publisher of The Chartered Institute of Logistics & Transport's Logistics & Transport Focus magazine.