Working in partnership with PostNL, Prime Vision and Genuin Engineering have developed an easy to install, scalable device to help improve the efficiency of the final manual sorting process as parcels leave the automated sorter. Projection Sorting reads the barcodes and addresses of multiple packages as they leave the final chute, and then beams the relevant roll cage number directly onto the packages, helping the handler to quickly place them in the corresponding roll cage or sorting container.
"Usually, this process relies on operators reading barcodes and addresses, thus determining in which roll cage/sorting direction items should be placed," explains Bernd van Dijk, innovation director at Prime Vision. "The Projection Sorting decision support system assists operators by automatically projecting the destination roll cage number. This system not only improves handling speed, but also reduces the number of sorting errors by simplifying the process."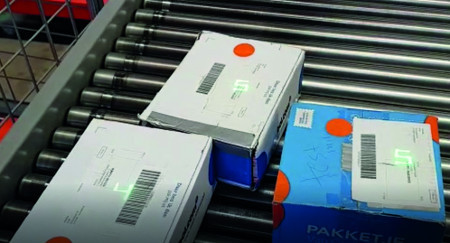 The projector was first developed at a PostNL distribution hub, where an additional manual sortation step takes place at the end of the parcel sorter chutes. Parcels were then sorted into five roll cages for regional sorting or carrier sorting. Prime Vision and Genuin Engineering have since installed a further four projectors, and will roll out another eight later in the year. The key components of Projection Sorting include recognition sensors and a laser projector, as well as vision recognition software.
"It is important to ensure that additional requirements in sorting functionality do not immediately translate into large investment costs, such as adding hardware to existing sorting machinery," adds van Dijk. "The learning curve of operators using the Projection Sorting system is very steep but comfortable, as no specific training or experience is required."
Projection Sorting has a clear advantage over handheld devices and smart glasses, which can only scan a single item at a time. It is also quick to set up and implement; can be easily integrated with existing sorting systems; provides rapid efficiency, even for unexperienced operators; and is low cost, with a quick return on investment.
"Its price, modularity and ease of installation make the Projection Sorting system an attractive proposition," says Ming Chang, director of Genuin Engineering. "There are several alternatives to projection sorting, but they all limit operators to handling one parcel at a time. Initial trials with smart glasses have also been less successful than initially hoped for. In contrast, the Projection Sorting solution is able to support any process whereby people have to make decisions for the sortation or direction of multiple objects, based on visual information."
---
Sorting Center Innovation of the Year Shortlist:
Prime Vision's Handling Projector
Siemens' automatic address reading solution for manual sorting racks
Intralox's self-rising actuation system for ARB S7000 sorter
Eurosort's Twin Push Tray
---
An interview with the award winner – Dirk Jan Brouwer, Project Manager:
Postal Technology International Awards Winners 2017 – Sorting Center Innovation of the Year