DPD Netherlands has launched a new parcel service called ParcelLetter – but how is it different to standard postal delivery?
DPD Netherlands has announced a 'new' service called ParcelLetter that delivers parcels, letters and other items via the letterbox. Unlike other DPD delivery services, a signature is not required. Parcels still have full track-and-trace and the DPD Predict service is included as standard. The new service is aimed at parcels for which the delivery driver doesn't need to ring the recipient's doorbell.
With ParcelLetter, DPD is initially focusing on the SME and consumer markets, extending its parcel delivery range and tapping into a market segment that isn't yet being served. ParcelLetter is currently only offered in the Netherlands as a pilot via the online shipping platform www.pakkettenversturen.nl. In the near future, DPD will also offer the service for shipments to other European countries, enabling consumers and businesses to send parcels, catalogs, samples and letters worldwide via DPD Netherlands.
Everything old is new again
Actually, the service is not new and has been available with DPD Germany for some time. It also made up an important part of Amazon Logistics when Marek Różycki was working as VP Logistics EU for the company. Of course, all postal operators have this type of service too – albeit not always with track-and-trace capability – and it's called letter post!
What's happening in other markets in this space? In Switzerland, many customers have large letterboxes that accommodate parcels, meaning Swiss Post has great first-time parcel delivery rates. These large letterboxes are unlocked, so there is a cultural element here of communal trust.
Royal Mail and many other UK carriers offer 'delivery to neighbor', effectively turning neighbors' homes into parcel lockers, but it's not as convenient as having the parcel at home waiting for you when you get back from work. In Australia, rural postboxes are typically larger to accommodate non-signature parcels.
So why is this important or interesting? It is all about finding a fast, cheap and effective way of delivering small, low value items. If DPD Netherlands' version of ParcelLetter works the same as DPD's German equivalent, then it is available for parcels weighing up to 1kg, subject to width restrictions so as to fit into a letterbox.
The courier and client are almost 100% certain that any attempted deliveries will be successful, subject only to the letterbox being full or blocked. This means great first-time delivery statistics and much better efficiency.
Potential issues
There are a few drawbacks, ranging from the fact that only the smallest packages can be put through a letterbox, to the more important issue of consignees saying they didn't get their parcel.
The first can be dealt with by implementing larger letterboxes, or consumer lockers for apartment blocks. The latter is more difficult, but if the items are low value and the carrier has proof that they have been at the correct geocode, this is probably compensated for by significantly lower delivery costs.
Perhaps technology can come to the rescue. If we were able to develop a simple and cheap camera, scanner or sensor-based device that can be installed in a consumer locker or letterbox, it would eliminate the majority of 'not received' complaints. In residential areas, clusters of advanced parcel lockers will probably be the solution that effectively addresses all concerns here.
Coming back to the title of this article, we would argue that letterbox delivery has never really gone out of fashion but is now spreading to new carriers that would not traditionally have undertaken unattended delivery.
Bios:
Ian Kerr is the founder and host of the Postal Hub Podcast, the weekly podcast for the postal and delivery sectors.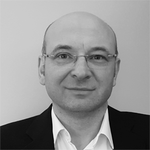 Marek Różycki is managing partner at Last Mile Experts, specializing in CEP and e-commerce last-mile advisory.