Solution Net Systems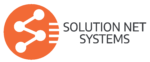 Solution Net Systems is a trusted name and leading global supplier of automated logistics systems in both postal and commercial material handling industries.  As a turnkey solution provider, SNS designs, develops, procures, and integrates configurable solutions which improve operational efficiency to meet or surpass our customer's needs.  With over 50 years of material handling experience, Solution Net Systems provides both standalone islands of automation as well as large-scale facility projects to tier 1 postal and parcel companies located in the US, Canada, and Europe.  Our business model is focused on providing unique automation solutions to help parcel and postal agencies handle the significant rise of small to medium sized parcels caused by the e-commerce surge.
With the dramatic increase in volumes of small items, the need for more flexible and scalable technologies to keep pace with market demands has never been greater.  Through our decades of experience and knowledge, SNS has proven to be a trusted partner for postal and parcel customers in providing sortation solutions, autonomous robotics, AutoID with legal-for-trade dimensions, automated label print and apply, custom software, and optical character recognition (OCR).