VITRONIC Dr.-Ing. Stein Bildverarbeitungssysteme GmbH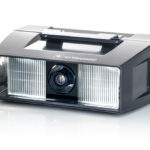 Complex supply chains and an increase in shipment volume require in-tegrated solutions that combine processes and create transparency. VITRONIC's Auto-ID solutions play an important role in this by capturing data automatically, integrating it into connected systems, and thus ensur-ing seamless documentation.
Hardware – new line-scan camera for DWS system solution
VITRONIC's latest generation line-scan camera, VICAM 3S, is the heart of the DWS system. DWS systems combine three work steps (dimen-sioning, weighing, and scanning) at one point in the process chain. The 3S in VICAM 3S stands for smart, small, and synchronized. Smart – an integrated decode unit on board the camera enables plug and play op-eration as a stand-alone system. Small – the compact design, with a width of only 45 cm and around 40% less weight, simplifies handling and installation. Synchronized – the system reads, processes, and transmits the data while the goods pass through, offering optimum read results.
Software – analyze data, monitor and optimize processes
VITRONIC software solutions are tailored to meet the complex require-ments of digitized supply chains and offer a variety of options to utilize the captured shipment data. All information can be archived both locally and centrally and can be accessed by a web browser at any time. De-tailed evaluations, regardless of location, form the foundation of targeted process optimization. The information recorded in real time ensures greater transparency throughout the entire value chain—an important component of Logistics 4.0