Next time you see a strange object flying in your friendly neighborhood, don't get startled. Chances are that it may be another dutiful, unmanned aerial vehicle (UAV), or drone, doing last-mile delivery chores.
One giant leap for the drone 'kind'
Over the years, drones have worn many hats. In the beginning, they were used primarily for military purposes, but things changed in 2006. In the aftermath of the Hurricane Katrina disaster, the Federal Aviation Administration (FAA) authorized the use of drones within US civilian airspace. They were used for search and rescue missions, assessing on-ground damage, and even sending food and medical supplies.
It was not until 2013, when Amazon's former CEO Jeff Bezos announced his intentions to test drones, that the idea of using drones for last-mile deliveries took off. Amazon's Prime Air completed its first drone delivery on December 7, 2016 – a 13-minute ride from a fulfilment center to a customer's doorstep in Cambridge, UK.
But Amazon was not the first company to use drones to deliver a product to a customer's door. That honor belongs to 7-Eleven. In July 2016, the company partnered with Flirtey to deliver a chicken sandwich, donuts, coffee, candy and Slurpees to a private residence in Reno, Nevada.
The rise of drone delivery companies
With accommodating regulations coming into force, the possibilities of last-mile drone deliveries expanded. As money started flowing into the last-mile drone delivery market, more companies entered the drone business, with several of them cutting deals with retailers who were looking for speedy last-mile deliveries.
Google's parent company Alphabet's drone delivery arm, Wing, partnered with pharmacy chain Walgreens to deliver products via drone in 2019 and expanded the service to Dallas-Fort Worth last year. According to a report, Wing completed more than 200,000 package deliveries in 2022.
Founded in 2014, Zipline is a USA-based drone manufacturing and operations company that recently signed a deal with the Rwandan government to deliver medicine, nutritional supplements and animal health products across the country.
Walmart tied up with Zipline and drone delivery companies DroneUp and Flytrex to expand its footprint across the USA. The retailing giant claims to have completed over 6,000 last-mile deliveries in 2022, delivering everything from rotisserie chicken to bags of lemons to paper towels.
Manna, a Dublin-based enterprise, delivers coffee and other food products using drones. The company says it has already made 100,000 deliveries using drones in Ireland.
A decade after Amazon tested its first last-mile drone delivery, the e-commerce giant's drone service is officially live in Lockeford, California, and College Station, Texas. Amazon has high confidence in its last-mile drone delivery capabilities and wants to achieve the lofty goal of delivering 500 million packages per year by 2030.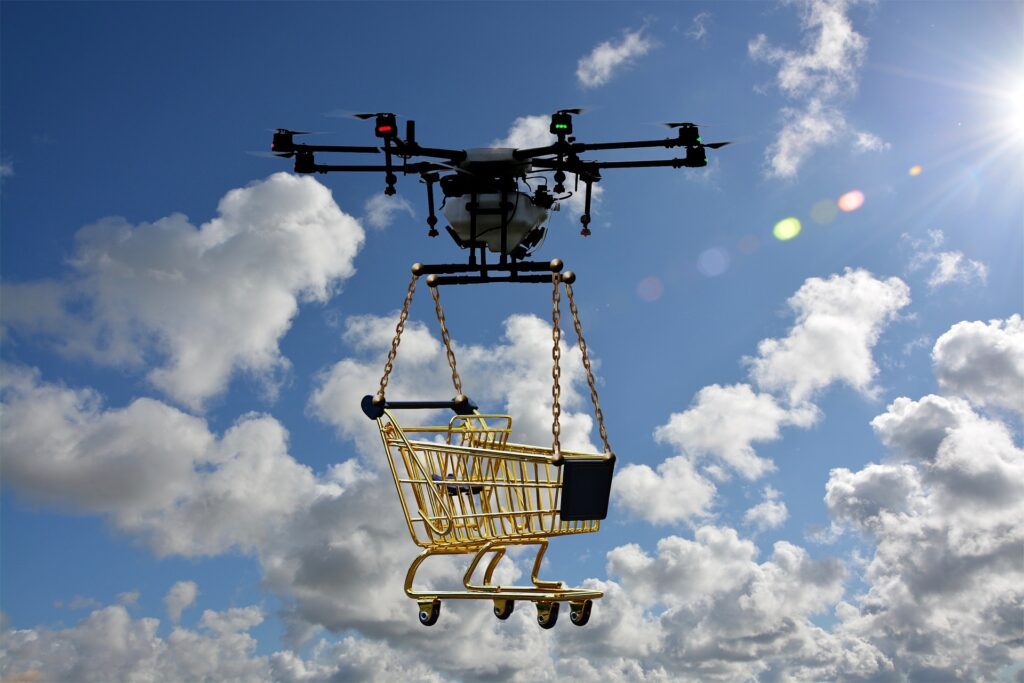 The benefits of last-mile drone deliveries
So, why are companies like Amazon so upbeat about the future of last-mile drone deliveries? Why is the global drone delivery market expected to touch US$3.74bn by 2026? The answer can be broadly divided into three parts:
Fast deliveries
The e-commerce boom and changes in consumer behavior have forced retailers and logistics companies to look at faster last-mile delivery options. According to a McKinsey report, 75% of apparel, hard goods and specialty retailers are looking to align their last-mile delivery capabilities to offer two-day or faster delivery.
By employing drones, shippers and logistics companies aim to bypass traffic congestion and expedite last-mile deliveries. Experts believe that drones can deliver packages 20 times faster than vehicles on the ground.
Cost-friendly
Last-mile delivery is a costly affair and drones are an effective way to bring down this cost. A report from Gartner says that drones offer "lower cost per mile" and "their operational costs are at least 70% lower than a van delivery". A Forbes article corroborates the cost-effectiveness of drone deliveries.
Easy on the environment
Drones are not just faster and easy on the pocket, they're also environmentally friendly. Drone deliveries reduce fuel use and thus help bring down carbon emissions. A report published in the scientific journal Nature found that "greenhouse-gas emissions per parcel were 84% lower for drones than for diesel trucks. Drones also consumed up to 94% less energy per parcel than the trucks did".
Final thoughts
While big brands worldwide continue to take measures to increase drone adoption, drone deliveries have become a last mile 'lightning rod'. The issues range from privacy to safety concerns to noise pollution. According to a survey by global decision intelligence company Morning Consult, 57% of consumers in the USA said they had "little or no trust" in drone deliveries. In September 2022, a Wing delivery drone crashed into power lines in Brisbane, Australia, resulting in an outage that left thousands without electricity.
Despite a few headwinds, last-mile drone deliveries are on the rise. At the beginning of 2022, McKinsey estimated that more than 2,000 drone deliveries took place globally every day. Gartner predicts that by 2026, more than one million drones will be carrying out retail deliveries.
With companies looking at low-cost and sustainable methods for last-mile delivery and governments coming out in support of new policy guidelines that seek to increase drone adoption rate, the future of drone delivery is looking sky-high.