Re-commerce, or circular economy commerce, is the sale of second-hand items, generally through online consumer-to-consumer (C2C) marketplaces. According to a recent press release by Cross-Border Commerce Europe, re-commerce marketplaces are growing 20 times faster than the broader retail market.
Low price and sustainability appear to be the main factors behind this, and most consumers indicate that inflation is a key motivator to buy pre-owned goods.
This trend is supported on the supply side by more brands moving into re-commerce; several retailers have launched take-back schemes, in which customers can trade in old apparel in return for a voucher to spend in-store or a donation to a worthy cause. Classifieds are introducing refurbished items and partnering with re-commerce platforms or brands to source such items. Most of these brands also sell pre-owned goods directly on their own platform and have a 'resale-as-a-service' model, where a third-party manages resale logistics and customer experience on a turnkey basis, including website design, inventory sourcing, processing, photography, customer care, order fulfillment, storage, payouts and returns.
As shown in the above graphic, in 2021 the European re-commerce market was already valued at some €75bn (US$82bn) but the market is expected to grow to €120bn (US$131bn) by 2025 (+60%) and its share of e-commerce will grow from 10% to 14%. This will arguably make re-commerce a new power in the last mile due to the incremental parcels it will bring.
Last-mile evolution
While re-commerce will undoubtably bring more parcels, it will also add complexity and require a new approach to the last mile. Above all, there will be a need for low-cost mechanisms that enable you to arrange deliveries/pickups and even exchange items at the same point. Due to the relatively low value of the items and low parcel per shipment numbers, only efficient out of home (OOH) networks offer financial viability and acceptable customer experience. This is arguably why key re-commerce marketplaces such as OLX and Vinted are beginning to see that the last mile should be a key priority, if they are to grow in a sustainable manner.
Nikita Mullovsky, head of e-commerce, Poland, OLX, says, "The last mile is fundamental to our business as it develops from local to national sales. This requires new tools to allow for secure and customer-centric delivery and collection of items.
"We are working hard on new tools that will improve customer experience for our sellers and buyers alike. Technology will play a key role here as will the use of effective and convenient out of home locations."
So why is out of home so important in achieving a cost-effective last mile for re-commerce? Any dense and effective network of lockers and PUDOs allows for very low cost per parcel. If a traditional door to door (D2D) courier can deliver 150 B2C parcels in a day in a dense urban area, an out of home courier can do 6-8 times this amount. If we add the fact that no individual collection is needed from sellers, who drop off their parcels themselves, and that OOH first time delivery is close to 100%, the case becomes clearer. Promotions such as the one below from OLX are an example of how re-commerce players are seeking to get customers to use their last mile.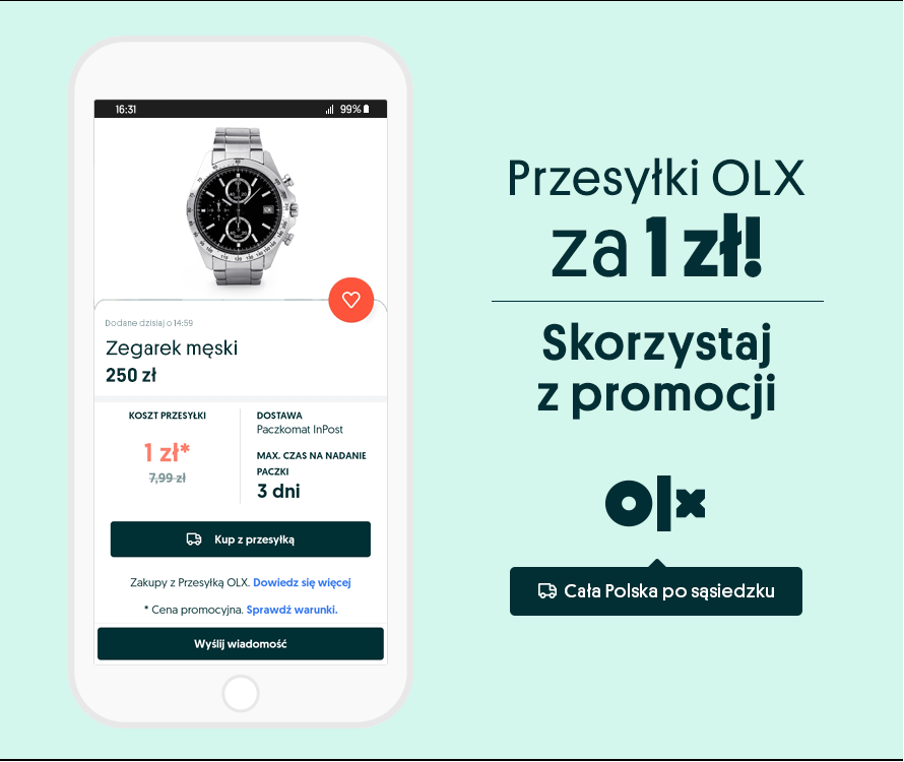 Efficient solutions
Finally, as volumes grow, one can expect more and more local transactions, using the PUDO or automated parcel machines as a 'point of exchange'. Here the logistics cost is limited to that of holding a parcel for a few hours or days. If any doubt remains, Last Mile Experts estimates that for an efficient last-mile network like InPost's in Poland, the end-to-end cost via out of home can be up to eight times lower than for a traditional D2D delivery.
One factor that is often overlooked is the fact that any successful last-mile customer experience requires effective interactive delivery solutions. These Uber-like apps allow consignees to see and control how and when their parcels are collected or dropped off. Critically, they can select preferred OOH points and use the app to collect or deliver contactlessly.
While cost is arguably the key factor favoring re-commerce, some customers operating in the circular economy are likely to be more ecologically minded. Accordingly, any efficient OOH network, offering a carbon footprint of around one third of D2D, is an attractive proposition.
Re-commerce companies such as eBay and Vinted have made efforts to create their own last-mile capability, with mixed success. eBay invested in Shutl in 2013 but was not able to leverage this opportunity. More interesting is Vinted's 'Go' network in France. Here the re-commerce unicorn has teamed up with Portuguese Bloq.it to create one of the leading parcel locker networks in France.
Miha Jagodic, CEO of Bloq.it, explains, "We are excited to have been the power behind Vinted Go and are optimistic as we see consumer acceptance and Vinted Go's ambitious plans."
OLX and many other players are seeking to leverage third-party last-mile capabilities. Interestingly, via a joint owner (Naspers), OLX has the capacity to work with Sameday, a leading B2C parcel and locker player in southeastern Europe. Time will tell if this opportunity is realized.
"We are simply blown away by the incredible results of our Easybox locker network and see this as a key enabler for re-commerce in the southeastern European region," says Lucian Baltaru, CEO of Sameday Group.
Observing developments, we can see that re-commerce has grown from local classified market type transactions to national ones. The next development we can expect is growth of cross-border re-commerce which has already been offered for some time by eBay but which must now be the new frontier for most large players who have multinational coverage.
However we look at it, re-commerce is here to stay and stakeholders who ignore it do so at their own peril. It is clear that OOH and interactive delivery management are key to success here and those players who have invested in this space will reap the benefits in future years.
This article will make up a chapter in Last Mile Experts 2023 Out-of-home delivery in Europe report, coming out soon. Sign up here for free: https://lastmileexperts.com/reports-subscriptions/