The 2019 edition of Parcel+Post Expo attracted a record audience, with more than 4,000 total attendees from some 97 countries, proving that the event really is the global meeting place for the postal, parcel and last-mile delivery industry.
The show, which was staged at the RAI Amsterdam, October 1-3, 2019, offered postal operators, couriers, e-fulfillment companies, cross-border shippers and delivery companies the perfect platform to discover new solutions, debate current issues and form business relationships on a global scale.
Over 200 international exhibitors presented their latest innovations at the free-to-attend exhibition, with everything from drone parcel delivery and zero-emission fleets, to advancements in robotics and the Internet of Things (IoT) on display.
Established names such as MHS Inc, Siemens, Vanderlande, Escher Group, Beumer Group and BlueCrest were joined by a host of new exhibitors, including Direct4.me Inc, Happy Scoot, Leopard Systems, Metra, Modul System, Solution Net Systems Inc, Packeta, System Plast, Unicum and Wayz Intelligent Manufacturing Technology Co Ltd.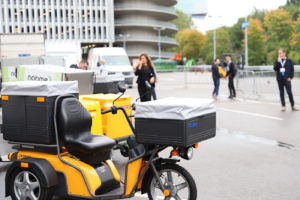 A dedicated 'Startup Avenue' on one side of the exhibition hall provided the perfect location for a new generation of companies to present and pitch their latest ideas and technologies, while a drone demonstration area and vehicle test track further added to the excitement on the show floor.
The Parcel+Post Expo Conference featured over 150 expert speakers across 12 dedicated sessions, which covered everything from the latest developments in e-commerce, last mile and digital innovation, through to parcel handling and tracking, intelligent self-service solutions, robotics and AI.
There was also an intensive, interactive workshop program, covering topics including PUDOs and lockers, customer engagement, digital transformation, and social media and communications.
The event also played host to the eleventh Parcel and Postal Technology International Awards, with the winners announced during a live evening ceremony and free networking exhibitor hall drinks reception on the first day of the show.
Exhibitor news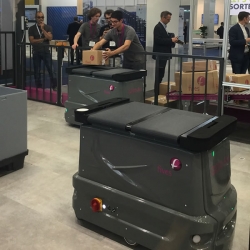 Headline news included the launch of a new autonomous mobile robot sorter from Fives Group. The GENI-Ant robot optimizes its travel path in real time, calculating the best route depending on the position of the vehicle in relation to the loading and unloading areas, obstacles and minimum distance to its final destination. Sensors alert the sorter to any potential crashes, bringing it to a halt. Visitors to the show were able to witness a team of GENI-Ants in action during a live demonstration on the company's booth.
Parcels can be loaded onto the GENI-Ant manually by an operator or automatically with an automated induction line. The GENI-Ant does not even need to stop for loading and unloading; both operations are carried out on the go. The battery-powered robot can adjust its speed according to need, such as for unstable parcels, or on the approach to the parcel loading/unloading area. The battery regenerates while in use, meaning there is no downtime. GENI-Ant can be equipped with one sorting cell for crossbelt sorters, or with two standalone cells to enable sorting of multiple items.
"We are very excited to present for the first time our GENI-Ant, which we believe is a breakthrough for the parcel sorting industry," explained Lilia Goncalves Da Mota, business lines communications manager for Fives. "We have had a lot of interest already, and many people are curious about the GENI-Ant. This is my first time at Parcel+Post Expo, but Fives Group has been coming for many years. All the key players are here, and all the key customers are here as well."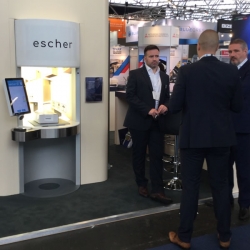 Escher Group made not one, but three important announcements at the 2019 show. First, it announced the reimagining of its Riposte platform, which now enables postal operators to take advantage of new, standard, configurable applications that support fast deployment of products and services at any point of service or channel.
"This latest release is built on our messaging framework, providing a modular architecture and consolidated data center infrastructure. It works straight out of the box, and bundles all sorts of different areas into one application," explained Nick Manolis, CEO of Escher Group. "The solution integrates with existing systems and can expand to enable posts to pivot and adapt to new services, markets, business models and technologies."
The second announcement saw the launch of a new PUDO solution aimed at postal operators. Riposte PUDO provides posts with a cost-effective solution to automate and integrate transaction processes as well as minimize hardware investment. It enables agent networks to conduct transactions on the posts' behalf, with low setup costs. Escher claims Riposte PUDO provides a responsive, open, modular and future-proofed solution enabling the seamless deployment of software updates.
Escher also announced a new partnership with Hurricane, which specializes in calculating duty and taxes and compliancy screening for parcels. The partnership enables postal operators to correctly calculate duties and taxes, check product classification and screen for restricted products and denied parties at the point of engagement with their customers.
"For example, someone will mail a family member a sweater that costs US$20 from overseas," said Manolis. "But when it arrives, the customs charge is US$30 for the recipient. Often, the recipient will decline to pay the fee, so it must get sent back internationally. This costs a lot for the shipping company, and the customer service isn't as good as it could be. Partnering with Hurricane will give us the ability to work on solving this particular problem."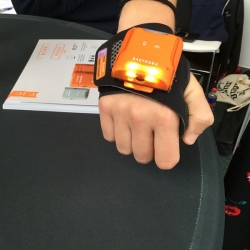 First-time exhibitor ProGlove – which could be found on the show's dedicated Startup Avenue alongside a number of other exciting, fresh talent – introduced an innovative new solution to aid parcel sorting: a glove featuring an integrated barcode scanner. The MARK 2 wearable scanner won visitors over with its inherent simplicity and ingenuity.
"It is by far the smallest and lightest scanner on the market," explained Sebastian Hugl, business development manager at ProGlove. "It is extremely efficient to have the scanner on the hand: users save four seconds per scan, which adds up to huge time savings."
The MARK 2 can be connected to other devices such as tablets, smartwatches or wearable terminals via Bluetooth Low Energy (BLE). Additionally, the module offers an extended scan range of up to 150cm and has a battery life of up to 16 hours.
"The glove scanner is also safer: the user can scan but still have their hands free," continued Hugl, who confirmed that DHL is among the 400+ customers who have already purchased the technology.

Another first-time exhibitor, MHS, launched two new sorting solutions – the HC-Loop crossbelt system and the HC Smalls Sorter – following its acquisition of VanRiet and OCM in 2018.
The HC-Loop crossbelt sorter features a sense load feature, which ensures high throughput and the best loading strategy for parcels. With a modular design, different types of layouts are possible: it can be supplied in straight and curved sections, and in inclined, declined or double layout.
The HC Smalls Sorter is a shoe sorter capable of sorting the smallest and lightest parcels in the market. It can sort items that are just 0.5mm in height and 0.05kg in weight. The solution is also compact, quiet and modular. It can be provided with a high number of exits at a pitch of 650mm or 900mm.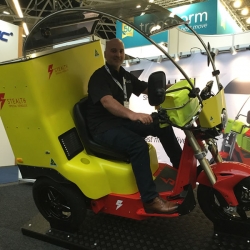 Stealth Special Vehicles introduced its OzPOD3 electric delivery vehicle. Manufactured in Australia, the OzPOD3 is designed to safely and efficiently extend the capability of last-mile delivery services to difficult operating environments.
"Australia has some extreme conditions, so we have built the OzPOD3 to be extremely rugged and reliable," said John Karambalis, CEO, Stealth Special Vehicles. "We created this vehicle with Australian conditions in mind, hence it has heavy-duty suspension for rough terrain, and is open to handle the heat – most drivers are in full motorcycle gear, so being in a closed cabin won't work."
With a top speed of 50km/h and a range of up to 150km, the OzPOD3's high-torque electric drivetrain can easily pull out on gradients of up to 30% with a full 250kg total payload. Carrying capacity is 720 liters, with changeable shelving and drawers. The three-wheeler has five active and two passive braking systems so operators can safely negotiate any situation. All tires are interchangeable and are commonly found car tires.
"It is 98% recyclable, with a Li-ion battery featuring a range of about 150km," added Karambalis. "We started making mountain bikes about 12 years ago; this is our first foray into the parcel delivery sector, and it's also our first Parcel+Post Expo – and we're very excited to be here!"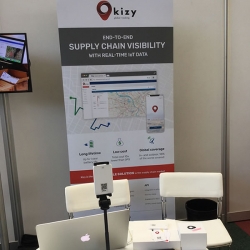 Kizy Global Tracking, another first-time exhibitor, presented a solution that allows users to track shipments in real time worldwide without having to invest in any infrastructure.
"This is the ideal solution to track shipments," explained Bertrand Späth, vice president of sales and business development at Kizy. "It's small – about the size of a credit card – and is less than 1cm thick. The battery life is about one year, and then when the year is up, it can be recharged by USB and is good for another year. It measures the location in real time with no infrastructure needed for it to work – and it works immediately. It has more autonomy than GPS and costs about 10 times less than GPS as well."
Location accuracy is up to 10m and can be tracked worldwide. The system is often used to provide information about global supply chains, which can then be used to optimize supply chains.
"There are many use cases: for parcels, you can compare data with expected delivery paths," continued Späth. "You see that while your shipment is supposed to go through Ukraine, it actually goes through Argentina. In terms of performance management, you can track how much time shipments need to get from one point to another. This is very important, allowing users to check the quality of third-party partners."
As for the show, Späth was impressed: "We have had a great visit to Parcel+Post Expo," he noted. "We have had many good quality visits from potential customers. It's always worth coming, even as a visitor, because you meet everybody in the industry."
Conference notes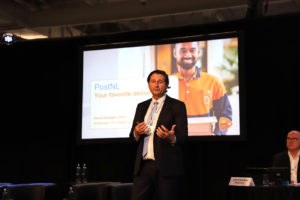 Arno van Bijnen, director for cross-border solutions at PostNL, revealed how PostNL has transformed itself into an international e-commerce player, during the Parcel+Post Expo Conference that ran alongside the exhibition.
Speaking in the Global Leaders session on the first day, van Bijnen discussed how, since 2012, PostNL has transformed into a profitable business that is investing in growth and innovation. Over the past seven years, the operator has gone from a traditional mail business to a logistics e-commerce service provider, with at least 50% of its revenue now related to the e-commerce sector.
"We have adopted a connect, convert and collaborate approach, which has helped us with our e-commerce transformation," explained van Bijnen.
During the same Global Leaders session, José Luis Rodríguez Correa, CEO of CorreosChile, took to the stage to outline the opportunities and challenges associated with operating in Chile.
"CorreosChile faces some unique challenges," he said. "It is a very long but narrow country and features diverse landscape, including mountains, lakes and we even have a post office in Antarctica. We deliver 800,000 letters a day and 100,000 packages a day. International e-commerce has grown significantly over the past six years, so we have had to change our approach and adopt new initiatives, which are based on four key pillars."
The key pillars are offering an attractive value proposition, creating a digital agenda, developing operative excellence and encouraging the post's own staff to drive the change. "One of the biggest challenges we faced was changing the mindset of our workforce. They need to understand how the company has changed over the years, so they can help drive our transformation."
The second day of the conference saw Samanta Thaver, senior manager of commercial at the South African Post Office, outline how the 16 countries in the Southern African Development Community (SADC) have to work together if they want to be successful in the future.
"The postal industry is going through a major transformation," said Thaver. "We recognize that the current business model at posts in the SADC is broken, and therefore we need to rethink how we do things. We need to make a paradigm shift into a new ecosystem where data is key."
Big data and the use of AI could help posts better predict trends and challenges in real time and in the future. According to Thaver. "The SADC needs to create a synergized network, so we can all benefit from each country's strengths and help address any weaknesses," she continued. "Globalization is eating us up, but if the 16 regions work together then we will have a strong future."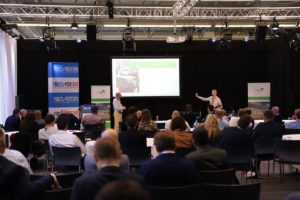 Last Mile Experts' Marek Różycki and Postal Hub Podcast's Ian Kerr drew on their combined experience in setting up PUDO and locker networks to offer delegates attending the conference advice on how to create a first-class out-of-home delivery network, via an exclusive workshop titled 'PUDOs and Lockers: The New Power in the Last Mile'.
"Out-of-home delivery is becoming crucial for the delivery sector because it offers a virtually guaranteed first-time delivery solution, and that is particularly important as we head into peak season – and every year peak season gets bigger and bigger," explained Kerr.
The workshop was aimed at posts looking to learn how to best strengthen their existing networks and market position; parcel carriers keen to create a physical footprint and increase capacity; and e-commerce companies seeking to gain new advantage in the last mile.
Kerr and Różycki highlighted the importance of interactive delivery management (IDM), pointing out that best-in-class IDM should allow the recipient to choose time/day/place; select a narrow final time window (<30 minutes); change their mind 'on the fly'; and track driver progress.
They also argued that "bedrooms are better than boardrooms" – i.e. it's better to position lockers near to customer homes, to allow recipients to more easily carry heavier parcels home, rather than delivering to their place of work.
An Post's awards triumph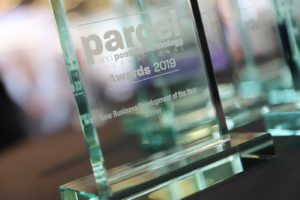 The eleventh edition of the Parcel and Postal Technology International Awards saw the Republic of Ireland's An Post scoop two of the most prestigious awards: Service Provider of the Year and New Business Development of the Year.
The state-owned provider of postal and parcel services in the Republic of Ireland was rewarded by the international judging panel for its exceptional performance across the board. In the New Business Development category, it was the company's Address Point service that took the plaudits. An Post has teamed up with charities and service providers to launch Address Point, a groundbreaking, free personal postal address and letter collection service for people who are homeless or living in temporary accommodation.
In the Service Provider of the Year category, arguably the most prestigious award of the night, it was An Post's impressive growth and its turnaround in profitability that caught the attention of the judges. In March 2019, An Post revealed an increase in its revenue and operating profit following the launch of its business transformation strategy in 2018. The company announced that revenue reached €897m in 2018 – an increase of 7%.
Other worthy winners on the night included Prime Vision, which picked up the Sorting and Fulfillment Hub Technology of the Year for its Chinese Address Reader; the Last Mile Delivery Innovation of the Year award was collected by Cleveron for its self-driving parcel delivery robot; the Final Mile Innovation of the Year award was won by bpost for its in-home delivery solution; the Retail/Customer Service Innovation of the Year award was picked up by Posti Finland for its Unmanned Postal Kiosk; the Environmental Achievement of the Year award was claimed by Qatar Post; and the Supplier of the Year category was won by Solystic.
Visitor feedback
With innovations and new technologies around every corner, and a conference program packed with honest insights and detailed case studies, visitors to the 2019 show were quick to praise its quality and dedicated focus:
Bart Van Eijck, CEO, QRING BV, Netherlands: "I've learned a lot of new things. I'm here to discover new initiatives and it's been very useful from that perspective – I'd definitely recommend it. I'm particularly interested in start-ups – it's been very eye opening to see what new and smart ideas are being deployed."
Frédéric Mansour, sourcing fleet manager, bpost, Belgium: "It's been very interesting. We've met and made a few contacts specifically offering e-vehicles, and this may be the start of a potential cooperation, so it's been a very positive experience."
Yasser Alkadi, managing director, Zajil Express, Saudi Arabia: I've been attending Parcel+Post Expo for the past four years, and I see a big improvement year after year. The exhibits and the conference topics get richer and more in depth, and it really touches the market. It's a great place to discover changes in global consumer behavior and how this is impacting the customer experience."
Baker Alshurafa, projects manager, Qatar Postal Service, Qatar: "It's been very valuable in helping us to understand the various experiences of different post offices and service providers and how they are adopting and implementing new technologies, and how we should develop our own services for our customers."
Eric Troussard, country manager, Sigfox SA, France: "The expo is a great event to meet people within the postal and parcel industry. We are a technology provider and what we are trying to do is give them new ideas about the future and where to go. It's been a great way to connect with a lot of people, good people, C-level people – it's been a great exchange and great for networking."
Thierry Golliard, head of open innovation and venturing, Swiss Post, Switzerland: "It's been very valuable – Parcel+Post Expo is a very nice networking platform. It is the unique opportunity of the year to meet so many relevant partners, from postal organizations to startups and suppliers."
The dates and venue for 2020: October 13-15, Vienna, Austria.