Over 140 exhibitors will present their latest solutions in a fortnight's time, at this year's free-to-attend Parcel+Post Expo. The world's largest international parcel and postal industry exhibition and conference takes place October 12-14, in Vienna, Austria, where visitors will be able to see and experience the best and most exciting innovations and technologies set to shape the future of the industry – all under one roof for maximum convenience.
Held for the first time since 2019, this year's show is particularly anticipated, providing a much-needed opportunity for posts and parcel carriers to source and trial the new solutions they need to keep up with the unprecedented explosion in e-commerce and home delivery seen during the recent pandemic.
In recognition of the extraordinary circumstances of the last 18 months, the organiser has decided to waive the fee for a conference pass (rates would normally apply), with the conference now completely free to attend.
Find new solutions
A host of new technologies are expected to make their debut in Vienna. For example, QuadriBot will present nanoSense – a solution for tracking parcels and generating alerts when events such as temperature or humidity variation or other incidents occur during delivery. As small as a USB key, it combines both Bluetooth Low Energy (BLE) and NFC technology, and can easily be integrated into any parcel. Features include temperature, humidity, vibration, movement and position detection; automatic detection and pairing with other devices via NFC; speedy BLE wireless data transfer; wireless charging technology (QI); enclosures in IP41 and IP65 varieties for outdoor and indoor use; and out-of-the-box and customizable data processing and data fusion.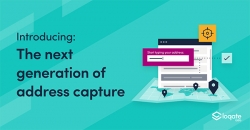 Shippers looking to improve their address accuracy should stop by Loqate's booth, which will showcase the latest version of its new Address Capture (verification) solution, complete with five new features, including multi-language and character input, location biasing, advanced results filtering, fuzzy matching, and 150% more street data and 151% more zip codes.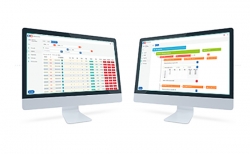 Leg-2 Experts will profile the latest features of its Airmail Data (AMD) system, which it claims is the only postal electronic data interchange (EDI) solution that can give posts full visibility on their leg-2 operations, irrespective of the mode of transportation. AMD's functionalities have been expanded in response to the Covid-19 crisis, which has pushed posts to find new partners ready to carry mail under UPU standards. The company says its ambition is to offer posts – especially those concerned by the forthcoming ICS2 regulation – the possibility to organize a 'self EDI', even when the airline market is not responsive.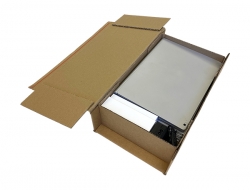 The growth of the e-commerce market has led to increasing demand for packaging made of paper and corrugated board. Kern will display its PackOnTime 2box multi-format packaging system for high-quality boxes made of corrugated board, available in a customized shipping package for any type of order. To produce the correct box size, the items to be packed are dynamically measured and then automatically packaged and the box sealed. The boxes can be personalized using pre-printed corrugated board or via an integrated, digital printer.
A wide range of new parcel locker solutions will also be presented in Vienna, including the debut of Keba's KePol Flex system designed for quick and cost-saving outdoor installation, featuring a powerful internal battery that lasts its entire lifespan, negating the need for costly electrical integration.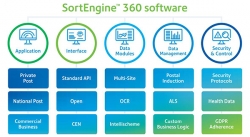 There will also be a wealth of new sorting systems and technologies taking center stage at Parcel+Post Expo 2021. For example, BlueCrest (left) will guide visitors through its SortEngine 360 platform featuring integrated OCR technology, which enables operators to gather intelligence and drive efficiencies across the entire processing environment; while Beumer will show how techniques such as 3D visualization, machine learning and data analytics can help achieve greater sortation system optimization, availability and capacity.
Visitors can also expect to see some exciting new electric vehicles ideal for the last mile. Japanese company Aidea now offers its new AA-Cargo vehicle throughout Europe, featuring a single battery that can recharge to 80% in less than two hours from domestic 220V grids or via an onboard charger. Its generously proportioned rear flatbed can carry a 100kg payload of various box types and sizes, making the trike ideal for refrigerated, hot, grocery and parcel delivery in the city.
Click here to read all the latest exhibitor news from the show.
Free conference
This year's conference will be entirely free to attend, with live 'in-person' presentations from over 100 expert speakers from leading organizations including Austrian Post, Emirates Post, Doddle, Swiss Post, UPU, PostNord, DPD, Hermes, Canada Post, Correos, Russian Post and Whistl. See the full line-up here.
Dedicated sessions will focus on digital transformation, sustainability, improving last-mile convenience, lessons learned from the pandemic, as well as the ever-popular Innovation and StartUp Day (Tuesday 12 October), hosted by the Postal Innovation Platform's (PIP) chairman, Bernhard Bukovc, in partnership with Swiss Post, Austrian Post and Parcel+Post Expo.
The winner of the PIP Innovation award will be announced during the Parcel & Postal Technology International Awards, which itself features eight categories in total, with the trophies presented during an evening reception on Tuesday, October 12.
Join us at the industry event of the year – if you haven't already, register for your free fast-track entry code, now!