For its 22nd show, POST-EXPO 2018 is traveling to Hamburg, Germany, on October 8-11, where it is expected to attract around 3,000 visitors from over 100 countries.
With less than two weeks to go, we provide a rundown of some of the most highly anticipated exhibits promoting the use of automated and robotic technologies in the courier, express and parcel delivery sectors.
Visitors should register now for their free fast-track entry to ensure rapid access to all the latest innovations and the best products on show from more than 160 exhibitors, all under one roof.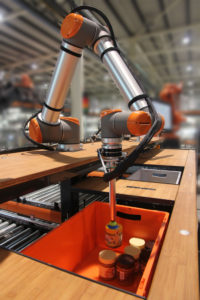 Smart item robotics
Vanderlande will be presenting a study model based on Smart Item Robotics (SIR) technology at this year's POST-EXPO. SIR technology focuses on the robotized handling of single items in applications such as order picking and infeed loading. Vanderlande will also demonstrate its 'bin-to-bin' picking concept, in which a collaborative robot based on SIR principles can operate both independently and together with an operator.
Today's e-commerce distribution centers (DCs) need to pick a large variety of items, which results in increasingly complex operations. Alongside this, the scarcity of manual labor further increases the pressure on a DC's performance. SIR – also known as collaborative robotics – is an effective and risk-free way to gradually introduce robotic technology into a DC while retaining high levels of scalability and flexibility.
"Operators can work safely side-by-side with the robot unit without using a fenced cell," explains Vanderlande's market director (parcel and postal), Rob Qualm. "This creates a low-risk working environment with high flexibility. Our state-of-the-art software will allow the robot to pick the majority of products without the need for teach-in, which is a huge benefit considering the ever-increasing range of products in e-commerce."
The robot optimizes order carton filling by gently stacking items and can also be used for picking, with a capacity of up to 600 items per hour. "Our SIR innovation has been positively received because it's not only low risk, but a human operator is still required," adds Qualm. "As such, our short-term vision is that it may only require one operator to oversee several workstations, for example."
In line with this, and as part of the event's conference program, Rob will share his insights on the challenges that are facing distribution companies in meeting their fulfilment promises. This will take place on Thursday, October 11.
To learn more about Vanderlande's versatile and diverse product range, please visit stand 150 (Hall B2).
Vanderlande
Stand B2.150
AI-powered robotics systems
GreyOrange, a global leader in AI-powered robotics systems for flexible automation in distribution and fulfillment centers, will present GreyOrange Butler at this year's POST-EXPO – a goods-to-person robotics solution for automated inventory storage and replenishment, and picking and combining orders in distribution and fulfilment centers.
Enabled by artificial intelligence (AI), its software adapts in real time to changing inventory profiles and order fulfillment patterns and peaks, resulting in higher productivity and accuracy. Its modular system architecture provides flexibility and scalability to increase storage volume or fulfillment throughput by adding more racks or robots as needed.
The GreyOrange Butler range, M and XL, can handle a wide range of loads from raw materials to finished goods, including automotive components, manufacturing material and liquids, and is ideal for handling bulk inventory in factory warehouses, omni-channel fulfilment centers and large distribution hubs. GreyOrange Butler XL has a payload of 1,600kg (3,500 lb).
The company will also present GreyMatter – a software platform that optimizes and synchronizes material flow to gain the highest efficiencies. It delivers the visibility, collaboration and insights required to manage omni-channel distribution and fulfillment centers for Industry 4.0. GreyMatter leverages AI and machine learning to optimize large and complex operations for e-commerce, retail, manufacturing and third-party logistics(3PL).
GreyOrange customers in Europe include a global 3PL using the Butler system for a pan-European distribution operation in Benelux, and a leading e-commerce platform using it for its regional fulfilment center.
The company will also share how the beta launch of its new-gen Butler PickPal, an autonomous picking solution, has been well received. Butler PickPal is powered by AI and machine vision to unlock the next level of efficiencies in the order picking process. It works seamlessly with the GreyOrange Butler robotics system to manage high-speed fulfillment.
GreyOrange has been at the forefront of innovation for warehouse automation and has expanded rapidly in recent years. Its solutions have been deployed at client sites globally for e-commerce, omni-channel retail, consumer packaged goods and logistics industries in Asia, Europe and the Americas. The company is headquartered in Singapore with offices in Japan, Hong Kong, India, Germany and the USA, and three state-of-the-art R&D centers in the USA, India and Singapore.
GreyOrange
Stand B3.180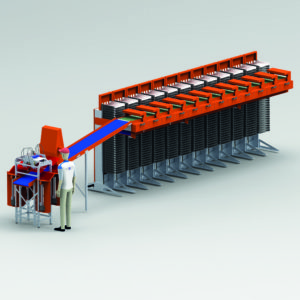 Robotic sorting
Treco Postal's Solitaire Robot replaces manual sorting racks with its scalable capacity. The company will be launching the sorting machine at POST-EXPO 2018, showcasing its ability to sort mail in a sequenced order. The machine's main function is sequencing of rest mail, mixed mail, and flats up to 32mm (1.2in).
The Solitaire Robot requires minimal maintenance and manpower. Combined with low running costs and a small footprint, the new sorting machine has an attractive return on investment. The company has spent years developing and testing the Solitaire Robot, resulting in a premium class sorting robot that is compatible with all databases. The robot has a modular design and scalable capacity.
Treco Postal will also showcase its version of a community mailbox that solves the issue of first-mile and last-mile logistics.
Treco Postal
Stand B1.425 and B1.427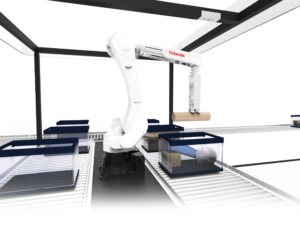 Intelligent robot
As one of the leading logistics and postal solution providers, Toshiba is now offering an automated robotic system that fits various needs in the fields of postal, logistics and retail. The company collaborates with diverse partners to deliver the robotic system users need.
The three key technical advantages of Toshiba's intelligent robot are: image recognition technology – Toshiba's vision system for the robot recognizes various shapes and materials with high accuracy and speed; various picking hands – Toshiba has various line-ups of picking hands to realize desirable picking movement in accordance with handling shape and weight; and an AI system for efficient logistics operation – Toshiba aims to provide AI simulation software that contributes to customers' optimal operation particularly by improving packing, loading and transportation efficiency.
Toshiba
Stand B2.160
Conference presentation: Why robotics is a key driver for e-commerce in the 2020s
Richard Hagen, account director, Prime Vision, will attempt to answer a crucial question at this year's POST-EXPO conference: 'Why is robotics a key driver for e-commerce in the 2020s?' However, he believes the question, 'How will robotics be a key driver for e-commerce?' is much more straightforward.
"We can all imagine a future in which a robot will deliver our mail or a drone will knock on our front door," he says. "Put another way: Will robotics be a key driver? Simple – the answer is yes. Definitely. But the bigger question is why robotics is a key driver for e-commerce."
Come and discover why at this year's POST-EXPO conference. To register (rates apply), click here.