As Parcel+Post Expo 2022 kicks off in Frankfurt, Germany, we bring you news of the latest solutions and innovations impressing visitors on the show floor.
Parcel+Post Expo combines an international exhibition showcasing the latest, most innovative technologies with a live conference and industry awards.
This year's event, being held now at Messe Frankfurt (October 18, 19 and 20), features the major parcel delivery industry technology suppliers, as well as some of the most exciting new startups, disruptors and young innovators, showcasing the latest in robotics and automation, e-commerce fulfillment and intralogistics, plus autonomous and electric vehicle last-mile solutions.
With more than 200 exhibitors – including more first-time exhibitors than ever before – new supply chain partners and business solutions await.
It's not too late to attend – register here for your free entry pass.
Here's a taster of what's currently on display on the show floor at Messe Frankfurt…
Vanderlande launches its data analytics solution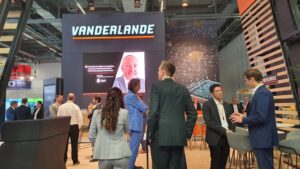 Vanderlande has launched its data analytics solution – PACE Digital Suite – for parcel businesses, at Parcel+Post Expo.
Parcel delivery companies across the world are dealing with high volumes due to the boom in e-commerce over the past two years. This means that sorting systems are now at full stretch as consumers who moved to online shopping during the Covid-19 pandemic continue to enjoy its speed, choice and convenience.
Vanderlande has designed a system to provide parcel hubs with fast, reliable and efficient automation that can help operators understand how their sorting systems are performing. The technology supports decision making related to maintenance planning and daily operations while easing the work of on-site teams. With its use of data, Vanderlande is able to provide lifecycle planning services to the parcel delivery companies that use its equipment. By improving lifecycle planning for sorting systems, Vanderlande expects to reduce breakdowns and running costs while increasing operational efficiency.
Mike Christman, global executive vice president of parcels for Vanderlande, said, "The courier, express and parcel [CEP] industry handles millions of packages every day. However, with fluctuating demand, rising supply chain costs and labor shortages, meeting customers' expectations for faster, seamless deliveries is becoming an increasingly complex business. As CEP companies turn to automation and smart technologies to face these challenges, digitalization will be the key to optimizing their operations. We look forward to discussing how our digital solutions can help to optimize parcel sorting operations via smart use of data at Parcel+Post Expo."
Körber presents three automatic processing solutions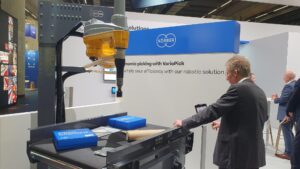 Körber is presenting three products for efficient automatic processing: VarioPic, the robotic, dynamic picking solution; Visicon, the bulk streams singulation solution; and Visicon Compact,  the smaller, space-saving version of Visicon.
VarioPick is a robotic solution for dynamic picking. It is designed to flexibly remove predefined items from a moving 2D bulk stream. Deep learning technology is used to identify the shape and position of objects. The robot is also capable of determining the optimal gripping point. This and the special gripper design ensure safe transportation during automatic bulk handling processing of small items despite variations in size, shape and packaging. Sorting out difficult-to-handle items as early as possible makes the process less time-consuming and cost-intensive.
Visicon and Visicon Compact are singulators that generate a continuous stream of individual shipments arranged one after the other, with a predefined gap. Their variable transport speeds can handle up to 18,000 consignments per hour. The AI-based vision system detects and records the shape, size and relative position of each parcel and forwards this information to the control system. The system calculates singulation parameters to automatically singulate parcels. The smaller Visicon Compact singulates up to 7,000 items per hour on less than 7m2 .
Thorsten Bohn, head of sales at Körber Supply Chain Parcel Logistics, said, "Parcel+Post Expo has it all: it's a trade fair, it's a conference, it's a platform for discovering the latest trends and innovations in the CEP market and it's a chance to meet our 'old' customers in person and to cultivate new ones. Parcel+Post Expo is a perfect occasion to meet and greet our customers.
"Now that the former Siemens Parcel Logistics is part of the Körber Group, there's a lot that we can discuss," Bohn continued. "We value this opportunity to connect to our customers in person, better understand their expectations and align those expectations with ours. We want to expand upon our proven, successful cooperation with our customers and make the most of the opportunities that are available to us through the Körber umbrella, which covers the entire supply chain. Our portfolio comprises products and solutions for the entire processing line – from unloading to sorting. This year we are highlighting our latest innovations for managing bulk streams with our Visicon singulator and the VarioPick robotic solution."
Kairos Conveyor introduces its powered belt curve conveyor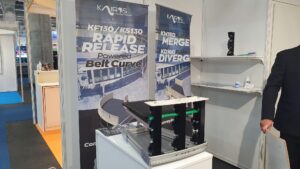 Kairos Conveyor has introduced its powered belt curve conveyor, the KF/KS130 Rapid Release Powered Belt Curve Conveyor.
The solution features an outer frame of vertical pillars and a rapid-release guidance system that ensures rapid belt, pulley and bearing replacement. It is also intended to facilitate the economic fabrication of spiral curves. The KF/KS130 Rapid Release Powered Belt Curve Conveyor has been designed to be the optimum curve conveyor in terms of geometry, material selection, cost of manufacturing, ease of assembly, rapid part change and full accessibility for maintenance purposes.
Steve King, founder of Kairos Conveyor, said, "The star of our display is our patented 90° belt curve conveyor KF130, operating at high speed – which is a typical requirement of curves for this marketplace. Its perfect geometry gives it a longer life and means it uses less energy than other curves. The rapid release belt change also reduces downtime to a realistic 10 minutes. The engineering with high-quality parts gives cost savings and hence the best price to market.
"At the expo, we are looking to introduce European integrators to Kairos as an alternative option to current suppliers. The KF130 has a proven performance of the 1,000 curves running to date, a new local service operation, and it will help to reduce [suppliers'] costs of purchases. For the final end user, we anticipate they will find longer life and significantly reduced maintenance costs, both in spare parts themselves and in service time.
"We are hoping to meet all the key integrators (many of whom are exhibiting and well known to us from our previous lives at Transnorm), but most important are the end users such as DHL, Deutsche Post, FedEx and Amazon from European countries – so we can explain to them our successes with their companies in Asia and engage in the European market through the exhibition and setup here – with the US not far behind."
Prime Vision gives live demo of robotic sorting system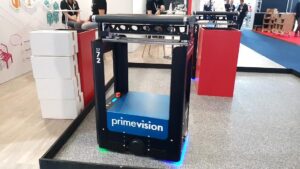 Computer vision integration and robotics company Prime Vision has set up a live display of its robotic sorting system.
Through a custom-made, immersive VR experience, it's also possible for visitors to work with the robots and sort parcels in a virtual sorting location. The company's 'Robin' robots use recognition, identification and robotics techniques to optimize the automation of sorting processes. The Robins have been designed to scale up sorting operations quickly and flexibly and thus futureproof them. This low-threshold solution can be set up in a short time: Prime Vision installed 700 of them in the last three months of 2021, at dozens of sites across the US, to help sorting centers absorb the end-of-year peak.
Dirk van Lammeren, chief commercial officer of Prime Vision, said, "We always have a great time at Parcel+Post Expo and we hope to meet old friends as well as new people to inspire and be inspired by."
Germany's mail alliance discusses partnership with the Universal Postal Union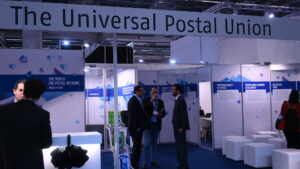 Since sealing its membership of the Consultative Committee of the Universal Postal Union (UPU), mail alliance has joined a special panel discussion at the UPU booth (4004), dedicated to the power of cross-border postal partnerships.
mail alliance sealed its membership of the Consultative Committee (CC) of the Universal Postal Union (UPU) with an inaugural visit in Berne. The talks focused on the role of standards in the postal industry and the importance of opening the UPU to general market liberalization, which the organizations agree is becoming increasingly important for the cooperation of international postal services. At the meeting, mail alliance and the UPU had a concrete exchange of views over the course of developments in Germany as well as in the context of the new membership of the CC.
mail alliance has been a member of the UPU CC since July 1, 2022 and is thus represented in the Universal Postal Union. This membership is intended to open new doors for international players, especially for the delivery of merchandise shipments in Germany. Membership of the UPU CC will create opportunities to discuss the delivery of small goods consignments in Germany with international postal operators.
At the meeting, mail alliance was represented by managing directors Michael Kunter and Mario Eichelmann as well as Nadine Nagel, head of IT and Melanie Leinz, who is responsible for e-commerce operations. The team was welcomed by Masahiko Metoki, director general of the UPU; Marjan Osvald, Metoki's deputy; Walter Trezek, chair of the UPU CC; and Alexander Thern-Svanberg, secretary of the UPU CC.
Michael Kunter, managing director of mail alliance and its parent company mailworXs, said, "For us, the meeting was a breakthrough. The talks with the head of the Universal Postal Union showed that we are now on an equal level with the other UPU Consultative Committee members and that mail alliance as a network with its letter services is recognized by the UPU. The new collaboration with the UPU CC is on the one hand the reward for years of work, but on the other hand also the logical consequence of market liberalization in Germany.
"Postal services are confronted with changing consumer and ordering behavior and increased competitive pressure in e-commerce. Therefore, we e-commerce shop operators are looking for new delivery solutions that comply with and are compatible with the worldwide IT systems and standards of the postal world. We, as mail alliance, have laid the foundations for this and are very pleased to be able to expand this role as a member of the UPU Consultative Committee."
Fives gives a live demo of its AMR-based robotic sorter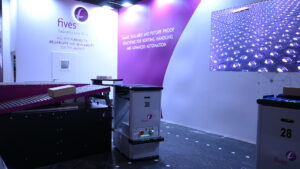 At its booth, industrial engineering group Fives Intralogistics has been giving a live demonstration of the newest model of its robotic sorting system, the GENI-Ant sorter.
The sorter has been designed to operate in very small areas. It is based on autonomous mobile robot (AMR) technology and is part of the company's portfolio of crossbelt sorters. The solution has been designed to be smart, scalable and futureproof to distribute parcels quickly, thus providing an efficient delivery service.
Lorenzo Moroni, CEO of Fives, said, "With the live demo here at the booth, we would like to show that our sorters are capable of operating in very small areas and can be put into operation quickly and safely. As you can see at the show, our most innovative robotic sorter can be adapted to building constraints and easily adjusted to various environments. Our full range of sorting technologies are suitable for many applications to ensure precise and gentle handling of all packages, from regular carton boxes to flat envelopes and fragile items.
"Fives has been exhibiting at Parcel+Post Expo for more than 25 years because it is focused on the parcel delivery sector which is one of our core business segments. This is the right place to introduce our latest technology innovations for the very first time and show our capability to understand and address the needs of our customers."
Fernhay showcases its e-assist, four-wheel cycle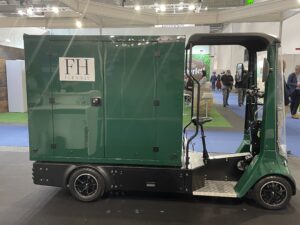 Fernhay is showcasing its four-wheel 250W class 1 e-assist cycle, the Fernhay e-Quad, which is powered by AES UL-listed LiFePO4  batteries.
With its cavernous 22m3  load volume and 200kg load capacity, the bike is intended to be a sustainable, efficient last-mile solution for future cities. The 2022 eQuad has gone through an automotive development process and has been tested to global standards. It has a wider (yet still slim) stance to make it more stable and robust than standard cargo cycles and its styling blends the primary demands of utility and parcel drop rate. Bike lane-legal at 0.91m wide, the eQuad ensures optimum maneuverability through congested urban spaces and cities.
With zero emissions, the e-assist cycle is designed to optimize package delivery using the company's cube container. The container maximizes interior space to help operators and employees to improve drop rates. Additionally, with its small physical footprint and ability to travel in bike lanes, the e-Quad reduces truck, van and sidewalk congestion to improve the quality of life in commercial centers and residential areas.
Robin Haycock, chief technical officer at Fernhay, said, "Why am I at the show? Well, anytime I can be in the room and learn from the industry's global luminaries, be an early adaptor of cutting-edge technology and see customers, colleagues and prospects for the first time in three years – it is simply a 'clear the calendar and be there' moment.
"We want candid, constructive feedback in our unwavering quest for continued quality improvement which goes across all aspects of our business from design to construction to customer service to financing to collaborating on customized solutions. Furthermore, we welcome trials to experience first hand the ease of operation, net positive environmental impact and how we can help you and your business grow with increased drop rates."