Claire Thompson-Sage, sustainable development coordinator at UPS, explains why the hub-and-spoke model is helping the operator increase sustainability in the urban logistics market
What microhub projects is UPS working on at the moment and what stage are they at?
In Europe, UPS has several microhub projects in operation. This includes our 'urban eco hubs' in Munich, Frankfurt and Hamburg in Germany. Here, we operate mini distribution hubs in the city center, with service providers delivering packages from the hub by foot or electrically assisted cargo tricycle. Since launching this delivery concept in Hamburg in 2012, the city has already seen a reduction of 7-10 vehicles in the city center – cutting down on carbon emissions by more than 70 metric tons.

In 2017 we expanded this model to Dublin, where we launched another urban eco package hub on Wolfe Tone Street in the city center. In 2020, a second hub was launched in partnership with Trinity College Dublin, which is currently active on-campus in the Irish capital.
As opposed to carbon-emitting delivery vans, all parcels dispatched from the eco package hub are to be delivered on foot and via UPS electrically assisted cargo cycles. This combined effort facilitates up to 720 delivery stops per day and makes us more environmentally efficient with the vehicles we use across the city. Through these hubs, UPS has eliminated the use of five diesel delivery vehicles in and around the city center, which has helped ease congestion and reduce CO2  emissions by up to 45% since it was first introduced.
How does the microhub process work?
The central container acts as a mini distribution center to be filled with delivery packages. UPS service providers will pick up deliveries from our city-based microhubs, which are essentially storage containers of consolidated shipments. Our service providers then use alternative methods, including walkers, conventional tricycles, electrically assisted tricycles and e-assist quads, to make deliveries throughout the city center and in pedestrian-only zones.
How successful have these projects been and are they now permanent?
Where deliveries by bike and foot have helped to reduce congestion and improve air quality, UPS's microhub projects have been extremely successful. Our final-mile delivery solutions can also be cheaper than conventional technologies if they are well planned and carefully executed. Since pioneering UPS's microdepot solution in Hamburg [pictured above], similar last-mile solutions have been made permanent in other European cities, and we've expanded this model across Germany – to Munich, Frankfurt, Oldenburg and Offenbach.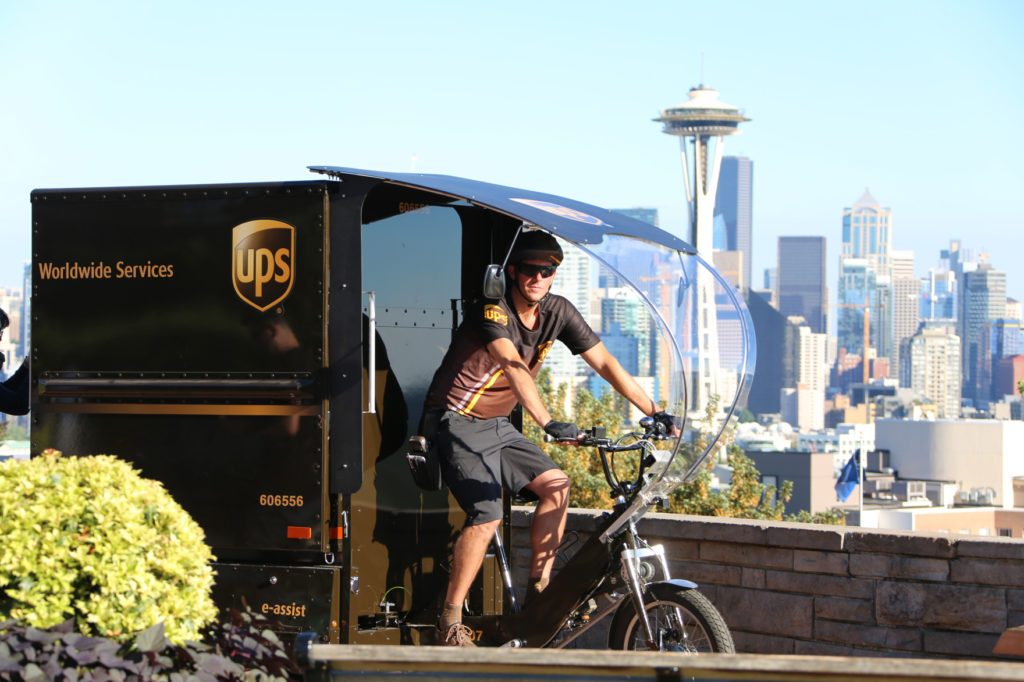 What types of volumes have been handled?
Our microhubs handle all types of volume, provided that the size of the packages is appropriate for the containers of the delivery vehicles.
Will UPS be expanding the microhub concept to other cities?
We are committed to reducing the environmental impact of our operations across the globe. The need for sustainable urban logistics solutions continues to increase rapidly and we believe our microhub project models could provide breakthroughs in the USA and Asia. We're also experimenting with similar projects in London, where we are working with Fernhay, to implement an e-assist quad and walker solution, which we plan to expand to other UK cities in the near future.
How important is collaboration for microhubs?
We recognize the need to work with our partners around the world to solve both road congestion and pollution challenges for our customers and the communities we serve. For example, UPS's alliance with our partner Trinity College Dublin has been vital to the successful launch of our new on-campus urban eco package hub. Together, we will help the university deliver a more sustainable future for Dublin, while inspiring students to develop ideas that benefit their local community.
As a global logistics provider, it is essential we are open to collaborations with policymakers and non-governmental organizations in order to create opportunities that will help shape urban logistics policy. This will ensure we are able to work effectively with local councils, regulatory bodies and businesses to understand planning projects, such as new cycle lanes and space requirements for cycle logistics in cities. Through continued collaboration, we will lead the industry toward solutions that will tackle the environmental challenges we collectively face today.
How else do you believe urban logistics will change in the future?
In order to improve air quality, we've already seen a number of cities introduce low emission zones within city centers, such as London's Ultra Low Emission Zone (ULEZ), which covers most of central London, including the City and Westminster areas. As a global logistics provider, we are always looking for ways to transition to a zero-emission fleet and are always looking to the future.
As part of this, we know that electric vehicles will be a cornerstone to our sustainable urban delivery strategies. Our investment in startup Arrival will accelerate this transition as we begin to roll out 10,000 new purpose-built electric delivery vehicles globally. We also anticipate that big data 'cloud computing' solutions will continue to drive efficiency, via IoT to the physical internet, so this could be where efficiency technology really steps up to support final-mile solutions in the next decade.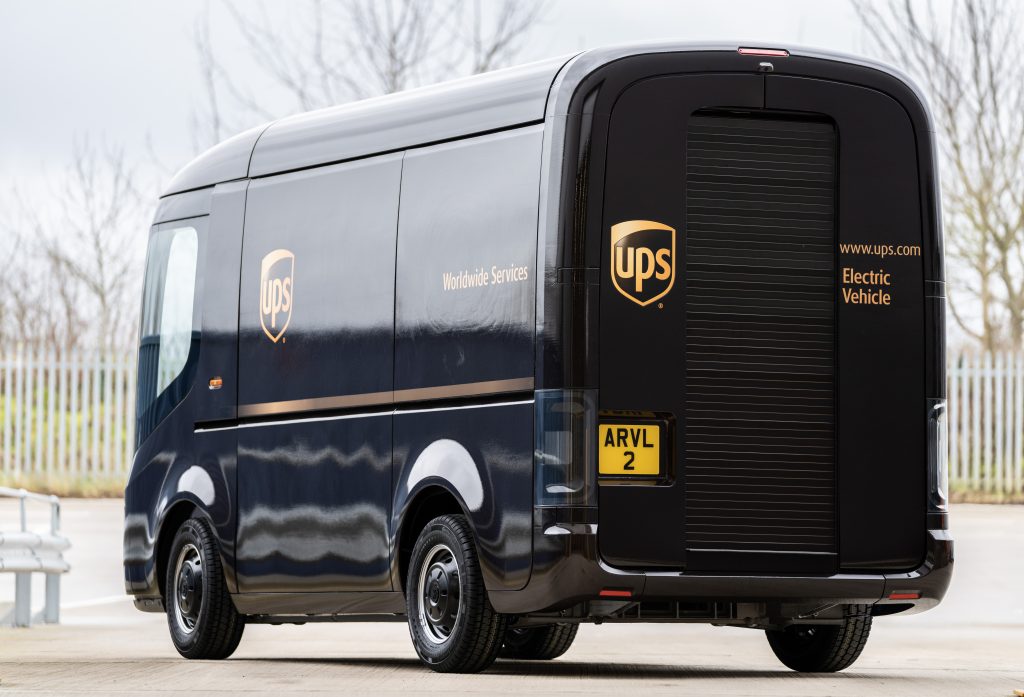 Do you believe more delivery providers will be using underused retail space to store goods closer to customers?
E-commerce has changed dramatically in just a few months and retailers and their partners will continue to adapt to navigate the upcoming post-pandemic challenges as industries begin to reopen across the world. From our perspective, many retail outlets would not necessarily be suitable to operate a logistics service, and rates could be high. For now, UPS is focusing on the long-term need for sustainable transport solutions. We already operate a fleet of more than 10,300 vehicles that test lower-emission fuels and advanced technologies on the road every day. We're currently focusing our pure electric vehicle work and investment in cities, where we deploy hybrid vehicles for long-distance delivery routes. Looking ahead, there may be potential for UPS to use underused premises for volume staging and e-cycle storage to facilitate vehicle-free deliveries and provide income for local businesses facing challenges post Covid-19.
Do you think delivering during the night could be one solution to overcome the congestion challenge in cities?
At UPS, we are constantly looking for ways to innovate our services to benefit the environment and the demands of our customers. Overnight delivery is certainly something we are exploring, but whether this is implemented will depend on the service offerings our customers select, and therefore our priority remains on accelerating the electrification of our fleet.
Our Smart Urban Logistics Project (SEUL) is an initiative that uses smart grid technology to recharge an entire fleet of EVs at our London depot overnight. This guarantees our EVs are fully charged by the time they are needed in the morning, all while never exceeding the maximum power available from the grid. This initiative is a major turning point in the cost-effective deployment of EVs, which will play a key role in ensuring the global trend toward urbanization is sustainable.
What other key challenges and trends will need to be addressed in the future for urban logistics?
As cities across the globe start to introduce stricter climate standards, we expect to see an increased focus on the need for sustainable transport options. Historically, urban infrastructure has not been designed to accommodate critical logistics services, and therefore we anticipate an appetite for the expansion of sustainable infrastructure. A lack of funding and support is a major challenge for companies wanting to electrify their fleets. This will need to be addressed so that organizations can invest in smart grid technology that enables charging of commercial fleets overnight in a cost-effective way. Making space available for city-center microconsolidation sites, e-cycle parking and charging availability is also needed to support sustainable final-mile deliveries.
Is there anything else you would like to add?
As a global leader in logistics and delivery, we are working toward some ambitious targets to reduce our environmental impact and offer effective urban logistics solutions. This includes setting goals to reduce absolute greenhouse gas (GHG) emissions from global ground operations by 12% by 2025. We are currently working with more than 30 cities on cycle logistics projects, in addition to which we have a range of other last-mile solutions, such as UPS Access Point and My Choice for Home and Business. The UPS Access Point network provides a consolidated delivery location – such as a petrol station or convenience store – for multiple consumers in the same area. This creates density with fewer stops and more packages dropped at each stop. UPS My Choice allows consumers to choose a convenient time and place of delivery from their mobile device. Both these last-mile solutions establish more convenient residential delivery options for customers and businesses, regardless of their size or scale of operation. They also reduce miles and emissions associated with multiple delivery attempts.
Learn more about microhubs in the December 2020 issue of Parcel and Postal Technology International magazine