Due to the emergence of the Covid-19 pandemic, the global supply chain of products and services has been significantly disrupted across various industry verticals such as healthcare, industrial, manufacturing, construction and retail. The concern is not only related to the non-availability of goods but also the transportation and delivery of the goods available. In addition to this, there is a workforce shortage, which is a significant problem across sectors. Thus, in this critical situation, there is an increasing opportunity for autonomous last-mile delivery services to cope with the delivery demand and to curb the spread of the virus.
The rapid growth in the e-commerce industry, along with the penetration of the internet, has a big influence on autonomous last-mile delivery services. For instance, according to the India Brand Equity Foundation (IBEF), the India e-commerce sector is expected to reach US$ 111.40 billion by 2025 from US$ 46.20 billion in 2020. The growth of the e-commerce industry has been triggered by a rise in the penetration of smartphones and the internet. As of July 2021, the number of internet connections in India, for example, rose considerably to 784.6 million, driven through the 'Digital India' program. Out of the overall internet connections in India, ~61% of connections have been in urban areas, of which 97% of connections have been through wireless connections.
Better technology and changing consumer expectations
Technological advancements in autonomous vehicles play a vital role in the adoption of autonomous last-mile delivery services in the e-commerce industry. The trend for delivery of packages by drones and other autonomous vehicles has grown, thanks to technological advancements such as artificial intelligence (AI), lidar and sensing algorithms. Several companies offering drone delivery services, such as Amazon, Walmart, Alibaba and JD.com, have made innovations and developments to deliver packages over longer distances without human intervention. For instance, in November 2021, Walmart partnered with California-based drone company Zipline to begin using drones to transport items like cough medicine, thermometers or other health products to its customers within a 50-mile radius.
The autonomous last-mile delivery market is driven by changing consumer expectations for same-day delivery. The consumer is now willing to pay more for premium delivery, and same-day or next-day delivery has become a norm in the e-commerce industry. For instance, major players in the e-commerce industry such as Amazon and Alibaba have invested billions of dollars in their respective supply chains, aimed at promising faster deliveries. In 2019, Amazon invested US$1bn in its one-day delivery initiative for Prime customers. Walmart and Target Corporation also offer same-day delivery programs in several locations.
The Covid-19 pandemic has had a positive impact on autonomous last-mile delivery services through the increasing demand for contactless delivery. During the height of the pandemic, the consumer gravitated toward online shopping for their domestic products, such as groceries, appliances and other items. For instance, total e-commerce sales in the USA in 2020 increased more than 30% on 2019, before the pandemic, and in Germany, DHL saw parcel shipments increase from 5.3 million parcels to 9.0 million parcels per day, similar to Christmas peak times. To meet the demand, it has collaborated with different companies to introduce autonomous vehicles for package delivery. Elsewhere, in April 2020, driverless vehicle startup Pony.ai collaborated with Los Angeles-based e-commerce company Yamibuy to launch an autonomous delivery service for customers in Irvine, California.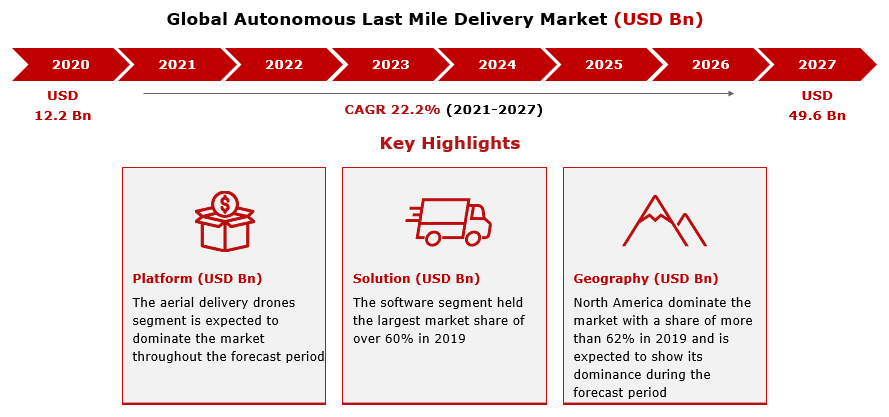 Overcoming the challenges of autonomous delivery
The lack of proper infrastructure and stringent regulations impede autonomous last-mile delivery services. These challenges can be addressed through constructing custom infrastructure, including sidewalks and charging units, to enable secure and convenient deliveries. Regional data facilities need to be in place for effective communication and operation of the robots. These data facilities enable edge computing and deep learning technologies, which allow low-latency data transfer and reliable robot operation. A reliable framework and advanced air-traffic management system for drone deliveries need to be installed for hassle-free drone operations.
Autonomous last-mile delivery is always a challenge for companies across industries. With the development of autonomous vehicle technology, many industry players are now turning to autonomous solutions in the form of driverless delivery vehicles. This will not only help to reduce the cost of delivery but also caters to the high demand for online deliveries.
Autonomous last-mile delivery services do not only provide contactless delivery in the Covid-19 pandemic and meet the demand for online deliveries, but also help to reduce environmental pollution. The growing population is just one of the causes for increasing global carbon emissions, with the World Economic Forum (WEF) quoting figures from the UN that suggests the global population is expected to reach 8.5 billion by 2030, with 60% of people living in cities, which currently account for 70% of global carbon emissions. This growth in urban populations will cause increases in congestion from both passenger and delivery vehicles. Autonomous last-mile delivery can be a cost-effective solution to this, alongside addressing some different issues, including growing environmental concerns.
Read the full article: https://www.alltheresearch.com/report/787/autonomous-last-mile-delivery-market