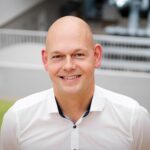 New road hubs in Novara in Italy and Duiven in the Netherlands, along with a move to loose loading, have further boosted capacity across FedEx's already impressive European road network, reveals Martin Gussinklo, senior VP, European Road Network, FedEx Express (pictured, left), in an exclusive interview with Parcel & Postal Technology International, below…
FedEx Express claims its European road network is one of the fastest in Europe, with customers able to reach some destinations in just 24 hours – and most within 48 hours. 
"FedEx currently connects about 220 territories and countries across the globe, with about 700 aircraft and more than 200,000 motorized vehicles and trucks, moving around 16.5 million packages per day," explained Martin Gussinklo, senior VP of the European road network at FedEx Express. "This year is also our 50th anniversary, so it's quite an important year for us not only here in Europe because of the new hubs that we have opened but also for the entire business."
The hubs Gussinklo refers to are state-of-the-art facilities in Novara, Italy and Duiven, the Netherlands. The FedEx European road network consists of 28 such hubs, which connect 700 stations, as well as air hubs and gateways, with a weekly total of 50,000 line-haul movements across 45 countries, using more than 5,400 trucks and trailers.
"For most of its life, FedEx has always had a presence here in Europe. Over the years, it built an important but modest footprint, serving as a foothold for our international business," continues Gussinklo. 
However, that all changed in 2016 when FedEx Corp spent €4.4bn (US$4.8bn) to acquire TNT Express, at the time one of the world's largest express delivery companies, handling nearly one million consignments of documents, parcels and freight per day through its road and air delivery services in Europe, the Middle East, Africa, Asia-Pacific and the Americas. 
"The [TNT] acquisition gave us instant skill and scope here in Europe, and most significantly, an unparalleled road network," notes Gussinklo. "It's one of the largest and fastest in Europe – and what makes it so unique is that we move both parcel and freight within the same network. It connects about 45 countries via 28 road hubs across the region, handling about 1,300,000 shipments per day." 
In terms of speed of delivery, Gussinklo points to some impressive stats: "We reach about 54% of European destinations within two days and about 84% of European destinations within three days. On specific lanes, let's say the shorter-distance lanes, we can even offer next-day delivery, depending on the origin/destination pair."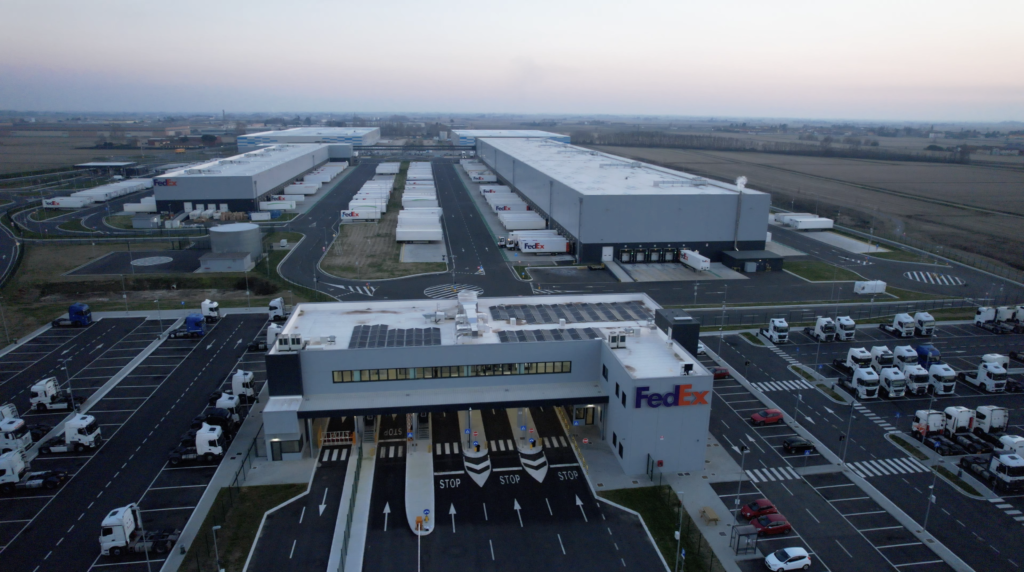 Novara Road Hub
Operational from January 2023, following a €70m (US$76.7m) investment, the Novara Hub officially opened in May, serving as a gateway between Italy and major markets throughout Europe, offering fast connections to the country's major road hubs, air gateways and hubs, and stations. The new hub connects businesses in one of Europe's leading economic and industrial clusters to the most important trade routes, as well as to the entire Mediterranean basin. 
Together with the nearby Milan Malpensa Airport, where FedEx operates its main Italian air gateway, the new Novara Road Hub will play a key role in Italy's national network, adding greater reliability and continuous improvement in on-time performance. 
Described by FedEx as the largest and most technologically advanced of its European road hubs, the new facility is located on a 210,000m2  site, with two main buildings occupying 32,000m2 and 240 truck docks providing separate processing of freight and parcels.
Some 450 employees deal with 245 incoming trucks and 265 outgoing trucks every day across the site. The 9,400m2 warehouse dedicated to heavy or bulky goods (freight) is able to handle 4,000 shipments per hour and the 22,600m2 parcel-focused building houses a dedicated parcel sorter from Fortna, with a total conveyor-belt length of 3.73km and the capacity to process 21,600 packages and 8,000 small parcels and documents per hour. 
"We are splitting parcel and freight operations [between dedicated buildings] so that we can better optimize the line of equipment that we use to move across Europe," explains Gussinklo. "We do that on the parcel side by loose-loading our vehicles so you can fully optimize the vehicle, using all the volume available. On the freight side, we utilize the double-decking capability inside our trailers to be able to also optimize capacity as much as we can."
Fast and loose
Moving to loose loading across Europe has had a major impact on parcel capacity, according to Gussinklo. "In the past, within the network, we used what we call 'blue cages' – steel cages that we load with parcels and then we load those cages into the vehicle," he explains. "However, the cages are heavy, at around 230kg each, which means on a vehicle, you could be carrying around 6,500kg of dead weight, adding a lot of fuel burn and CO2  emissions."

The company is now working to drastically reduce loading cage use. "We're going to take them out completely, replacing them with loose loading so we can load more volume into a vehicle, which will have a positive effect on the number of trucks that we utilise within the network," says Gussinklo.
"On the freight side, we are utilising double- or even triple-deck capability in our trailers to really optimize the space that we have for those movements. Both actions have helped us to remove unnecessary line-haul movements, which has had a very positive impact on the sustainability targets that we have set for ourselves."
Further environmentally friendly touches at the LEED Gold-certified Novara site include easy access to a bicycle path and plenty of bicycle parking, while a company-provided collective mobility system and active promotion of car-pooling further reduce vehicle emissions.
Open spaces with pedestrian paths and garden areas help reduce the volume of water runoff, while native species have been planted to ease irrigation requirements. High-efficiency lamps and the implementation of a building management system, in combination with photovoltaic panels, have reduced energy consumption, while outdoor lighting has been designed to minimize light pollution at night.
Employees benefit from the latest HVAC technology, with primary air supplied to each room purified through high-performance filters, and CO2 sensors placed in densely occupied rooms to monitor air quality. Finally, each occupant can adjust the level of artificial lighting in their location according to personal comfort.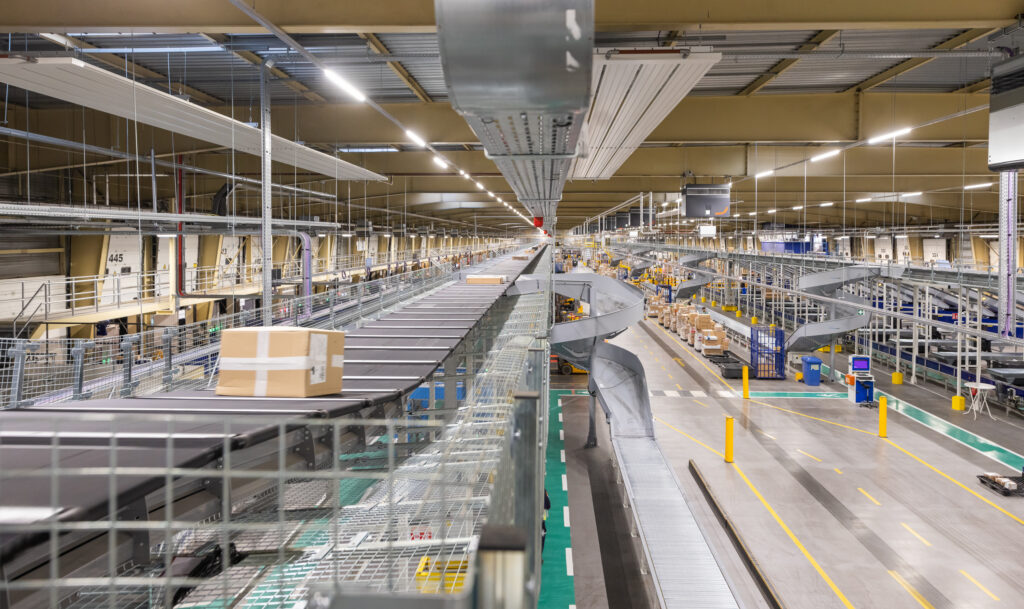 Duiven Road Hub
In April, FedEx also reopened its international road hub in Duiven, following a two-year revamp. A key facility, Duiven is centrally positioned within the 'Blue Banana', a large corridor of urbanization and economic prosperity stretching from northwest England to northern Italy, enjoying speedy connectivity with every other FedEx road hub in Europe.
The new 24,000m2  hub sits on a 148,000m2 site and features a new state-of-the-art sorter that can process approximately 200,000 parcels per day. With more than three times the capacity of the previous road hub, it also features more dock doors (more than 200) and improved yard operations, including new gates for quicker entry and a 20% increase in the trailer parking area. 
The hub and outside areas have been designed to enhance safety, with a full split between employee and operational movement as well as separate parcel and freight processing to increase efficiency and reduce forklift movement. LED technology for internal and external lighting, and electric forklifts, improve sustainability, and the new parcel sorter produces 20% less noise.
"To improve capacity at Duiven, we took two non-road-hub-related activities [a pickup and delivery and a value-added logistics operation] out of the building," explains Gussinklo. "It is now completely dedicated to serving as a European road hub. We also replaced the old equipment with a new crossbelt sorter from Beumer, which has tripled capacity."
Beyond the new parcel sorting equipment installed at both sites, Gussinklo says the capture and analysis of key data has also been critical: "There's been a lot of investment in raw data to get a better insight into the volume that we have to handle when it comes in. We want to make sure that we only handle the volume that needs to be handled at the moment it comes in. There is always what we call 'hot' and 'cold' volume, with 'hot' needing to move as quickly as possible to the next location or to the customer, while the 'cold' doesn't have to be handled immediately and can be dealt with in the next sort. Having that insight really helps us to create more capacity within our facilities just by focusing on handling the type of volume that we need to handle within a certain sort window."
Parcel and freight

The ability to move both parcel and freight in a single network is a unique feature of the FedEx Europe value proposition, meaning customers can ship both with a single provider and using a single interface, according to Gussinklo: "We can offer the customer a one-stop shop – no matter what they have, whether it's a parcel, non-conveyable or pallet, they can always hand it over to us and we can handle it all within the same network. If I look at our main competitors, they do not have that same capability in one network."