Posten Norge, the national postal operator in Norway and a major logistics player in the Nordic region through its Bring brand, has been working hard to turn the challenges brought about by the Covid-19 pandemic into opportunities for business development. The post was recognized for its hard work with three nominations in the Parcel and Postal Technology International Awards 2020:
• New Business Development of the Year (nationwide grocery delivery with Coop);
• Final Mile Innovation of the Year (Glow
– contact-free signature solution); and
• Environmental Achievement of the Year. 
Grocery delivery service
As a response to the challenges presented by the Covid-19 lockdown, Posten Norge established a nationwide network for online grocery delivery. The solution was set up together with the second largest grocery retail chain in Norway, Coop. Online grocery wasn't new in Norway, however all the existing solutions were limited to the major cities like Oslo, so the key focus was on creating a service that could be offered to all households nationwide. 
The solution was designed and developed within a very short timeframe. It is a full-range online grocery solution, including pantry, fresh, chilled and frozen items; Coop built an online store that includes all elements of its product selection. The solution encompasses delivery window selection based on what is offered per postcode and standard shopping basket, checkout and online payment functionality. Coop does the picking and packing at local stores, using approximately 120 locations across Norway, and more than 90% of all households can use the service. 
Posten Norge does all the physical deliveries, including the digital communication with end customers regarding the delivery. It is using its full range of assets: in cities the courier/express business will handle deliveries (both daytime and evening); in more suburban areas, parcel drivers are used; and in remote areas, traditional postal delivery workers handle deliveries. The solution has been well received as it fills a market requirement in a situation where not everyone can go to a store themselves. 
Contact-free signatures
The pandemic changed the way people interacted with each other, so the old-fashioned way of the courier collecting a signature from recipients was no longer an option.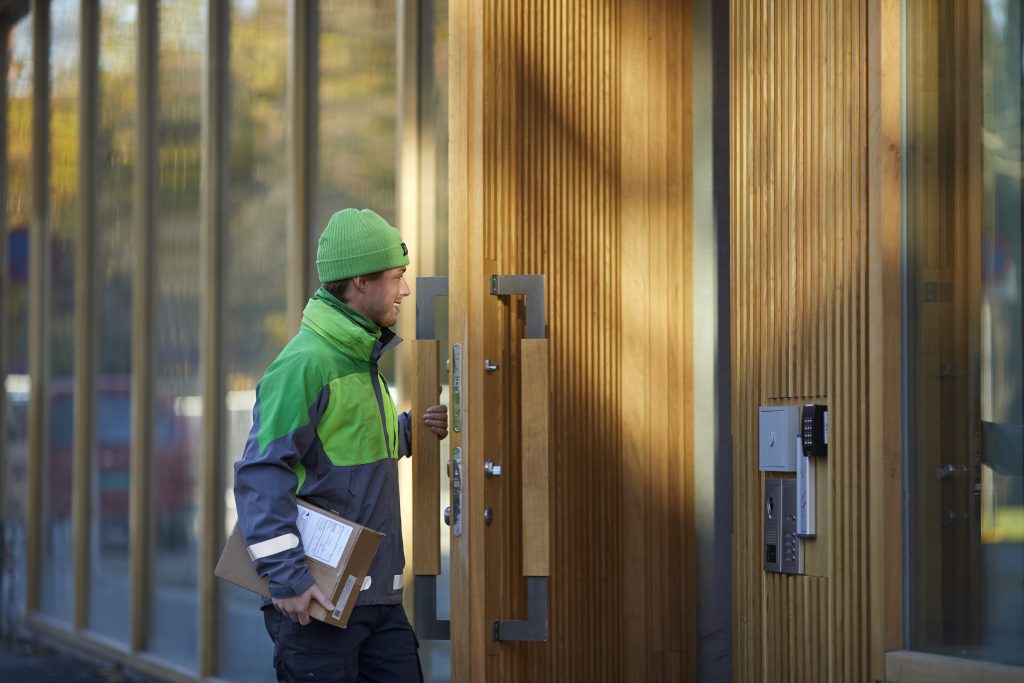 Lowering the bar and accepting deliveries without signature was one option that was widely used in the logistics industry, but with Glow – a last-mile delivery platform developed and employed by Posten Norge – an innovative way of being able to collect the signature while maintaining distance between courier and recipient was quickly developed. 
The innovative solution enables the courier to send a text message to the recipient, who can then open a link on their smartphone and sign for the delivery on their own device, without getting too close to the courier. The development team took the idea all the way to production in just one day, and rolled it out to couriers across the Nordics the following day. 
The solution got great feedback from both couriers and recipients for being a safe way to collect a signature, and it also strengthened the brand image for innovation that Posten Norge already has in the Nordic region. 
Sustainable solutions
The postal and logistics sector represents a fairly large part of a nation's carbon footprint, hence it is a part of the problem as well as potentially a part of the solution. Posten has decided to proactively be part of the solution by exploring and implementing innovative technology and new ways of delivering letters and parcels.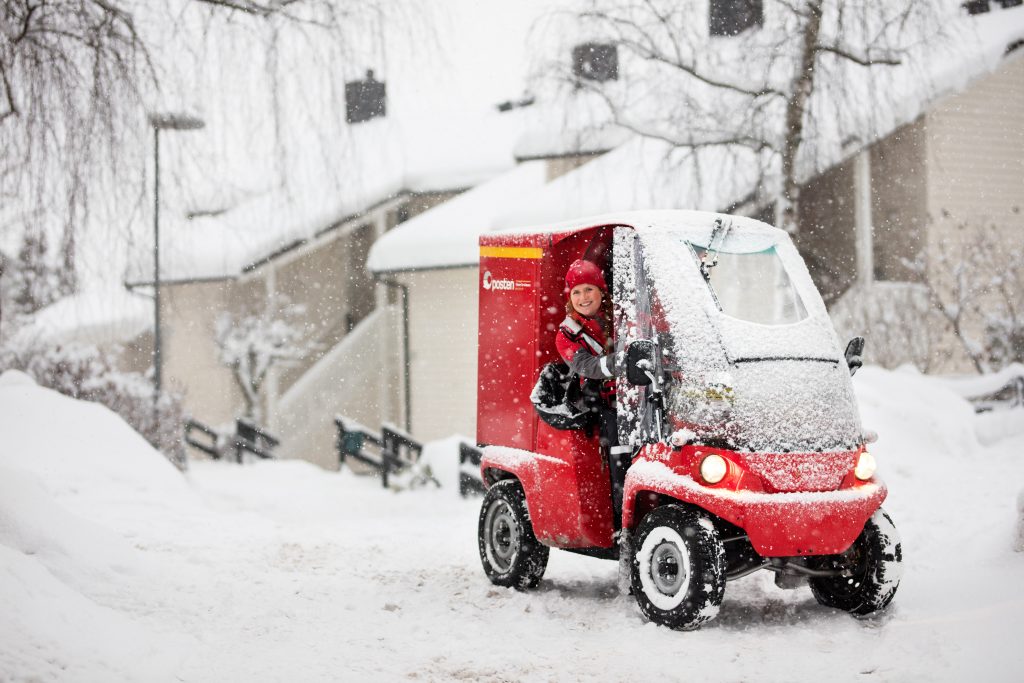 Posten started its electrification journey back in 2010, defining a strategy to identify which type of vehicles fit different kinds of routes and route characteristics. Posten currently has more than 1,000 EVs in service, accounting for approximately 30% of its entire fleet – making it the largest electric fleet in Norway and, as a percentage of the total fleet, one of the largest electric postal fleets in Europe.
As part of the electrification of the last-mile fleet, Posten also took part in the development of the Norway-made electric vehicle Paxter, which has now been exported to more than 20 countries. Posten will continue to implement new vehicles as technology becomes available, especially larger vans, and working with manufacturers such as Inzile and Volta is part of this initiative. 
Concepts like cargo bikes in city centers are well underway and considered relevant alongside initiatives like Elskede by (Loveable City), which combines parcel delivery in city centers with the return of dry waste in cities such as Stockholm, Oslo and Trondheim. 
By the end of 2021, Posten will implement a dense network of more than 1,000 parcel lockers in addition to its 1,400 Post In Shops. Posten says this nationwide network will contribute to a long-term sustainable solution for B2C deliveries. 
Posten Norge has experienced one of the largest declines of mail in Europe, with a more than 70% decline in letter volumes since its peak in 1999. 
Structural changes in the mail operation have been a necessity from both a financial and sustainability point of view. Examples of these changes include the introduction of two-day delivery as a standard service, removing a large part of the aircraft operations, and the implementation this summer of an alternate-day delivery service, which reduced the number of routes and kilometers in the mail operation significantly.