Three leading firms share their carbon insetting journeys so far and reveal why now is the time to discover the huge potential on offer
Carbon offsetting – a process by which firms compensate for their emissions by funding carbon reduction projects outside the sector of impact – is a well-known practice around the world and has proved to be popular as companies look to reduce their impact on the environment. But recent reports have created credibility problems for the largest global provider of carbon offsets – Verra – and led many to question whether offsetting is the best solution for decarbonization.
A nine-month investigation undertaken by UK newspaper The Guardian, the German weekly Die
Zeit and SourceMaterial, a non-profit investigative journalism organization, found that more than 90%
of Verra's rainforest offset credits are likely to be 'phantom credits' and do not represent genuine
carbon reductions. 
Meanwhile, Friends of the Earth claimed in 2021 that carbon offsetting 'is a fundamentally flawed approach to cutting carbon emissions'. The environmental organization noted that 'they can't be made to work, at least not at scale, and trying to do so is a dangerous distraction from the real job at hand: cutting carbon emissions and restoring nature'.
The results of the investigation and Friends of the Earth's comments are worrying given that in 2022 carbon offsets were more popular than ever and demand is expected to soar over the next few years. The voluntary carbon offsets market is projected to reach US$700.5m by 2027, up from US$305.8m in 2020, according to analysis by Market Reports World. 
What is carbon insetting?
While there is no denying that carbon offsetting has delivered some benefits to the environment over the years – it helps environmental projects that can't secure funding on their own, for example – it often doesn't tackle the source of the problem. However, a new approach is gaining momentum, and it's one that could accelerate decarbonization in the logistics and postal sectors through investment in new green technologies directly linked to the industry. 
"Carbon insetting funds decarbonization measures aimed at reducing carbon emissions in a company's value chain where they are emitted," says Kathrin Brost, global head of the GoGreen program at DHL Global Forwarding. "This can be either via the use of sustainable fuel such as sustainable aviation or marine fuel, or investments in green technologies, fleet renewal and engine retrofitting."
According to Brost, carbon insetting offers "huge untapped potential" and, if done right and industrywide, could result in a significant shift toward greener logistics technologies that could sharply reduce the size of the industry's climate footprint.
"Insetting has a huge decarbonization potential as it allows the different players along the value chain to scale up and therewith speed up the availability and use of a clean solution," Brost explains. "By combining it with an easy 'book and claim' mechanism [via DHL Global Forwarding's GoGreen Plus service], we can simplify the process for everyone, from small local shippers to multinational logistics companies."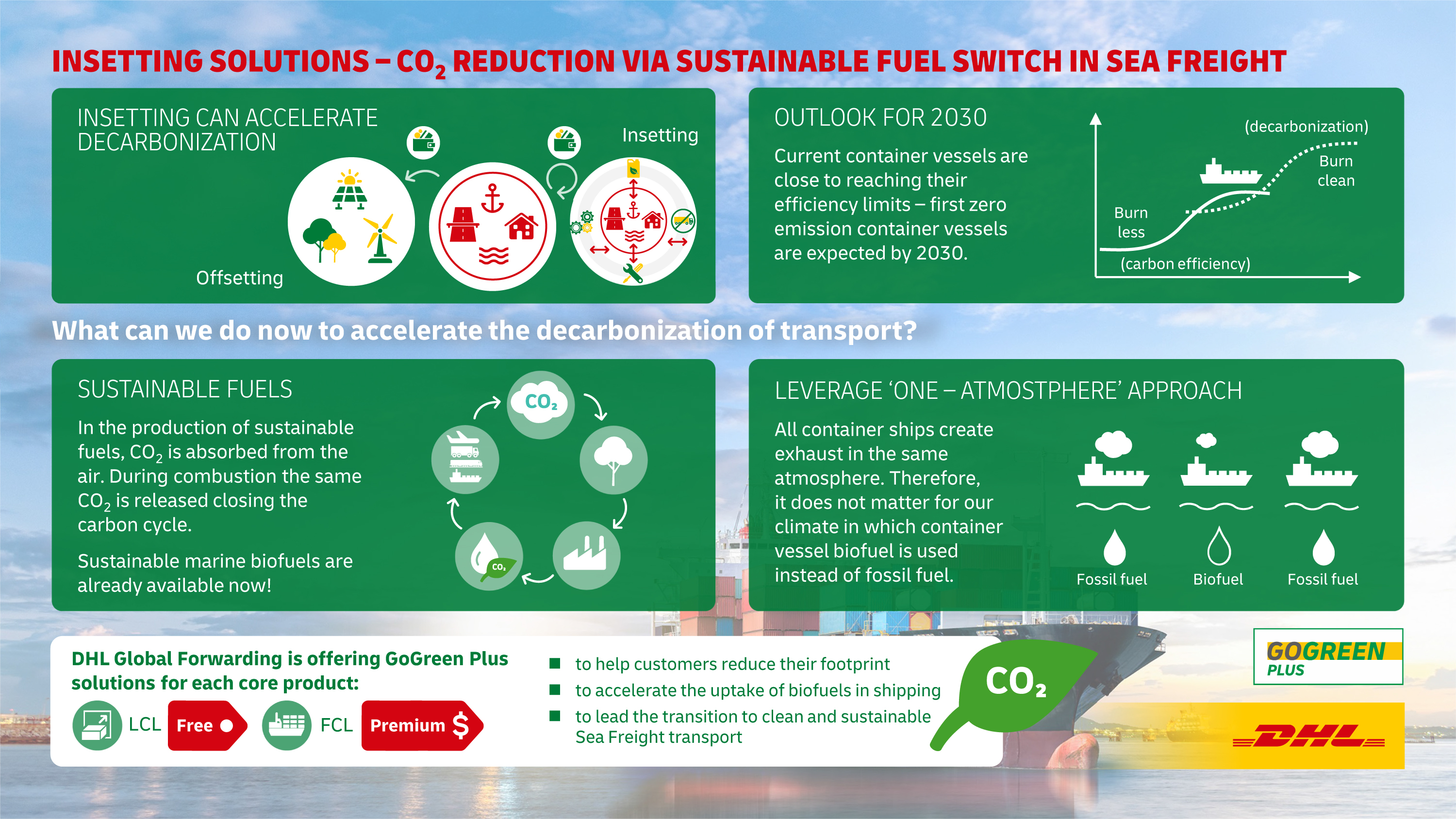 Insetting in action
DHL is leading the way when it comes to carbon insetting in the logistics sector. "Our aim is to inspire the market with best practices and lead by example," Brost notes. The group's GoGreen Plus service, for example, is based on the insetting approach and offers customers various solutions to minimize logistics-related emissions along the entire supply chain. 
"DHL Global Forwarding's GoGreen Plus solution is facilitating a sustainable fuel switch, for example," explains Brost. "Carriers consume sustainable fuel on behalf of DHL. Subsequently, the resulting Scope 3 emission reductions are passed on to DHL and are then allocated to cargo owners. This allocation is linked to the transportation profile of the GoGreen Plus shipments of the cargo owner. 
"The service can be easily booked; for example, via our digital customer platform myDHLi. For all our less than container load (LCL) ocean freight shipments, we have been reducing carbon emissions for our customers in this way since January 1, 2021, at no additional cost." 
For insetting, DHL Global Forwarding has been working for the past five years with GoodShipping,
which claims to be the world's leading sustainable cargo initiative. "DHL is a strong partner in our journey to
make the logistics world familiar with the concept of insetting," explains Rob Neutel, marketing lead
at the firm. "We enable companies to make an immediate climate impact by decarbonizing their Scope 3 emissions. GoodShipping facilitates a switch from fossil fuel to sustainable biofuel through carbon insetting.
"This is based on the one-atmosphere approach – the concept that all carbon is emitted into the same atmosphere. Any carrier running on biofuel is a reduction of fossil fuel emissions in the atmosphere. Therefore, it doesn't matter which carrier runs on biofuel. An independent third-party audit ensures the clients' decarbonization commitments are delivered." 
DHL Global Forwarding and GoodShipping have recently expanded their partnership, with DHL purchasing approximately 60,000,000 liters of sustainable marine fuel from GoodShipping. This will lead to the reduction of a total of 180,000 tons of TTW-CO2e on full container load (FCL) and LCL shipping between now and 2024. This commitment is equivalent to the amount of marine fuel burned by 10 container vessels on their journey from Asia to Europe, according to GoodShipping. 
Accounting framework 
Together, DHL Global Forwarding and GoodShipping are also trialling a new insetting accounting framework from Smart Freight Centre (SFC) – an international non-profit organization focused on reducing greenhouse gas emissions from freight transportation. 
"The idea behind the framework is to transfer the approach of allocating emission reductions from sustainable fuels to specific customers by decoupling the accounting of the fuels' environmental attributes from their physical flow," explains Brost. "The accounting framework under development intends to secure environmental integrity and alignment with existing industry standards, while providing companies with a practicable accounting guideline as a first step toward a general industry standard. 
"In that way, customers can contribute to and report on emission reductions in their transportation value chain even if the reduction is not physically linked to their specific transport activity. This accounting framework is needed to accelerate the fuel switch from regular to sustainable fuel in transportation." 
SFC has been working on the insetting accounting framework guidelines for the past year-and-a-half, according to Dan Smith, program director at SFC. "We partnered with a group of leading multinationals, including DHL and GoodShipping, in autumn 2021," Smith comments. "We also worked in a loose partnership with the World Economic Forum. The aim was to develop a set of accounting guidelines that explain how to carry out carbon insetting." 
After a year of research, development and fine-tuning, the guidelines went to public comment in spring and summer 2022; then a draft framework was developed, incorporating any final comments. "The accounting framework guidelines are now being tested in real-life operations to see how they work and to identify any areas of improvement," Smith continues. "We hope to produce the final publication later this year."
According to Smith, it is not very  easy to explain how the guidelines work but he notes that they help organizations "make that connect between the emissions footprint of a low-emissions transportation activity and their transportation footprint, without a physical tie". 
One key area that has required much attention in the guidelines is the concept of additionality. "What we mean by this is the idea of whether an intervention is doing something that would've happened anyway," Smith explains. "We want to come up with a framework that drives additional decarbonization and is not necessarily just a way to shuffle carbon footprints around.
"This is not an easy thing to achieve," he continues. "There are all kinds of different sets of requirements for decarbonization-related activities in the global freight transportation sector. We are trying to sort this out
and simplify it within the guidelines to develop a set of principles that drive additionality and incentivize
extra decarbonization. We also need to do this in a way that is commercially viable."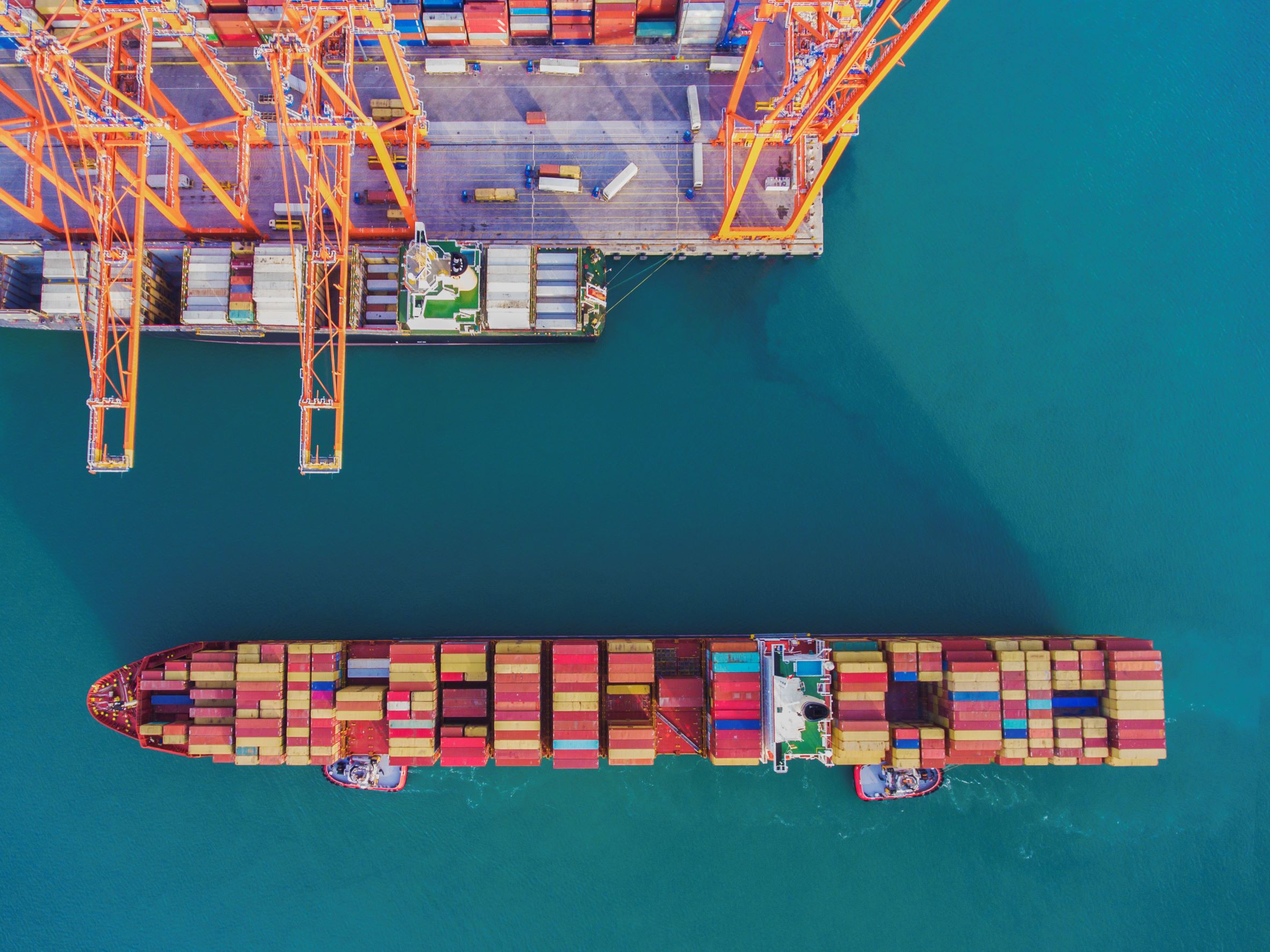 Accelerating the use of insetting
SFC and DHL were among the first pioneers of the concept of carbon insetting when they worked together on a white paper back in 2020, which examined how carbon insets could help accelerate freight decarbonization. GoodShipping was launched in 2017 and since then has pioneered the use of insetting for cargo owners in the freight sector to reduce emissions. All three firms claim that although the concept is new, there is nothing stopping logistics firms from embracing it now. 
"Carbon insetting is still a niche market," explains Smith from the SFC. "But it is growing and an increasing number of organizations are offering insetting solutions, which should help accelerate the pace."
Beyond the accounting guidelines, Smith also notes that "better outreach and capacity building" are needed to support the broader uptake of carbon insetting. "More people need to understand what it actually is and how it works," he continues. "There are a lot of quality resources out there but I don't believe they capture the whole picture in a coherent and digestible fashion, so this is an area we can improve on."
DHL's Brost also believes that better awareness is needed. "Most market players are well aware of the need to decarbonize the industry," she comments. "However, maybe not everyone knows about the huge potential that the insetting approach brings. It's easier than it looks at first sight. Join us and together we can make international transport and logistics green."
GoodShipping's Neutel adds that the only barrier to adopting carbon insetting is the lack of incentive to start decarbonizing. "You can start tomorrow if you want to," he says. "Vessels currently burn the dirtiest fuel there is, and international shipping accounts for approximately 3% of global greenhouse gas emissions. Insetting makes it possible to make an impact today; there is no reason to wait with decarbonizing your supply chain."
This article was originally published in the March 2023 issue of Parcel and Postal Technology International magazine