Ian Kerr, founder of the Postal Hub Podcast, and Marek Różycki, managing partner at Last Mile Experts, take a closer look at the 2017 peak season
Another peak season has come and gone – and it was a record-breaker. Posti reported 15% growth in e-commerce parcels, Australia Post recorded its biggest month for parcels ever in December, and An Post delivered 1.74 million parcels in the five weeks before Christmas – an increase of 27% over the same period the previous year.
It's the same in any market with strong e-commerce. But are carriers doing enough to cope with increasing parcel volumes and the ever more acute peak season? Is growth translating into profit?
Capacity
Around the world, postal and parcel companies hired huge numbers – in some cases tens of thousands of seasonal staff.
But dealing with peak parcel volumes is more than just a matter of packing delivery centers with new hires. Peak season highlights the need to find new ways to deliver B2C parcels. Residential delivery can be costly, and 21st century customers demand more choice, flexibility and reliability when it comes to parcel delivery.
Many postal and parcel operators delivered parcels on Sundays to clear excess parcel volumes, and drafted in non-operational staff to work on the frontline. But we've seen all that before – even before the e-commerce boom.
Alternative delivery options
In Finland, Posti opened temporary pop-up pick-up points for the 2017 Christmas season. This was in addition to its growing network of more than 1,500 service points, including 500 parcel lockers installations. Posti now plans to grow its parcel locker network with 1,000 new installations. It has also launched its new Smartpost parcel locker service, which can be installed in apartment blocks or business premises
Australia Post trialled the bundling of deliveries during Christmas peak. Customers who opted-in selected a single delivery window for all of their Australia Post parcels delivered that week. Parcels were held at the local distribution center and were then delivered together during the customer's nominated delivery window.
Dealing with failed first-time deliveries
Australia Post ran parcel delivery trials during peak season focusing on failed first-time deliveries. In one local trial, failed first-time deliveries were forwarded to parcel lockers to await customer collection. In a nationwide trial, undelivered parcels were taken to a distribution center or hub that was open to the general public from 5:00pm to 7:00pm for collection on the day of delivery.
Australia Post also set up a drive-thru parcel collection point at a Perth shopping center in the state of Western Australia. Failed first-time deliveries were forwarded to the drive-thru collection point, which was open between 5:00pm and 7:30pm on weekdays.
For each of these Australia Post trials, any uncollected parcels at the end of the day were forwarded to local post offices for customer collection. Innovative approaches to handling failed first-time deliveries may help speed customer collection of parcels, but ultimately won't eliminate the wasted delivery attempt.
Flexible workforce
Amazon's flexible delivery unit, Amazon Flex, helps Amazon adapt to fluctuating parcel volumes. The delivery company that integrates a flexible delivery workforce with its existing delivery network will be in prime position to deal with variable parcel volumes.
Who are the leaders?
New ideas will come as last-mile thinking develops, but the winners will be those players willing to think outside the box and be proactive. The ones to watch are DPD UK, Amazon, and Omniva.
DPD UK has world-class interactive delivery management that can be controlled by the customer; Amazon has unrivalled customer knowledge that it puts to use via technology and its ever-growing competencies; and Omniva has succeeded in educating its market about using parcel lockers.
What about peak season 2018?
Parcel lockers and pick-up and drop-off (PUDO) networks seem to be the leading alternatives to residential delivery. Customers need to be given more control over their deliveries to ensure successful first-time delivery. For now, drone delivery isn't as practical or secure as parcel lockers and PUDO points.
Bio:
Ian Kerr is the founder and host of the Postal Hub Podcast, the weekly podcast for the postal and delivery sectors.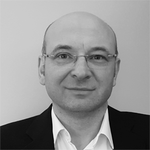 Marek Różycki is managing partner at Last Mile Experts, specializing in CEP and e-commerce last-mile advisory.