Marek Rożycki, managing partner at Last Mile Experts, looks at some of the options available to domestic carriers and posts when taking on larger carriers in the last mile
Remember when posts only operated within their borders? This all changed in the late twentieth century as the power of the large integrators (UPS, FedEx, DHL, TNT) grew internationally and Deutsche Post and Dutch Post (then, TPG) joined the bandwagon by acquiring integrators (DHL and TNT respectively). In Europe, La Poste developed GeoPost and acquired DPD while Royal Mail acquired GLS.
Since then, pre-eminence in the delivery world belonged to the global giants such as Deutsche Post DHL, UPS, FedEx, and TPG/TNT, or La Poste and Royal Mail in Europe.
These players developed and optimized international B2B services and seemed untouchable. Nobody paid particular attention to B2C, which was considered the "poor cousin" of B2B. Many senior executives at the time said there was no money in B2C.
But this all started changing with the advent of e-commerce. Amazon, eBay and others helped start a revolution in the last mile. So, what are the implications for those posts that didn't acquire integrators?
E-commerce has stimulated unprecedented growth in B2C volumes. According to the latest shipping index from Pitney Bowes, parcel volume across 13 key markets jumped from 44 billion parcels in 2014 to 65 billion in 2016, and the increase in growth shows no signs of slowing down, with the index estimating that parcel growth will continue to rise at a rate of 20% until 2021.
Simultaneously, online shoppers are becoming more demanding in last-mile parcel delivery, expecting more choice and control. Amazon, in particular, has fueled these expectations in its drive for the best possible customer experience.
This is driving the need for suitable delivery options (both residential and out-of-home such as click-and-collect, lockers and PUDOs), fitting in with the consignee's lifestyle, and interactive delivery management which allows shoppers to choose: when, how, where and at what price the delivery will be made.
But how does this help smaller carriers and posts to take on the big players? Crucially, the changing pattern of last mile means that proximity (a large network) and easily customized IT solutions are now at a premium.
This is where a national player can have a huge advantage. A small, high-tech postal operator is in pole position here because its dominant local presence through the post office network gives it proximity (for out of home delivery, or returns) and its ability to create software that best matches local e-commerce players' or legal requirements makes it more agile than a large integrator (who has to reconcile any software changes with a multinational system).
This also works for domestic carriers who will tend to be more flexible on the IT side and have a local presence, albeit probably less so than a postal operator.
It's surprising that so few domestic players have taken advantage, let alone seen this opportunity. Some good examples of national posts making good use of their networks or bespoke software solutions include GeoPost/DPD (who act as a multi-domestic operator), Omniva, PostNL and Bpost, but they're dwarfed by the number of players who haven't been willing or able to seize this opportunity. The ones who have done this are already reaping the rewards.
One good example is Estonia's Omniva. This small postal operator is market leader in its home market but also has a joint venture with SF Express, allowing it to be the conduit for Chinese parcels destined for all of Europe. It has demonstrated that a player in a country of under 1.5 million inhabitants can defend itself against Goliaths such as UPS, DHL or FedEx who are much larger.
This is an example to other small or mid-sized posts or domestic carriers seeking a strategy in the changing world of parcel delivery.
Bio:
Ian Kerr is the founder and host of the Postal Hub Podcast, the weekly podcast for the postal and delivery sectors.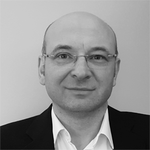 Marek Różycki is managing partner at Last Mile Experts, specializing in CEP and e-commerce last-mile advisory.