What does the novel coronavirus COVID-19 mean for the last mile? Marek Różycki, managing partner at Last Mile Experts, considers the outbreak's implications for delivery.
When coronavirus (COVID-19) officially became a pandemic, we had some initial thoughts on how it would affect us, noting that it will not just hit airlines, hotels and travel agencies, but will be bad news for the last mile as well. Many of Last Mile Experts' clients were (and still are) asking, "What does this mean for us?" For now, we're sorry to say that the answer is that we are not sure yet.
What we can be sure about is that carriers and posts with significant volumes (or clients producing or receiving key components) from China and other badly affected areas will be the first to feel the pain.
The rest will depend on how the virus spreads and what governments do in an attempt to stem its spreading. In my 30 years in the industry I've not seen anything quite like this and we are stepping into uncharted territory. The key question is whether and when a cure, inoculation or proven control methodology will be found.
For now, all that last mile operators can do is observe developments carefully, seek to protect employees and customers as far as possible and, for those offering fresh delivery, offer a lifeline to those unable to leave their homes.
What we are beginning to observe now, however, is that there will be some winners (if that is the right word) emerging from this tragic situation. In particular fresh/grocery delivery carriers and/or e-tailers who are able to maintain reasonable service during this period. In fact, we understand that in Italy sales for this group are already up by more than 80%.
Of course, this is no mean feat given that demand is surging while many items are now in short supply. For this to work, customers will need to be more patient and understanding than would normally be the case, and carriers will need to introduce fast and effective procedures aimed at protecting their customers and staff alike.
Since the start of the epidemic we've seen an unprecedented spike in orders and all online grocery sellers in Italy are now dealing with a delay over normal delivery times. The surge in orders must be managed with careful planning, and the grocery sector is still in a phase that we could define as experimental. There is no consolidated supply chain to deal with a demand increase of this magnitude. Other e-commerce sectors have surged but are still manageable and we haven't recorded any significant delays.
"From day one we implemented new rules, supplying drivers with gloves and masks, giving recipients the option not to sign on delivery but to have the driver sign instead, and we've asked all our clients to stop or significantly decrease cash-on-delivery payments, which we'll serve on dedicated days," says Antonio Perini, CEO of Italian last mile innovator Milkman. "In the war against the coronavirus, couriers, often vilified in times of 'peace', have become heroes: they're on the front line every day."
Another group likely to benefit from COVID19 in the long run is e-commerce in general, in particularly for pantry-type products (the non-fresh items we would normally seek to buy in a supermarket). Of course, this is an area where Amazon is pretty strong, but where it is not present there will be opportunities for other players both large and small (local).
Whatever the final outcome of COVID19 will be, the legacy will stay in terms of a new group of customers who can see the benefit of e-commerce delivery, and also current e-commerce users buying items that they wouldn't previously have ordered online.
Fortunately it now seems as if things are beginning to improve in China and this will hopefully bring welcome relief to businesses and carriers dependent on shipments and components from behind the Great Wall. If other countries are able to act in a decisive manner and avoid the 'Italian' scenario, we can hope that by mid-year the worst effects of this new pestilence will have abated and life will slowly be getting back to normal.
It is still too early to count the cost either in human or economic terms, but what is clear is that this is the biggest 'natural' tragedy to face the world this century.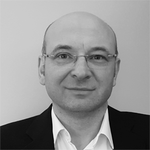 Marek Różycki is managing partner at Last Mile Experts, specializing in CEP and e-commerce last-mile advisory.