There is growing scrutiny of carbon emissions in the last mile, so postal operators, parcel carriers and retailers are introducing emissions reduction strategies. More electric vehicles are being tested and introduced. Electrified delivery fleets, alongside consignment consolidation strategies, are the path to a greener last mile.
IKEA's electric deliveries
IKEA is striving to achieve emission-free deliveries in the last mile globally by 2025 and become climate-positive by 2030.
IKEA Switzerland has partnered with Quickpac for zero-emission deliveries. Under the arrangement, around 230,000 deliveries are to be made emission-free each year, reducing CO2 emissions by around 41 tonnes.
About 2,000 IKEA orders have already been delivered via the all-electric fleet. In the course of the next few weeks, up to 30% of the total volume of package orders will be delivered by Quickpac. So far, IKEA has been using the service for deliveries in Basel-Stadt, Aargau, the Zurich area and Frauenfeld, with plans to expand emission-free delivery throughout Switzerland over time.
Meanwhile, IKEA Austria has sourced 30 new electric vehicles for its logistics center near Vienna. The new vehicles will enable around 117,000 deliveries to be made emission-free in the first year alone, reducing CO2 emissions by more than 300 tons. This corresponds to more than 1.5 million route kilometers and over 65% of all IKEA deliveries in the Vienna area.
Initially, the vehicles will be used for deliveries to all 23 of Vienna's municipal districts and within a 30km radius of the logistics center. The electricity for the vehicles is generated by photovoltaic systems.
IKEA is trialling a new store format in Vienna that has no customer parking and relies on home delivery for larger purchases. Delivery will be performed in an environmentally friendly manner, according to IKEA.
Posten Norge (Norway Post)
Earlier this month Posten Norge (Norway Post) opened its new all-electric distribution point at Filipstad in Oslo. The post also announced that it has ordered 90 new electric vehicles for use in Oslo.
Now all Posten Norge parcel and mail deliveries within 'Ring 2' will be 'fossil-free'. When the additional 90 electric vehicles are received, all deliveries in Oslo will be fossil-free.
With the opening of Oslo City HUB, Norway Post will deliver between 15,000 and 20,000 packages a week fossil-free in central Oslo. Coinciding with the opening of Oslo City HUB, eight fossil-powered vehicles will be replaced by eight electric vans.
This week, one of Posten Norge's new electric Scania trucks set off from Oslo bound for Tromsø, a journey of about 1,600km. The aim of this trip is to map charging infrastructure along the route and test performance under different driving and weather conditions. Once it arrives in Tromsø, it will be the world's northernmost full-size electric truck.
Norway Post and Bring already have over 1,000 electric vehicles, four of which are trucks.
Growing popularity of electric delivery in Switzerland
Swiss parcel delivery company Quickpac has seen its parcel volumes double over the past 12 months. In Q2 2021 it delivered 1.6m parcels, compared with 800,000 in the first half of 2020. (Overall, the Swiss market reached 300 million parcels in 2020, with Swiss Post handling 180 million parcels.)
Quickpac, a division of Quickmail, operates a 100% electric delivery fleet, serving about one-third of Switzerland.
This month, Quickpac announced the opening of a new depot in St Gallen, where 40 more electric delivery vans will be based.
Hermes and cargo bikes
Hermes Germany is testing cargo bikes for urban delivery. Under the latest trial, cargo bikes performed an average of almost 70 shipments per day to addresses in downtown Leipzig from the Hermes delivery hub in central Leipzig. The cargo bike being tested has a range of up to 100km, a payload of 335kg and a capacity of up to two cubic meters.
One out of every five Hermes delivery routes in Leipzig is emission-free, thanks to cargo bikes and electric delivery vans. Hermes has about 10 electric delivery vans operating in Leipzig.
Hermes has previously stated that it wants to deliver 100% emission-free in the center of all major German cities by 2025. This is important as more and more customers and local authorities are paying attention to the carbon footprint associated with parcel delivery.
Cargo bikes and EVs are a step in the right direction for a greener last mile, but more needs to be done. Consolidated collection points such as PUDOs or parcel lockers can generate significant reductions in kilometers driven and emissions.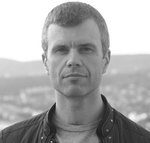 Ian Kerr is the founder and host of the Postal Hub Podcast, the weekly podcast for the postal and delivery sectors.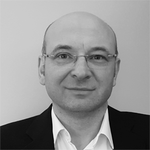 Marek Różycki is managing partner at Last Mile Experts, specializing in CEP and e-commerce last-mile advisory.