In recent years, posts and couriers have increased their interest in the temperature-controlled delivery sector. Ian Kerr founder of the Postal Hub Podcast, and Marek Różycki, managing partner at Last Mile Experts, explore two of the most recent developments and how they benefit each company
European postal operators continue to expand into food logistics and temperature-sensitive last-mile delivery. In January, Bpost acquired Dutch food logistics company Leen Menken, and Chronopost took over Groupe ALP.
Bpost's quest to lead fresh produce delivery
The Leen Menken acquisition underlines Bpost's ambition to be a leader in B2C and B2B delivery of fresh products in the BeNeLux (Belgium, the Netherlands and Luxembourg) region.
Last year Bpost acquired Belgian delivery company Bubble Post, which has extensive knowledge of B2B refrigerated and frozen transport as well as delivery of prepared meals and food boxes.
In 2014 Bpost announced its Combo service, which combined customers' orders (placed online across various stores) into a single delivery, made in the evening.
Last year Bpost replaced Combo with its new Home Delivery for Food platform, which doesn't offer consolidation of orders across multiple online stores.
Bpost is trialling fresh bread deliveries, working with a local bakery for next-day delivery across Belgium. Products are prepared in the late afternoon to minimize time in transit and ensure produce arrives fresh. During the trial delivery is free.
Chronopost's strategic acquisition
Chronopost's acquisition of Groupe ALP allows it to pursue its expansion into temperature-controlled transportation and delivery via its ChronopostFood and BioLogistic divisions.
ALP's three divisions specialize in specific value-added activities: last-mile delivery of temperature-controlled food products; warehousing, refrigerated storage and order picking of food products; and urgent medical and hospital waste transportation.
As part of its push into food delivery, ChronopostFood launched Chronofresh, an express food transport solution offering next-day home delivery for fresh and frozen food products throughout France. Chronofresh B2C customers are notified of delivery date and time slot, and can reschedule deliveries.
How are these acquisitions significant?
E-commerce and grocery retailers are beginning to understand that their customers are demanding increasingly sophisticated last-mile solutions.
The smart retailers know that people buy groceries much more frequently than other goods and see this as a chance to get a larger slice of their "buying cake". They also realize that when customers do their regular grocery shop (online or in-store), other higher margin items will be bought at the same time.
Postal operators and major delivery companies without competence in fresh delivery risk being outsiders in this increasingly important segment. Moreover, a solid standing in temperature-controlled delivery could be an entrée to new complementary segments that will develop over time.
Some operational challenges:
Cold chain is crucial for delivery companies to meet customer expectations of fresh and high-quality food.
Some posts have trialled temperature-controlled boxes for delivery of fresh food and pharmaceutical products as an alternative to expensive temperature-controlled refrigerator and freezer compartments in delivery vehicles.
Amazon Prime Now transports temperature-sensitive food in cooler bags, with food transferred direct from the bag to the consumer on delivery. Non-perishables are delivered without insulating packaging. But perishable goods are with the Prime Now courier for a very short time.
E-commerce returns already pose a challenge to delivery networks – returns of perishable foods are even more complex, and failure can result in food being thrown away.
Failed deliveries pose another problem. If a delivery is left in a "safe place" or with a neighbor, there is no temperature control and frozen items might thaw.
Time windows for grocery deliveries tend to be consignee push vs carrier push (like DPD) and the hot windows can lead to very uneven delivery patterns – for example, peaks requiring many more drivers and troughs where hardly any are needed. Already food delivery startups are confronting this problem.
The peak/trough issue means a traditional route-based model will not always be effective and should be supplemented with crowdsourced or on-demand solutions.
Let's see where this takes us, but this is clearly one area where Amazon is making carriers take a fresh look at the last mile.
Bio:
Ian Kerr is the founder and host of the Postal Hub Podcast, the weekly podcast for the postal and delivery sectors.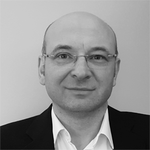 Marek Różycki is managing partner at Last Mile Experts, specializing in CEP and e-commerce last-mile advisory.