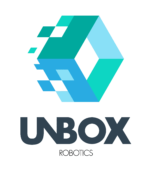 Unbox Robotics is a leading supply chain robotics technology company, specialising in robotics-based fulfilment and distribution technology for small to large e-commerce, retail and logistics enterprises. Unbox Robotics' cutting-edge technology solutions accelerate parcel sortation and order fulfilment to facilitate efficient express logistics operations delivering a seamless end customer experience.
Founded in 2019 by Pramod Ghadge and Shahid Memon, Unbox Robotics aims at enabling organisations to triumph over global supply chain challenges by revolutionising intralogistics operations via a one-of-its-kind vertical robotic parcel sortation and consolidation system powered by Swarm Intelligence.
Unbox Robotics' USP lies in its ability to scan, sort, and dispatch packages in less than 50-70% physical space through its innovative and compact vertical sorting robotic solution. It helps customers ramp up productivity by more than 3X — thereby enhancing the end-customer experience.
Unbox Robotics is supporting leading e-commerce, retail and logistics companies across the globe to automate their fulfillment operations. Headquartered in Pune, India with over 100 team members, Unbox Robotics is scaling up rapidly!