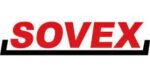 Material Handling Specialists Sovex initially founded in 1939 and since then known for engineering and producing belted systems. More recently the Telescopic Boom conveyer. We have been producing telescopic conveyers under the Sovex, Transnorm and Honeywell brands for more than 10 years. We are now able to supply these products directly to the market under the Sovex brand as part of the Solvest group (a Dutch based investment company), enabling us to offer the complete process of design, manufacture, installation, service and spares, enabling a flexible and competitive proposition for our customers.
Solvest Industries group of companies consists of:
✓ Sovex Systems - turn key telescopic conveyer solutions based in the UK and the Netherlands
✓ Jumbo Groenewegen – Established in 1927 and renowned for high quality products within the logistics market and based in the Netherlands.
✓ BME – World class manufacturing facility based in Bosnia.
✓ Hemtech – World class manufacturing facility based in Bosnia.
Would like to reduce the risk of accidents for operators to work safely? Improve ergonomics and reduce clutter and therefore space saving? Sovex solution is: Telescopic Conveyors
✓ Handling reduced by 30%
✓ Unloading 1200 packages / h (standard equipment with 1 operator)
✓ Reduce load time by almost half - optimize flow
✓ Optimize the loading volume (about 20%)
✓ Diversity of load profiles handled:
Envelopes and small parcels
Heavy loads up to 50 kg/m
The telescopic belt conveyors are located at doors for loading or unloading trucks or / and vans. The operator can extend the telescope to the working position and set an ergonomic working height. The worker doesn't have to go the whole way for one package and saves time. The telescopic conveyor can run in both directions and can be adapted to customer's requests. They can be fixed, traversed or mobile.