Hurricane Commerce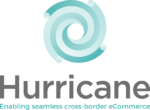 Hurricane's technology transforms the capability of cross-border eCommerce businesses.
Cross-border eCommerce is booming, but a raft of regulations is posing risks to businesses trading or seeking to trade outside of their domestic markets.
The need for complete, accurate and valid electronic data to accompany goods is now non-negotiable.
The regulatory landscape for cross-border eCommerce has transformed during 2021 including Brexit, the US STOP Act and, as of July 1, the EU's abolition of the VAT exemption on low value goods and the introduction of the Import One-Stop Shop (IOSS).
Founded in 2016, Hurricane saw what was going to happen with increasing regulations and laws and developed a suite of solutions designed to reduce the risks and enable seamless cross-border eCommerce.
They include our Aura API which ensures that goods always have the correct product descriptions and HS6 codes applied to them.
With the proper descriptions and HS6 codes you can calculate a landed cost, which gives shoppers the total of their cart – shipping, taxes, custom fees and more. This ensures customers have peace of mind about every cross-border eCommerce transaction.
There is a requirement for total compliance across the whole supply chain. This means that any business, including retailers, eCommerce marketplaces and platforms, freight forwarders, carriers and postal operators, need to screen for Prohibited and Restricted Goods and for Denied Parties.
Compliance is no longer optional.
In order to check bulk consignment data, we created our Zephyr API. Zephyr allows businesses to make sure that product descriptions and HS6 codes match, and if not, provides a most likely alternative, as well as providing 8 and 10-digit import and export codes.
We liken our Zephyr API to the tributaries of a river, validating and assigning consignment data to provide the necessary customs clearance information, enabling the bulk of items to flow into the river in rapid time.
Cost-effective and lightning fast, our APIs can improve any business's data, compliance and customer experience.
Customers include Emirates Post, An Post, Royal Mail, SEKO Logistics, 4PX and DG International.
From first file to last mile, data is king.