Rodrigo Medgenberg, Escher's chief sales officer, explains how posts should adapt to changing mail types and volumes
Digital transformation may already be an overused buzzword in terms of how the private sector engages and interacts with consumers, but there is little doubt that the connected society has had a significant effect on how we communicate and distribute both information and physical goods or services.
Email or app-based communication is the go-to for most people, and the option to go 'paperless' as opposed to a physical statement is constantly being offered by utilities and financial services companies. In addition, the ability to shop on a 24/7 basis has changed the distribution network forever.
And while it may be tempting to point an accusatory finger at Jeff Bezos, founder of Amazon, for his part in moving the parcel distribution goalposts, the simple truth is that the logistics industry needs to adapt and evolve accordingly. In fact, posts that don't integrate the increased need for parcel delivery as opposed to letters are likely to find themselves looking in from the outside.
Under pressure
The caveat is that the logistics and distribution ecosystem is already under pressure. Thanks in part to the so-called 'Amazon effect', customer expectations are raised in terms of not only delivery times but also the real-time shipping possibilities that e-commerce companies now offer. The origins of this phrase vary depending on which industry is being cited, but it is most commonly used when referring to how bricks-and-mortar operations face when they compete with Amazon.
And while Amazon remains the undoubted leader in terms of online retail activity, the company itself has made no secret of its desire to become literally a one-stop shop in the distribution chain.
Not content with leveraging/disrupting existing and traditional delivery systems, Amazon has increased both its number of physical branded-PUDO locations and recently announced plans to make one-day delivery the default option for its Amazon Prime members. The company has also revealed its in-store parcel pick-up option 'Counter, citing not only convenience and security as reasons for people to go to physical locations, but also the fact that people still prefer, according to TechCrunch, to shop in actual stores (around 10% of retail sales are through e-commerce).
Factor into the mix that Bezos' empire is already capable of offering same-day and next-day delivery to around 72% of the US population, according to a report cited by CNBC, and the stakes are obviously being raised to a level where the faster you ship, the more people buy.
Amazon is not the only disrupter in the modern parcel delivery space.
Walmart is pushing ahead with plans to offer free next-day delivery on around 220,000 of its most frequently purchased items to US customers. The roll-out of this service is expected to be gradual and, as TechTarget reported, has an end goal of reaching up to 75% of the country by the end of the year. Orders will reportedly be delivered primarily from its fulfillment centers by national carriers, Walmart said, with regional carriers brought in where necessary.
Both of these companies have made extensive use of posts in the past, and there is no reason to believe that this is going to change in the near future. In addition, Amazon has said that it will be investing US$800m in Q2 to improve its warehouses and delivery infrastructures to take its delivery options to the next level, but the underlying fact is that the ongoing deliveries from e-commerce companies are almost 100% certain to be parcels and not letters.
Adapt to customer expectations
With the flow of parcel delivery requirements not expected to slow down any time soon, the question is how should posts adapt to a world where letters are increasingly the poor relation to parcels? Granted, there will still be a need for letters – the endless flow of charity-based content and spam mail to the average person's physical mailbox will keep the paper production industry busy for the foreseeable future – but parcels are now the priority for the average consumer.
In the UK for example, the Royal Mail has introduced the country's first ever parcel letterboxes, with 1,400 of the new postboxes being installed in more than 30 locations. This move represents the first major change in the postal system since the 1850s, and is expected to give people both greater flexibility and the option to send parcels outside regular business hours.
The Royal Mail's move is to be applauded, but it only solves part of the parcel equation – a physical 'parcelbox' still requires a postal worker to pick up said parcel and add it to the distribution ecosystem. The parcel itself – which will need to be pre-paid in the same way that a letter is – will then be either be delivered by an employee to the required address or (if a signature is required) kept at a physical location for end-recipient collection.
This expected shift from letters to parcels also puts additional pressure on the delivery process itself. It doesn't take a rocket scientist to realize that letters are – by and large – lighter than parcels, which means that posts will need to adapt their points of engagement to deal with larger and potentially heavier items. For instance, a PUDO location (which can be a traditional post office, or a third-party managed or franchisees service) is the most practical way to leverage the delivery options available, especially if the customer is in a rural or hard-to-reach area.
There is also the question of last-mile logistics. The concept of the 'last mile' is one of the most misunderstood parts of a distribution network, but it can make up 28% of a total shipping cost.
In order to deal with the challenges that final leg of a parcel's journey, posts will need to identify the physical demands of what – more often than not – is not actually a last mile, but is more likely to be anywhere from five to 50 miles. Parcel delivery then becomes a matter of factoring in both the end recipient and a time frame that has less to do with the post itself and more with the options set by an e-commerce company or third-party sender.
Leverage self-service
Taking all of that into account, there is a defined need for posts to consider the benefits of self-service when it comes to the expected increase in parcel traffic.
In recent years, posts have seen a seismic rise in the number of parcels delivered, with 90% of respondents to Escher's 2019 Future of Posts report stating that their success over the next five years will be tied to parcels. In addition, revenue from parcel delivery has increased, with a recent industry report from the International Post Corporation showing not only a 14.3% year-on-year increase in parcel volume from 2016 to 2017, but a 10.8% rise in revenue growth from these items during the same period.
The good news for posts is that they have an inbuilt advantage over high-profile logistics and distribution companies. The average person still sees the post office as the first port of call in terms of physical delivery options, especially when you consider that the postal industry has decades of experience behind it. In addition, there is a consensus that the structural shifts caused by digital disruption are an excellent opportunity for posts to evolve established working practices into a 21st century mindset.
Adapting the traditional model of counter service for parcel delivery and pick-up is just one way that posts can leverage the need for both customer interaction and end user experience. Digital transformation remains an industry buzzword, but customers are comfortable with the idea of self-service and, in many ways, the option to pack, weigh and send your own parcel is extremely attractive. And while Amazon may think it has cornered the market in physical PUDO lockers, more posts are adding this option to their services.
RIP paper-based communication
Ultimately, there is no doubt that letters are the remnants of a previous age. Communication methods have evolved, and posts will need to evolve with them. In recent years, the trend towards nostalgia has seen the rebirth of vinyl, the return of retro video games and a demand for vintage tee-shirts that has made many people regret donating their clothes to charity, but environmental awareness is likely to see paper-based communication fade to the point of obscurity.
With that in mind, posts need to look for other revenue streams for physical delivery, and parcels are the best bet. The connected society might think that it lives in the digital world, but the virtual can't exist without the physical. And until someone invents a replicator that sits in our homes, the simple truth is that we will need posts to deliver the physical objects that we desire.
This article was originally published here.
About the author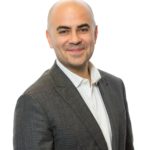 Rodrigo Medgenberg is an executive leader with a proven track record in driving revenue growth for the financial services and the technology industry. He is responsible for the performance, strategy and alignment of revenue operations at Escher. Within this remit falls the sales execution model, the go-to-market strategy and the customer relationship management that drives customer success. Prior to joining Escher this year, Rodrigo spent over eight years at Salesforce working for the Commercial Business Unit in various leadership positions, the last appointment as Area Vice President for UKI. Rodrigo started his technology solutions career serving as Global Account Manager for Thomson Reuters (Reuters AG) in Frankfurt Germany having come from a derivatives finance background. Rodrigo is alumni of the George Washington University in Washington, DC.