UK clothing company New Look has rolled out return kiosks in partnership with ZigZag Global across a selection of its stores this week.
Powered by ZigZag's returns platform, the kiosks provide a free return option for customers. This is expected to reduce the amount of time that in-store staff spend processing returns, whilst improving data collection. To return their products, customers can enter returns information online and choose 'Return to Store' as a return option; rather than printing out a sticker, they will receive a QR code.
Rachel Troke, senior product manager at New Look, stated, "One of the key drivers for launching the kiosks was that we weren't getting the right data from our customers on why they were returning in-store. A lot of items were being marked down as unwanted – a trend that didn't match up with what we were seeing with our online returns."
This is echoed in ZigZag's proprietary data, taken from over 100 renowned UK retailers, showing that 67% of fashion returns during peak season last year were due to sizing issues. Returns made due to the item being unwanted, or the customer changing their mind, represent less than one-fifth of all returns.
Troke continued, "We suspected that customers were perhaps too shy to dive into the reason for returning with the store colleague. It is understandable to not want to discuss potential sizing issues with a stranger. The in-store kiosks bring back that comforting anonymity you get with online returns for the customers while providing better data for our buying teams. We will now get close to 100% coverage across our e-commerce returns, collecting valuable data that will allow us to make smarter, more informed decisions."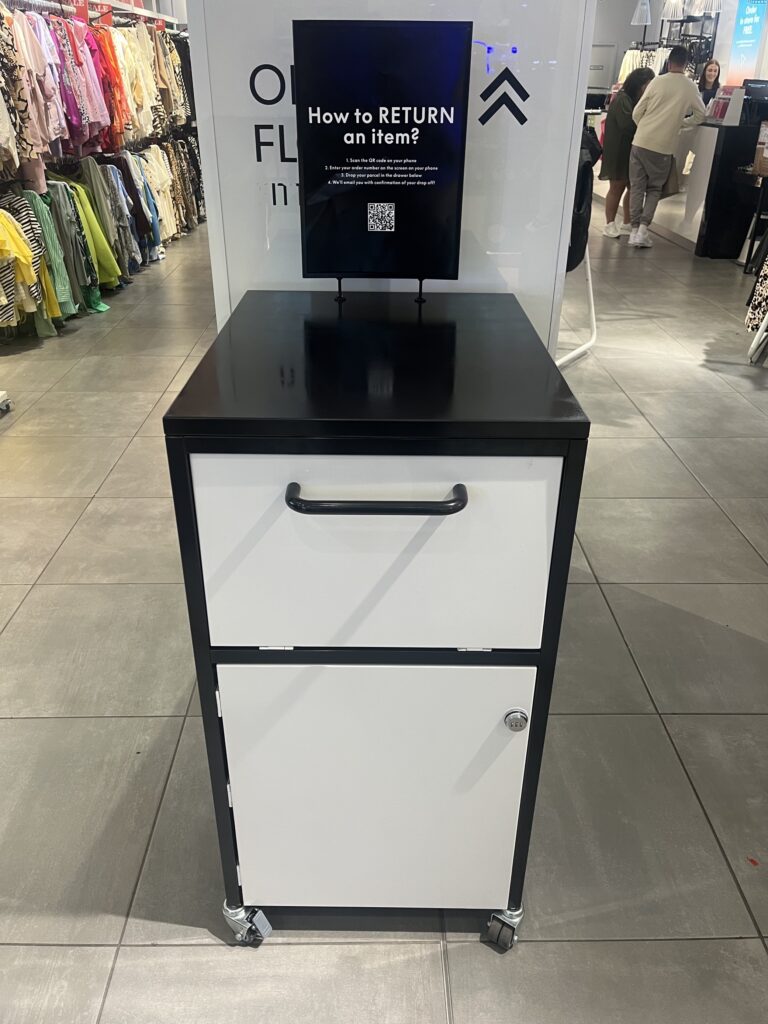 As brands look to recoup some of the cost associated with reverse logistics, many have moved to paid returns. Although New Look introduced a £1.99 (US$2.51) charge, the retailer has never charged for returns processed in-store, leading to this becoming a more popular returns method in 2023. At over 400 stores, New Look offers accessibility to customers across the UK and in-store returns have doubled since the charge was introduced.
Al Gerrie, co-founder and CEO of ZigZag Global, added, "ZigZag has been thrilled to work alongside New Look to expand their in-store returns offering and enhance their customer experience. The modern-day retail customer wants a choice. Whether that's a choice from a range of products when purchasing or different carrier and drop-off options available when returning, retailers must cater to as many customer needs as possible. This latest innovative approach from New Look will provide customers with a free returns option, improving customer satisfaction while driving footfall to New Look's shops. A win for all."
To keep up with the latest returns developments from the parcel and postal technology industry, click here.