Autonomous delivery company Clevon will join the Curiosity Lab ecosystem at Peachtree Corners, which is a smart city in Georgia, USA, powered by connected infrastructure and 5G.
The company's autonomous robot carriers (ARCs), powered by T-Mobile connectivity, are designed to collect orders at warehouses, retail stores, dark stores and micro fulfillment centers, and then deliver those goods to people and businesses around the city.
Clevon's fully electric ARCs have customizable configurations so they can fulfill a multitude of business needs and offer an efficient and timely customer delivery experience. According to the company, the robots can reduce failed deliveries, carbon emissions, cost of delivery per customer and stolen packages.
The ARCs operate on US public roadways and are purpose-built for delivering multiple shipments during a single trip. The driving system includes redundant perception technologies and leverages T-Mobile's IoT solutions. As part of the Curiosity Lab smart city ecosystem, Clevon will also be exploring live testing for 5G adoption in partnership with T-Mobile.
Sander Sebastian Agur, CEO of Clevon, said, "It was only fitting to bring our second major operation here in the United States to one of the most advanced smart city environments in the world at Peachtree Corners. A future-forward environment like this – complete with city-owned smart infrastructure, T-Mobile's best-in-class network and opportunities to interact with connected vehicles and people and businesses – is invaluable to our continued efforts to optimize autonomous robot carrier operation, including how they will navigate through real-world situations."
Brandon Branham, executive director of Curiosity Lab, said, "We're proud to have adopted some of the world's most advanced emerging technologies here in Peachtree Corners, and we're delighted to continue that tradition by welcoming Clevon and their autonomous robot carriers to our community. From a city perspective, we are always looking to improve our residents' everyday lives with exciting new technologies. Showcasing how robotic solutions can help enhance package delivery operations while reducing congestion and emissions gives us a further peek into a brighter future."
Dave Bezzant, vice president of T-Mobile for government, commented, "As Clevon's preferred wireless provider in the US, we're thrilled to help them advance their autonomous driving system and remote monitoring systems in a real-world environment. We are proud to be supporting Clevon in this greater mission to create more sustainable and efficient delivery solutions."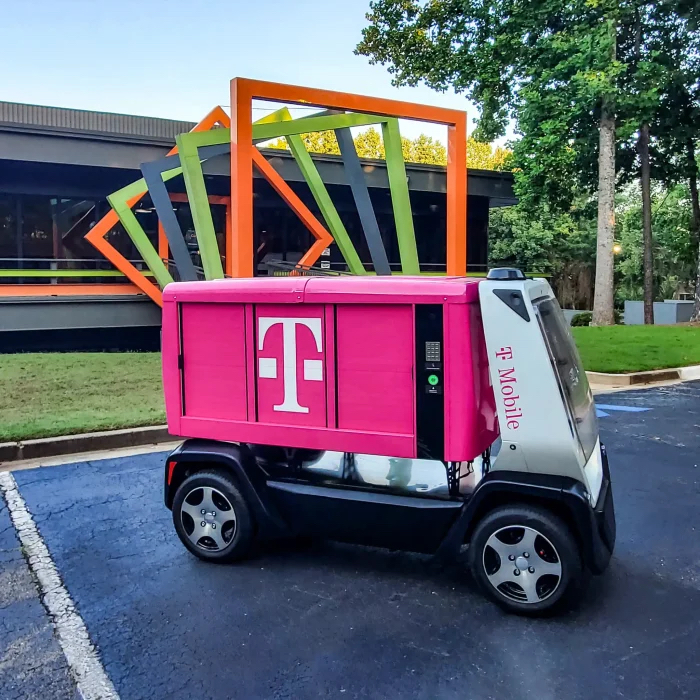 Read more key vehicles/fleet updates from the parcel and postal technology industry here