Switzerland-based electric vehicle company Kyburz is showcasing its latest delivery solutions at this year's POST-EXPO.
The team has brought three of its offerings to this year's event including the Auto eTrolley III, which Kyburz collaborated with autonomous technology startup Buddy Mobility to create.
The self-driving robotic trolley works like a moving locker, driving independently to the customer with their parcels and contacting recipients via smartphone. Customers can then pick up their mail and drop off letters and parcels.
The robot finds its own way to its goal final, avoiding obstacles and even has the ability to operate in snow. Kyburz supplies the landing gear and technology for the autonomous driving of the delivery robot.
A prototype is currently being tested in the small Norwegian town of Kongsberg near Oslo and is the first of its kind in the world.
Martin Kyburz, CEO at Kyburz, told Postal and Parcel Technology International, "We're showcasing many different vehicles at this year's POST-EXPO, with the most exciting highlight being our self-driving trolley for post delivery. The trolley will be in use by Posten Norge from early next year, bringing post to 100 houses in a single trip.
"Each customer will have their own locker. Its unique selling point is that this is the first independent post robot in the whole world to be deployed on the streets."
Visitors to Kyburz's stand will also have the opportunity to view its new ePedelec, which can even be ridden at the event's outdoor test track. The cargo bike moves using electricity-generating electropedals that start the electric motor.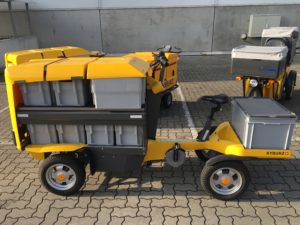 The ePedelec has a top speed of 25km/h and has a climbing capacity of up to 30%. It takes 12 hours to charge, giving the vehicle the power to travel 20km in an urban stop-and-go capacity or up to 40km for extra-urban continuous travel. The ePedelac has a load capacity of 120kg, plus the driver.
"The ePedelec is unique as it does not have a chain like a regular bike," added Kyburz. "This reduces the need for frequent maintenance as chains often break or become loose on cargo bikes carrying heavy loads."
Visitors to Kyburz's stand B2.305 will also have the chance to see its most successful product to date, the DXP. The three-wheeled vehicle's biggest customer is Swiss Post, which operates 6,500 units.