Parcel+Post Expo 2022, which runs until tomorrow (October 20), is maintaining momentum – here are some more of today's highlights from the show in Frankfurt, Germany…
Regal Rexnord reveals its modular side-flexing product handling solution
Regal Rexnord's modular side-flexing package handling system, the Rexnord 1540 Series Zero Tangent MatTop Chain, is making its show debut at Parcel+Post Expo 2022 in Frankfurt, Germany.
This side-flexing modular plastic technology has been designed to match the needs of containers with shifting centers of gravity in constantly thinning packaging material. The system uses multiple tracks of 15mm-pitch modular plastic belting to ensure the package rotates without change in orientation, to improve the ease of use for small and large packages. The same angular speed of the chain obviates the need for transfer plates to transfer packages of all sizes when exiting the curve.
Alberto Di Savino, marketing assistant at Regal Rexnord, said, "We provide integrated systems to customers in different sectors (e-commerce, postal, parcels). Our core product is the conveying belt. We are showing this product at this size at Parcel+Post Expo for the first time. We are so happy to be here and we hope to collect a lot of leads about this new technology."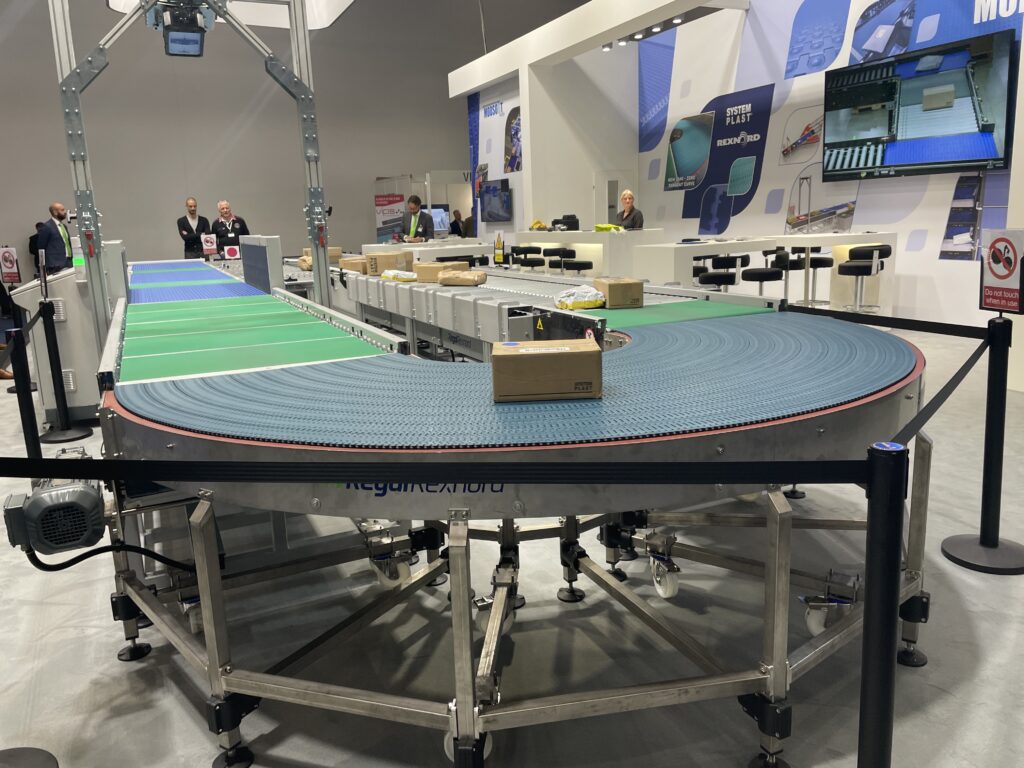 Honeywell presents parcel throughput e-book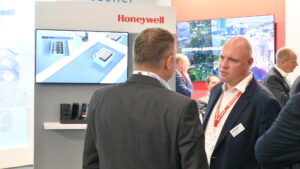 Honeywell is presenting its free e-book about optimizing parcel throughput.
The book tackles how a logistics operation can evaluate its options when facing increasing pressure on all sides. With tightening service level agreements (SLAs) and increasing volume and customer expectations in mind, it argues that the throughput and volume demands of e-commerce and the parcel industry are too great for manual labor to keep up with. To answer this conundrum, Honeywell's e-book is intended to help organizations find the best sortation system for their product mix and throughput needs.
Sneha Radhakrishnan, offering management lead at Honeywell, said, "If you look at any profitable part of a company, they're not looking at manual sortation. That's very slow. Considering the move in the last two years to automation with the boom in e-commerce, operators can get their parcels to their customers and end customers quicker. That's why sortation is a key function in post and parcel businesses. Also, post and parcel don't store their packages. That's why we're presenting our sortation ebook here at Parcel+Post Expo. It tells our customers what automated sorters are best for them, depending on their parcel mix and target market."
Sew-Eurodrive presents expanded portfolio of decentralized drive technology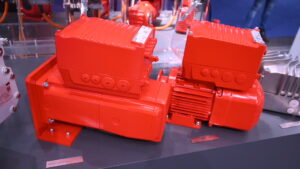 Sew-Eurodrive is presenting its expanded portfolio of decentralized drive technology up to 7.5kW, including the MoviMot Advanced drive unit and MoviMot Flexible decentralized inverters.
MoviMot advanced is intended to complement the Movi-C modular automation system in terms of functionality and continuity. By integrating an energy-efficient IE3 asynchronous motor from the DRN. series with the decentralized inverter from the Movi-C modular automation system, this decentralized drive unit reaches the maximum IES2 system efficiency class to IEC 61899-9-2 – and does so up to 7.5kW.
The MoviMot Flexible decentralized inverter is being displayed in its new sizes across four performance classes between 3kW (7.0A, standard asynchronous motor) and 7.5kW (16.0A, standard asynchronous motor). Systems with 3-4kW power ratings (7.0-9.5A) are cooled via cooling fins; systems with 5.5-7.5kW power ratings (12.5-16A) also feature a fan unit for cooling. However, in addition to asynchronous motors, MoviMot Flexible can be combined with all other Sew-Eurodrive asynchronous and synchronous motors with and without encoders.
Due to the integration of MoviLINK DDI as a permanent component in the drive unit, operation and startup are expected to be simple and convenient, despite the wide range of options available for the gear motor. Integration into different automation topologies is handled in the same way as with Movi-C products.
As a result, the decentralized drive technology from Sew-Eurodrive is intended to reduce wiring work and energy consumption, by conserving materials, shrinking carbon footprints, minimizing startup times and making systems smarter. It does this at higher power ratings.
 Tobias Nittel, head of product solutions center for decentralized technology at Sew-Eurodrive, said, "The new MC/1-Mot (or Motor Integrated Electronics) that we're showing here can operate an asynchronous motor in the efficiency class 13 and synchronous motors in the efficiency class IE5, which is the highest available today. This solution solves the conveying application in the most efficient way."
Bettermile presents its real-time delivery tracking solution
Bettermile is presenting its real-time delivery tracking solution at Parcel+Post Expo.
According to the startup from Berlin, the AI-based solution for route optimization and tracking offers delivery prognoses with an accuracy of up to 10 minutes. Its machine-learning functionality considers the number of stops remaining within a tour, the behavior of delivery drivers and the characteristics of the delivery area. In other words, it calculates dynamic sequencing.
Bettermile processes over 4.5 million addresses and ensures that drivers have precise geographical coordinates at their disposal. The company receives 1.8 million tracking API requests every day, enabling recipients to check the status of their shipment in real time throughout the day.
Simon Seeger created the solution as part of a GLS Group incubator program, in which he accompanied GLS drivers throughout Europe during their work – from the morning start at the depot to the final stop of the parcel round. In doing so, he repeatedly came across analog route planning on laminated maps, since the standard IT solutions for route planning were found to be too static and inefficient for drivers. This led to the idea of an intuitive driver app. The prototype was created, tested and improved during the subsequent rides.
In 2022, the geodata-based Software as a Service (SaaS) solution entered the market. Bettermile now offers the Better Places geocoding API with last-mile address information, the Better Route driver app for dynamically optimizing delivery routes and Better Tracking real-time tracking of the last mile for an improved customer experience.
Sebastian Poberschin, business development manager at Bettermile, said, "This optimization solution plays a key part in the last mile and a critical role for everyone who ever received a parcel, as well as delivery companies. With Bettermile, we provide dynamic route optimization support for drivers and live tracking updates for receivers. We're bringing it all together and we're connecting the dots, that's what makes us different. This show is one of the biggest fairs in the industry and we have been speaking to many different players in the industry."
Simon Seeger, the founder and managing director of Bettermile, said, "We believe that productivity and recipient focus go hand in hand. This is where our user-centric SaaS technology comes in: unlike usual scenarios, delivery routes are planned dynamically and optimized and navigated in real time, taking traffic, business hours and recipient details into account. The knowledge of the delivery drivers is also incorporated into the solution's artificial intelligence. Recipients always receive up-to-date information about their delivery via real-time tracking. Delivery times are accurate up to 10 minutes.
"We want to get in touch [with users] and learn about their delivery processes so we know how we can help improve their user experience and productivity. Parcel+Post Expo is the central industry event for the last mile. We are excited to connect with other industry players, learn about their needs and/or solutions, and take away impulses for our work."
EuroSort highlights its new automatic infeed line in its split tray sorter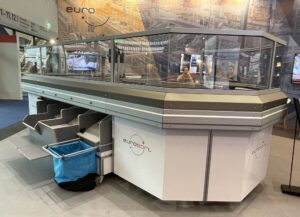 EuroSort is presenting its brand-new automatic infeed line for the split tray sorter at the show, alongside its new post chute, which is designed to give maximum exit flexibility.
With this solution, operators can sort directly to postal bags, wiretainers, metal carts and gaylord boxes, and even switch between two options.
EuroSort has also developed a brand-new automatic infeed line for the split tray sorter. This new solution was designed to overcome problems with standard conveyors for transporting small packages and envelopes. It includes a top-loading capability, adjustment belts for a perfect drop into the tray and incline/decline options. These features are a significant technological advancement. However, the real game-changer is that the system can also convey items that are only 50mm in length. Even magnets go through effortlessly. This enables the smallest of packages to be conveyed and automatically inducted into the sorter. The new automatic infeed line can also be fitted with weighing units and is thus ideally suited to parcel and post operations. Therefore, EuroSort argues that now is the time to rethink current operations with a sorting solution that can do it all.
"There will be two items on show that will be of interest to post and parcel operators," said Kasper Stoffels, EuroSort's head of marketing. "Our renowned split tray sorter (also known as a bomb-bay sorter), with its patented technology, is a key technology for many names in the industry. It allows for fast and accurate sortation of postal items. In combination with our second star, the bespoke postal chute, which gives you the opportunity to have postal bags as well as containers or gaylords under the sorter, this is really a winning combination for any parcel and post operator looking to improve its efficiency and accuracy and increase its throughput."
"We are very excited to talk to visitors at Parcel+Post Expo and understand their challenges," continued sales manager Gert Jan Veelenturf. "A lot has happened in the last couple of years and a lot is still happening at the moment. Our solutions are often specifically designed for our customers and by taking the time to understand the process and what their goals are, we can come up with a solution that fits. We welcome anyone to our booth to find out how automated sorting can improve their current processes."
MHS showcases advanced conveyors and sorters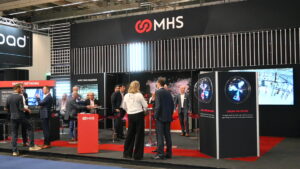 At Parcel+Post Expo, MHS is showcasing its advanced conveyor and sorter portfolio, including the HC Smalls Sorter, the HC-Loop Double Cell sorter and PolySort.
The HC Smalls Sorter can sort small and light parcels in rough environments and has been designed for companies experiencing the e-commerce boom and growth in small parcel volumes. Likewise, the HC-Loop Double Cell sorter gives operations a solution to handle small items such as flyers, polybags and shoe boxes, while maintaining the flexibility to handle larger packages. The company created the compact package to offer more versatility. With sections of two crossbelt cells, it can work either simultaneously to handle a single large item or independently to handle two smaller items and boost capacity. In addition, PolySort is an automated system designed to handle and sort all the items not included in the standard conveyable parcel range due to their size, weight or shape. Overall, the conveyor and sorter solutions are expected to increase delivery capacity, throughput and product mix.
Jonathan Kruisselbrink, sales and marketing director at MHS International, said, "As a true partner, we use our capabilities and industry experience to make our customers competitive and relevant to their customers. Parcel+Post Expo is a great new opportunity to listen to our customers' needs and be on hand to discuss the solutions for the operational improvement of their parcel environment."
Escher showcases end-to-end retail technology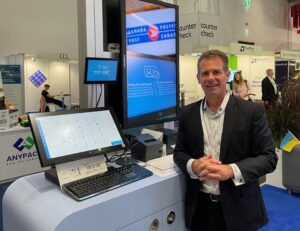 Visitors to Escher's stand at Parcel+Post Expo 2022 can experience the company's range of technologies that enable an end-to-end retail experience for posts and their customers.
On show for the first time is the company's Riposte Application, or Riposte 2.0 as Escher Group's CEO Brody Buhler described it, which is its newest point-of-sale (POS) platform.
"This is our latest POS which we have just rebuilt," Brody said. "It's all-new technology and it comes out of the box omnichannel so once you've got it at the counter and you want to implement it at a kiosk or on a handheld, it's just a case of adapting the workflows and displays."
Riposte Application features a dual display, one for the clerk and one for the customer, which allows the post to generate feedback questions on the customer display for "real-time net promotor scores", according to Buhler. "It's live in Canada, Austria and Norway, and we're getting ready to migrate three more customers over to the new platform," he added.
Also on show at the event is the company's latest handheld solution, which is being used by Deutsche Post DHL (DPDHL) and offers "all the capability you want in a retail function in a handheld". It is used in DPDHL's network of 10,000+ Paketshops and enables customers to print their own parcel labels.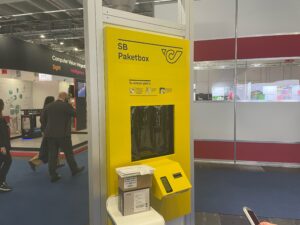 Visitors to the stand can experience Escher's self-service parcel drop-off kiosk, which is in use exclusively by Austria Post. Buhler explained, "One of the things we've found is there is a high demand for self-service, but it is expensive to implement. Austria Post has a fully fledged kiosk that customers can use to do all the transactions they would at the counter – you weigh the parcel, you can pay your postage, print your label and it has compartments to drop your parcel off.
"But now we've created a cheaper version by taking a handheld device and turning it upside down, which moves it into a self-service mode that allows customers to scan their preprinted parcel barcode, print out a proof of postage receipt and then just drop the parcel in the box. It's less than US$500 to create the self-service kiosk and the power of this to queue-bust simple transactions is huge."
Escher is also demonstrating its delivery control tower for the first time. The tower offers track and trace, last-mile optimization and routing, customs integration and more. "This is something that Escher is less known for – when you think of us you think POS. What we bring here is an entirely different set of capabilities on the delivery side of things," commented Buhler. "We have had a number of posts that have come to us and said they want an end-to-end solution that does first mile to last mile and is a single integrated platform that enables them to manage the full operation, and so that is what this delivery control tower does."