Online shopping has seen a boom during lockdown and that is set to continue with Black Friday and Christmas just around the corner. With low-cost speedy delivery making it easier than ever to send and receive packages, money.co.uk's consumer spending experts have investigated the potential environmental impact of getting those online shopping deals from the warehouse to our front doors.
Research for the Dirty Delivery Report from comparison site money.co.uk reveals that while 85% of UK consumers plan to shop for deals online this Black Friday*, just 1 in 10 said they considered the impact their online shopping deliveries may have on the environment.
By analyzing the annual sustainability statements released by 12 major parcel delivery companies in the UK, the consumer spending experts at money.co.uk can reveal which companies are committed to cutting the carbon cost of home deliveries and which ones have a long way to go to becoming green.
The carbon cost of Black Friday sales in 2020
Our calculations estimate that online shopping on Black Friday this year will release around 429,000 metric tons of carbon emissions into the atmosphere.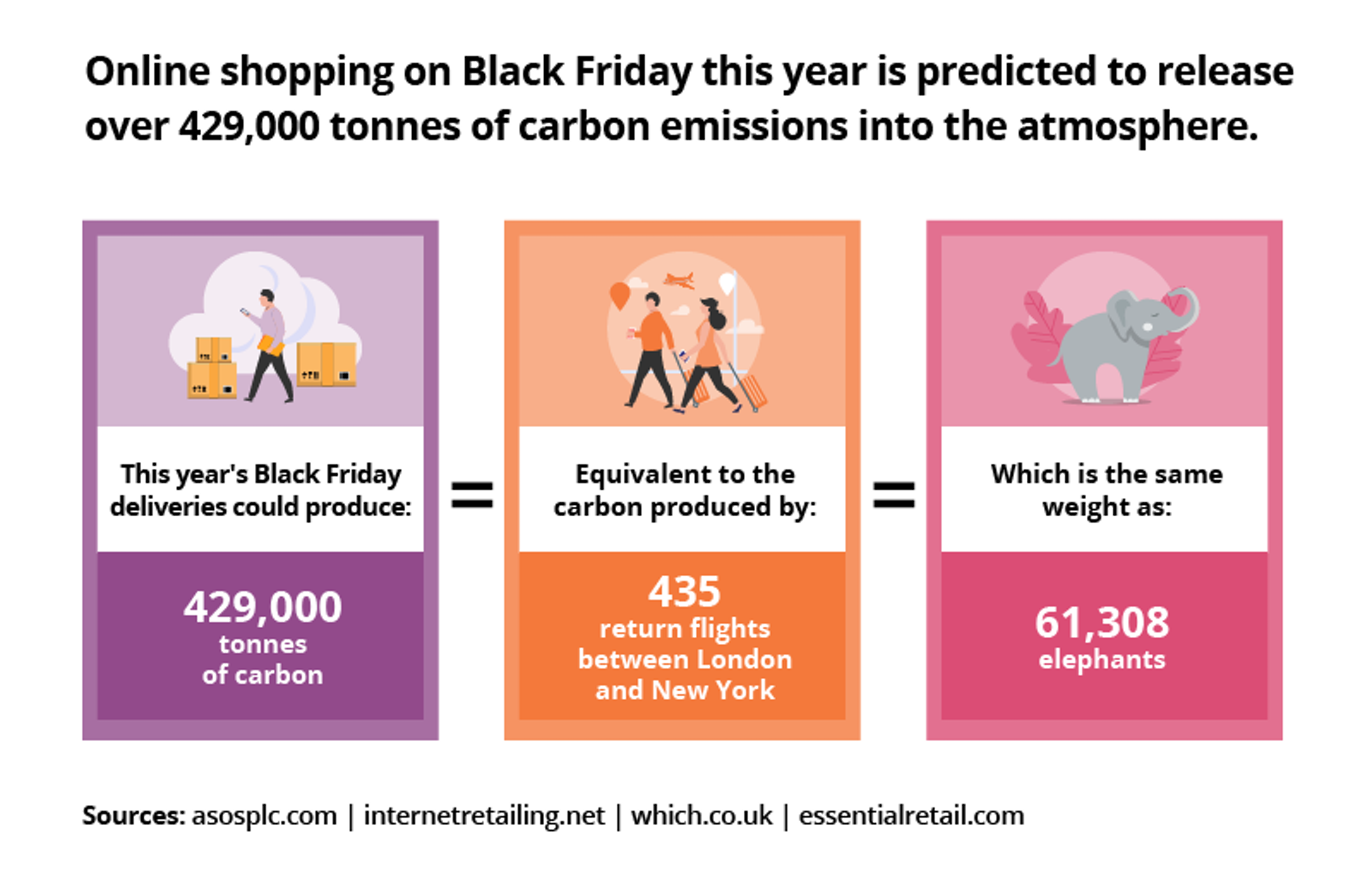 To put this into perspective, 429,000 metric tons of carbon is equivalent to 435 return flights from London to New York, or the same weight as 61,308 elephants.
Our eagerness for getting something delivered quickly – whether that's via Amazon Prime or next-day premier delivery on ASOS – all adds to our online shopping carbon footprint.
Which delivery companies are the worst offenders?
According to ASOS (which uses DPD and Hermes as its primary delivery companies) each medium-size parcel delivery generates approximately 3.68kg of carbon.** 

Using our online delivery CO2 calculation***, we've applied this to five of the UK's top delivery companies to predict how much CO2   will be pumped into the atmosphere, with some surprising results.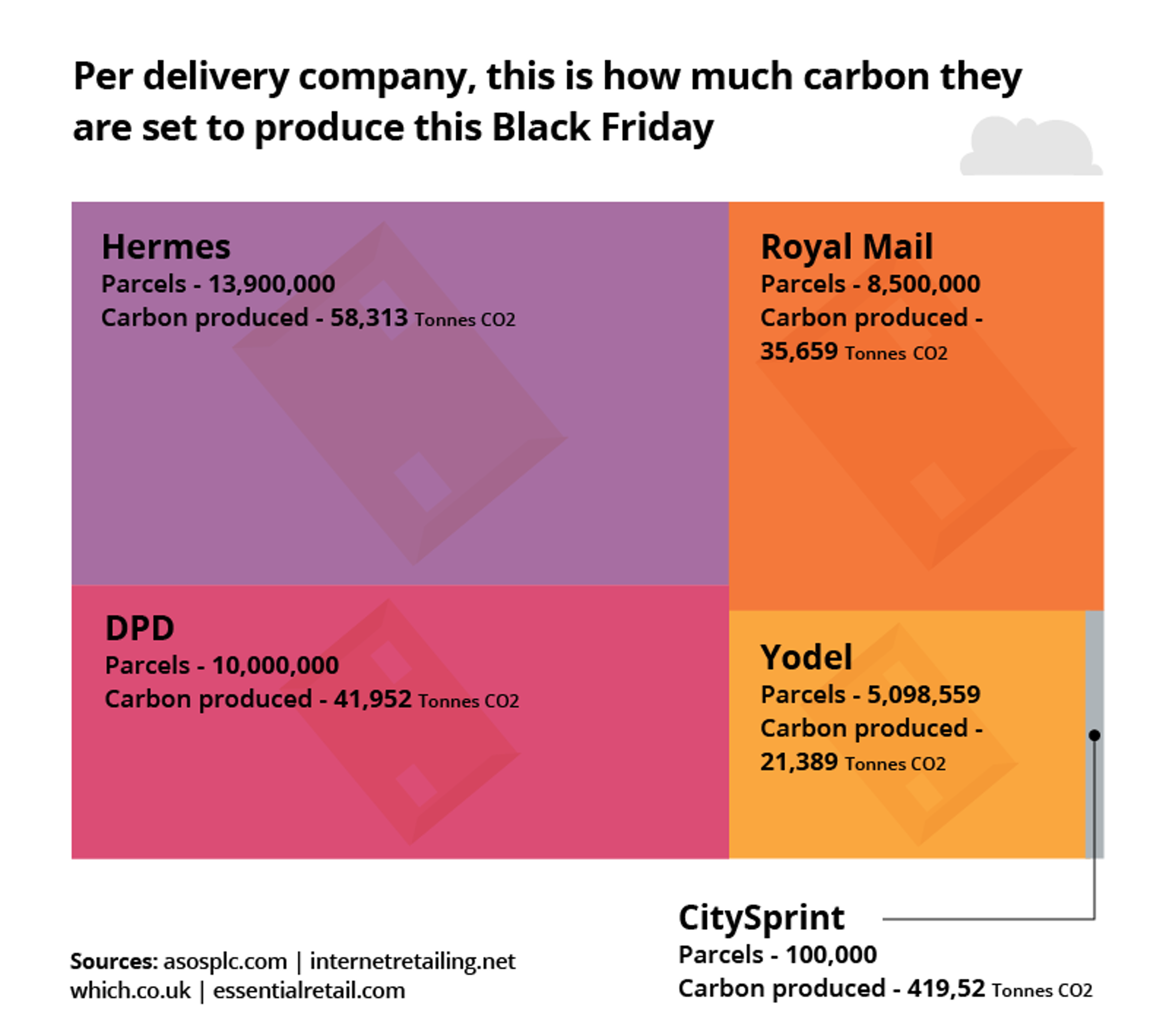 Hermes is predicted to produce the most carbon emissions this Black Friday. The company delivered 13.9 million parcels in 2019 which we estimated to have resulted in at least 51,152 metric tons of carbon being produced.
Assuming a 14% rise in online Black Friday transactions this year****, we predict a massive 58,313 metric tons of carbon will be emitted by Hermes delivering parcels to households across the UK. The calculations are based on an average according to readily available data.
Amazon processed 4.4 million transactions on Black Friday in 2019. Based on the average parcel being delivered and the predicted 14% increase in online spending, Amazon could be set to process a whopping 5.1 million transactions this year. We estimate Black Friday purchases via Amazon alone could result in at least 18,854 tonnes of additional CO2 being pumped into the atmosphere.
What are delivery companies doing to be more carbon-conscious?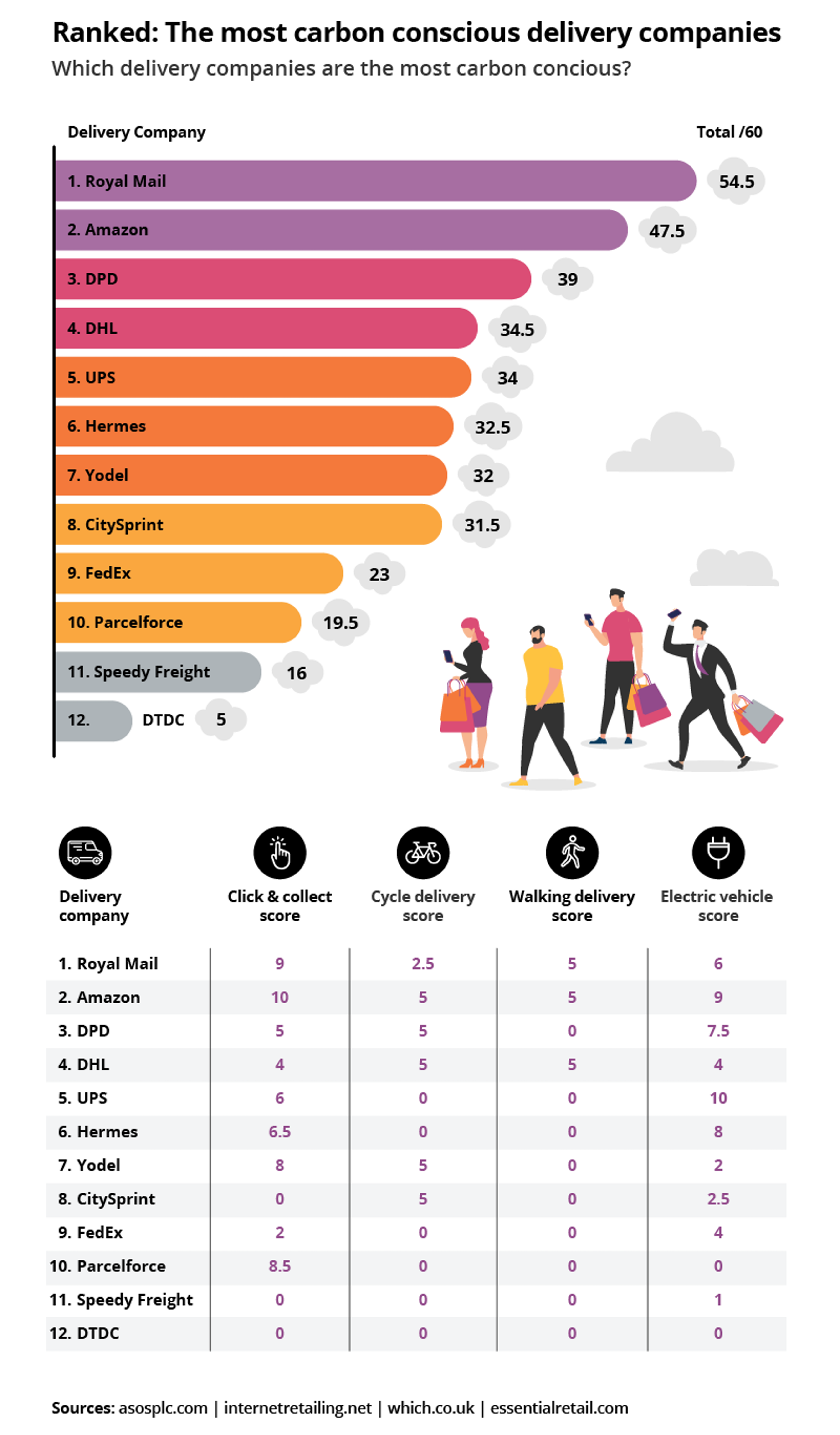 We've crowned Royal Mail as the most carbon-conscious delivery company in our study. The company has the largest 'feet on the street' network of 90,000 postal workers, and it has reduced carbon emissions by 29% since 2005. The company is always looking for new environmentally friendly ways to deliver, such as investing in a 295-strong fleet of electric vehicles.
Amazon takes the top spot for the number of click-and-collect parcel locations in the UK with around 16,000. Not only do these click-and-collect locations and lockers help the environment by preventing numerous home deliveries, they also serve to drive much-needed footfall into local business.
UPS is doing the most when it comes to the number of electric or hybrid vehicles – the company has ordered 10,000 vehicles that will be incorporated into its fleet between 2020 and 2024.
The best and worst rated delivery companies
You might not always get to choose who will be dropping your packages off when you order online, but some websites give you several delivery options. 

According to our survey, 45% of online shoppers say that the delivery company used by an online retailer impacts their purchasing decisions.
This is especially true for those aged 16-24 as over half (56.7%) in our survey admitted that the delivery company used by an online retailer would make them think twice about completing their purchase.
We looked at Trustpilot reviews and customer satisfaction scores to determine which delivery companies were the most and least loved by online shoppers.
City Sprint took the top spot based on satisfaction scores, with Amazon Logistics and Parclforce not far behind.
Based on Trustpilot reviews, Speedy Freight, DPD and Yodel take the top three, with UPS and Fedex scoring less favorably at the bottom of the rankings.
How carbon conscious are the UK's online shoppers?
We asked more than 2,000 consumers* to tell us about their Black Friday spending, including the importance of carbon-conscious delivery services. 

Just 1 in 10 shoppers (11.72%) factor carbon-friendly delivery into their decision when purchasing online while almost three quarters (72%) of shoppers said they would look more favorably on a retailer offering free delivery.
One in three (35%) of those surveyed admitted that they look for the least 'green' delivery option of next-day delivery when making a purchase online.
A whopping 20% of respondents stated they would refuse to pay any extra to offset an individual online purchase, whereas 17% would pay between £1 and £2  (US$1.30-US$2.60) to offset an online purchase.
Twice as many (16%) of 16-24 year olds say carbon-conscious delivery factors into their online shopping decisions, which is twice as many as the 55+ age group, where just 8% say this.
However, shoppers aged over 45 are thriftier when it comes to online shopping, with 80% of those in the 45-54 and 55+ age groups admitting to looking for free delivery.
Similarly, these two age groups are also happiest to wait longer for their parcels to arrive.
Men vs women – who's the most concerned about their online shopping carbon footprint?
Men are more impatient when shopping online with 38% of men admitting they look for next-day delivery compared with 33% of women.
However, women are more price conscious when it comes to online shopping. Three quarters of women (75.82%) look for free delivery, compared with just 67% of men.
Salman Haqqi, personal finance expert at money.co.uk, said, "With almost a third of consumers (32%) stating that they would be more likely to shop with a retailer if they offered a green or eco-friendly option, it is clear there is some appetite for more environmentally conscious delivery methods.
"Despite this, our research found that 20% of shoppers did not want to pay to offset the environmental impact of their online purchases and a further 42% admitted to not feeling any environmental guilt when purchasing items online.
"Although there is clear interest from consumers to reduce their carbon footprint when shopping online, it appears speed and reliability are two qualities British consumers are keener for delivery companies to possess."
Sources & Methodology
Data correct as of 04/11/2020
*Survey of 2,011 UK respondents aged 18-55 about their Black Friday spending, including the importance of carbon-conscious delivery services during October 2020 on behalf of money.co.uk.
**https://www.asosplc.com/~/media/Files/A/Asos-V2/documents/corporate-responsiblity/reporting-and-policies/asos-ghg-report-2016-17.pdf
***In 2019, Barclaycard processed 1,184 individual transactions per second on Black Friday afternoon, and with 2020 sales predicted to be 14% bigger, we can conservatively estimate that a full day of Black Friday purchases this year will result in 116,619,264 individual transactions.
If each of those individual transactions results in one medium-size parcel being delivered (which produces 3.68kg of CO2 ) we can estimate that 429,158,892kg, or 429,158.89 metric tons, of CO2  will be emitted into the atmosphere through our online purchases this Black Friday.
****https://internetretailing.net/peak/peak/black-friday-set-to-be-14-bigger-than-ever-before-putting-massive-strain-on-retailers-suppliers-and-distributors-22097
This article was originally published on www.money.co.uk on November 3, 2020.