The ongoing Covid-19 pandemic and the resulting public health measures imposed by governments around the world have place a host of demands on national post services. Belgian consultancy E-Biss International conducted two benchmark surveys of 29 such services across Europe and the rest of the globe, between March and May 2020, to gauge the impact of the pandemic on services.
Nearly all countries surveyed were experiencing either a complete or partial lockdown with restrictions in place to contain the spread of the virus. In these circumstances 90% of posts were recognized as providing essential services and, in most cases, postal staff identified as key workers.
Showing the resilience of most postal operations, around 70% were able to maintain normal levels of postal deliveries across their territories, despite restrictions and issues such as staff illness. In some cases, these were fewer days delivery per week and reduced operating hours – mostly driven by staff shortfalls but also reduced volumes and closed business premises.
Unsurprisingly, the survey found a strong focus for all posts has been the need to protect the health and safety of their staff and their customers. This has included provision of personal protective equipment such as masks and hand sanitizer in the work place, the sanitization of equipment, the enforcement of distancing between workers, the separation of customers in post offices, contactless 'knock, drop and go' doorstep delivery (without requirement for physical signature), heat sensor monitoring on entrance to facilities and in some cases the provision of testing and separate accommodation.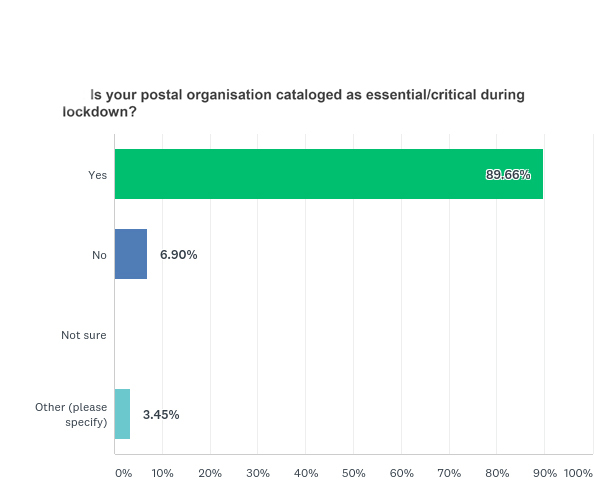 Changing demands
The reported impact of the pandemic on letter and parcel volumes was consistent in both surveys, with around 40% of responders experiencing a significant increase in parcel volumes, mostly in the B2C category. This is attributed to the lockdown restrictions reducing the options to purchase goods from retail stores and forcing consumers to go online and use e-commerce options. On the other hand, the picture on letter volumes is less clear cut.
Many reported a significant increase in letter volume reduction, over and above the downward trend already being suffered pre-Covid; 14% said their letter volume was not significantly affected; and one country said its letter volumes had actually increased. For both letters and parcels, the main flows to suffer were inward and outward international mail streams, business to business volumes and registered mail.
Adapt and innovate
Many posts have taken their enforced change of circumstance as an opportunity to innovate and launch new services to meet the different needs and circumstances resulting from Covid-19. These have included grocery deliveries, in some cases by launching a whole new division in partnership with grocery chains.
Four fifths of responders said that their management teams were working remotely, and only essential staff were required to be on-site in facilities. Over 80% had implemented crisis management procedures with coordination from a control center, with contingency plans in place. Nearly all had instituted clear communications for staff and customers with more reliance on social media and websites for news and information updates.
Costs squeeze
The predominant financial impacts reported by respondents have been negative due to the increased costs incurred by putting special measures in place for health and safety, higher than normal sickness levels and reduced income mainly from business customers. Some letter volume income has been replaced with a growth in parcel volumes, although the profit margin on these streams is much reduced.
Around 27% of responders are applying for government financial support. A third have placed some staff on paid leave. So far only a few have had to resort to more radical measures such as pay cuts or redundancies.