DHL Express has unveiled the results of its 2021 Global Connectedness Index, and reflected on the past year's events in e-commerce and the trends within the global flow of goods.
Sponsored by DHL and created by the NYU Stern School of Business, the report – now in its 10th year – collected 3.5 million data points on the impact of the pandemic on globalization by analyzing international flows of goods alongside flows of capital, information and people.
Overview
In an overview of the entire study, John Pearson, CEO of DHL Express, emphasized the role of e-commerce and the drastic changes it underwent over the examined period. He said, "E-commerce is the commerce. Five years ago, plenty of people bought something online. Last year, just about everyone bought everything online. So it really was a paradigm shift last year. The phrase that came to mind was three years of growth in three months. That's absolutely what happened around May, June, July: our e-commerce volumes took off by 30%, 40%, 50% – not weight, not revenue – volume. That started to settle down toward the end of the year. It really is a global phenomenon, not just a US, UK, Germany thing only. Any country in the world that has a great product and wants to take it to market from their garage or their small marketplace has the ability to do that and absolutely are doing that."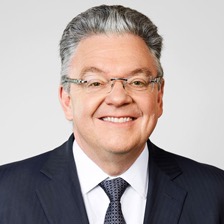 The Global Connectedness Index found that global trade in general declined very modestly in 2020 and is on track to rise in 2021. Importantly for the logistics sector, this year's report found that trade in goods surged to 5% above pre-pandemic levels by early 2021. Nonetheless, the Covid-19 'stress test' also revealed longstanding vulnerabilities that demand attention moving forward. These include the ongoing need for courier services to focus on their merchant customers, and the fact that low-income countries have lagged behind in their recovery of cross-border goods trading.
Mixed messages
Steven Altman, a senior research scholar at NYU Stern School of Business and director of the DHL Initiative on Globalization, pointed out that the international trade of goods shrank more quickly than during the Great Depression or the global financial crisis at the beginning of the pandemic. Following this and the impressive bounce-back to 5% above pre-pandemic levels, the mix of goods shipped around the world varied greatly, representing the equivalent of what would usually be observed in a five-year period. In 2021, 15% more physical goods were purchased in the US than in 2019. According to Altman, the international trade of goods is predicted to grow more quickly than GDP.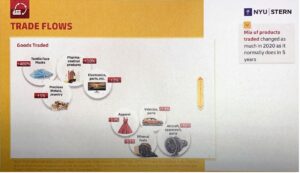 Trade in goods used to fight the pandemic soared while trade in many other products declined. Speaking to this dramatic change in the mixture of goods shipped, Pearson called attention to DHL's experience of this shift and the infrastructure needed to support it. He said, "No one knew how long it would take five or six companies to start making vaccines for this pandemic. What I can say is that a lot of people had faith in the pharmaceutical companies to make [these vaccines] but [not the logistics companies to deliver them]. I saw a cartoon in one publication which basically had the logistics company building the bridge as they were crossing the bridge. Well, that just didn't happen. The logistics companies, Deutsche Post DHL, DHL Express, UPS and many others, have done a great job in this pandemic at moving things from A to B. As I say to AstraZeneca and Fizer, 'Tell us what you want to look at us for and we'll put our hand up and say these are the bits in Express that we do well, from global forwarding to supply chain.' And that's exactly how it unfolded. We did the bits that we did well. As a group, we moved 1.5 billion doses of the vaccine. As a division, we moved 437 million at last count; that's probably a bigger number now and there wasn't one element of spoilage in that. The world of supply chains has been very capable at delivering these things to where they need to go."
Regionalization vs globalization
Contrary to expectations that the pandemic would cause a shift to more regionalized trade, trade in goods took place over longer distances, on average, in 2020. Altman referred to these fears of incoming regionalization, observing that at the beginning of the pandemic, 83% of suppliers were planning on nearshoring – to protect their supply chains from the predicted collapse of globalization. However, over the following months of 2021, goods were shipped over longer, not shorter, distances, displaying the positive role that the pandemic had on the globalization of trade and shipping. With this boom in e-commerce, the number of suppliers planning on nearshoring dropped to 23%, revealing the inclination to be largely a panic reaction.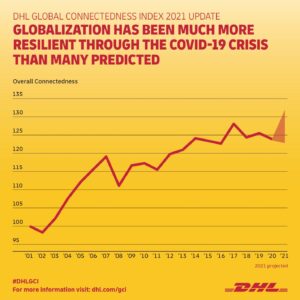 In response to this data point, Pearson said, "I anticipated that totally, because after the ash-cloud crisis – which was not a little geological weather event, it was five weeks where there wasn't one aircraft in the sky above Europe, apart from DHL, and people tend to forget about it now – not one supply chain that I know changed because those supply chains that have been in place for 20, 30, 40 years have been very resilient, very effective and based on efficiency and economics. And that's what happened after the ash-cloud crisis – they just went back to normal."
However, despite the world having a record high level of globalization, the data shows that globalization is still limited, with large untapped opportunities for countries and companies. Only 19% of exports were shipped to a country outside the one in which they were produced. Most business activity still takes place inside national borders, and the flows that do cross national borders mainly take place between neighboring countries. Prevailing trends still point to a future with large opportunities to gain from stronger links to the wider world. Altman called particular attention to the positive relationship between globalization and prosperity, as the lowest-income countries were the ones that displayed the poorest global connections.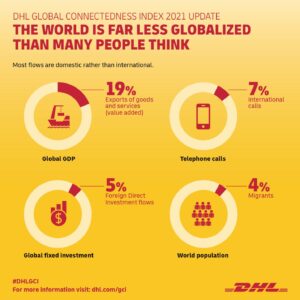 Lower-income countries
Reviewing the data, Altman pointed out that stronger links to the wider world are predicted to accelerate lower-income countries' recovery from the Covid-19 pandemic. As this report marks the 10th anniversary of the DHL Global Connectedness Index, the partners included a special report on the lessons learned from 10 years of running the study. It highlights strong links between global connectedness and prosperity, indicating how policymakers can actively affect the connectedness of their countries. The five key areas that the study pointed out were peace and security, an attractive domestic business environment, openness to international flows, regional integration and societal support. An attractive domestic business environment was found to boost a country's global connectedness even more than traditional pro-globalization policies.
In response to these findings, Pearson highlighted DHL's GoTrade initiative. He said, "One of the aspects of the report that is not in the disappointing category – it's more that we anticipated it a bit – is that poorer countries have taken longer to get out of the doldrums and get back into their stride and momentum. GoTrade is an initiative that basically helps poorer and more developing countries get to the forefront of how they can trade more successfully – how women in business can trade, how e-commerce can be a facilitator of trade in Uganda, Zambia or Rwanda, how digitalization of customs initiatives can help countries trade. This is all about how we as DP DHL, and how connecting people and improving lives, can help those countries and companies within those countries perform better. So while the report confirms something that is a little bit disappointing in poorer countries, there's a lot going on to remedy that – bringing business concepts and business ideas to a level where they can really make a difference to companies and countries. So there's a lot going on in the GoTrade category that in time I'm sure will show up in one of the data points on one of our reports."
Keeping up with the couriers
The other vulnerability that the Covid-19 'stress test' revealed was the ongoing need for courier services to focus on their merchant customers. Reflecting on this point, Pearson said, "During the pandemic, when postal organizations like DP DHL were less effective globally at moving things around because there were no passenger airlines flying, e-commerce merchants resorted to other providers to get their goods from A to B. They found that when they got there quickly, repeat orders were very high. [So now] our orientation is to help the merchant keep up with the clicks [orders online]. It's more about the merchant end of the spectrum than the consumer end. [On the consumer end] we [already] deliver nicely in a branded van and during working hours, sometimes in the evening with many delivery preferences, so the consumer is in good hands. It's the merchant that we have a lot to offer, in terms of helping them keep up with the clicks.
The final stretch
When asked about DHL's last-mile solutions and upcoming plans for the development of its infrastructure, DP DHL's director of infrastructure planning and development, Ben Hiles, stated that the company is aiming for 60% electrification by 2030, with plans to complete this sooner in the UK. He explained, "Our infrastructure plans for the next year will mainly be around electrification, and the rest will be about investing in 10 new sites. At the moment, we have electric vehicles all through the UK, in Leeds, Glasgow, London, Manchester and Birmingham. We have got 50 electric vehicles in this year, and we have put the required structure for charging into these 10 sites that are closer to the sorting center. And then as the vehicles coming in next year will need more infrastructure, we will be expanding it to another 25 or 26 sites. Each vehicle we replace, we will replace with an electric version."
In conclusion, Pearson said, "Many feared that the global crisis would jeopardize the progress of globalization. We have been analyzing the various international flows worldwide for years, and after 1.5 years of the pandemic, we can now safely assure that the pandemic has not caused globalization to collapse. After initial dips in 2020, the DHL Global Connectedness Index is already on the rise again this year. Trade has provided a lifeline for countries around the world, and DHL Express has played a key role in areas ranging from vaccine distribution to e-commerce."
Altman similarly concluded that "The resilience of global flows is good news, because a connected world offers the best prospects for a strong and sustainable recovery from the Covid-19 pandemic. When a crisis strikes, many of us naturally feel a strong impulse to hunker down behind borders. But the more extreme the challenge, the more urgent it becomes to draw upon the best ideas and resources from at home and abroad."