Eleanor Nash, chief people officer at An Post, shares how the postal operator is working to close the gap between its male and female workers across the board.
How has An Post closed the gender gap – what specific initiatives have you put in place?
Our CEO has been a driving force in promoting gender equality here at An Post. Although there were many initiatives ongoing, we started putting more focus on this with the launch of our first Gender Pay Gap Report in 2019.
In it, we publicly committed to several priority actions to address the gap. By publishing these actions in advance of any legislative requirement to do so, we wanted to inform our employees and customers of how we were going to reduce this gap and signal our intent that this was fundamental to us here at An Post.
Our actions for positive change focused on:
Creating opportunities – we have removed bias from job advertisements with the introduction of specialized software; we now monitor every recruitment process to check we are achieving our gender balance shortlist target of between 50:50 and 60:40; we track and report on all senior management recruitment processes to ensure gender-balanced candidate pools and shortlisting, and investigate exceptions.
Enabling promotion – through the provision of interviewee and interviewer training, talent management planning and review of grade-specific pathways to promotion, for example for postal operative and clerical grades.
Promoting positive change – by encouraging employees to move into project and acting roles that support their continued development; by providing financial and study leave support for employees who want to develop themselves further through education; and by constantly developing flexible work initiatives.
 How do you attract more women to work for An Post, and are there any operational areas that are more attractive to female employees?
An Post is an excellent employer offering very good pay terms with access to a range of initiatives to help our employees achieve work/life balance. We have opportunities for everyone in our mail operation: full-time work, part-time work, weekend work, delivery work or indoor work in our processing centers.
We want women to know that An Post celebrates diversity and champions inclusivity. We want females to know that they will be supported to progress within the company and will be encouraged to develop themselves in order to fulfill their career aspirations.
For women who have caregiving responsibilities in the home, An Post offers excellent flexible working arrangements and family-friendly initiatives such as part-time working, flexible hours, paid maternity, adoptive leave and flexible parental leave arrangements.
Facilitating effective remote working accommodations (where possible) since the onset of the Covid-19 pandemic has also proved very positive among our employees. We undertook a survey involving employees who are working from home and it confirmed that more than 80% of our employees are having a positive working-from-home experience, valuing the lack of commute and a better work/life balance.
We also want to support more men at An Post in availing themselves of leave to take care of their families.
Our operating hours in our delivery business may be unattractive to those who have childcare responsibilities, primarily because of the early start – some of our delivery postal operatives start work at 6:00am. This is often a deterrent to women, who frequently bear or share the responsibility for getting young children out to school in the morning. However, the women who have managed to overcome this issue and work in our delivery service units value these attendance arrangements as they enable them to collect children from school later in the day, bring them to extra-curricular activities, etc, obviating the requirement for childcare, which can be expensive or hard to access. In recent years we have seen more younger women taking up positions as delivery postal operatives. The hours are more attractive to them, they enjoy the outdoor element of the work and the fact that they are not office bound.
Our processing centers, on the other hand, have far greater numbers of women workers. The opportunity for part-time, evening or weekend work is attractive to those looking to balance life and work responsibilities.
We recruit to both areas from the same employment pool and we do see women opting to work in our processing centers in greater numbers than our delivery services units. The work is quite physical in both areas; one is predominately outdoor and the other indoor but the primary difference between them is the attendance patterns, which would seem to be a consideration for more women than men when applying for a position.
How do you plan to continue to close the gap?
In our 2020 Gender Pay Report we committed to a female talent acceleration program, which we launched in March 2021. This program is for high-potential females who want to progress into management roles, the aim being to help foster and develop our future female leaders in An Post. Our first cohort includes a number of our operational female managers across our mails and parcels business.
One of the positive outcomes of the program is the creation of a new female Networking Circle across An Post, which was instigated by our female managers in our mail and parcels business. This will create a network across An Post where they can offer advice and support and encourage other females to put themselves forward for project roles and promotions and generally be there as sounding boards for each other.
We want An Post to be seen as championing women throughout their careers and will shortly be launching an internal mentoring program to offer our people the opportunity to work with mentors for support at key stages of their careers and in their professional development. We hope this will inspire and motivate more of our people to put themselves forward.
Why is gender equality so important to An Post and how will improving it benefit operations?
It is critical for us to have balance across our business and we want to be leaders in gender equality. We are transitioning to a parcel business and we want our employees to be as diverse as our customer base. Ultimately, more females can only be a positive thing for us in shaping the future and representing our customer base more accurately. It is also well demonstrated that having a gender-balanced organization is better for business, and those companies that do this outperform their peers.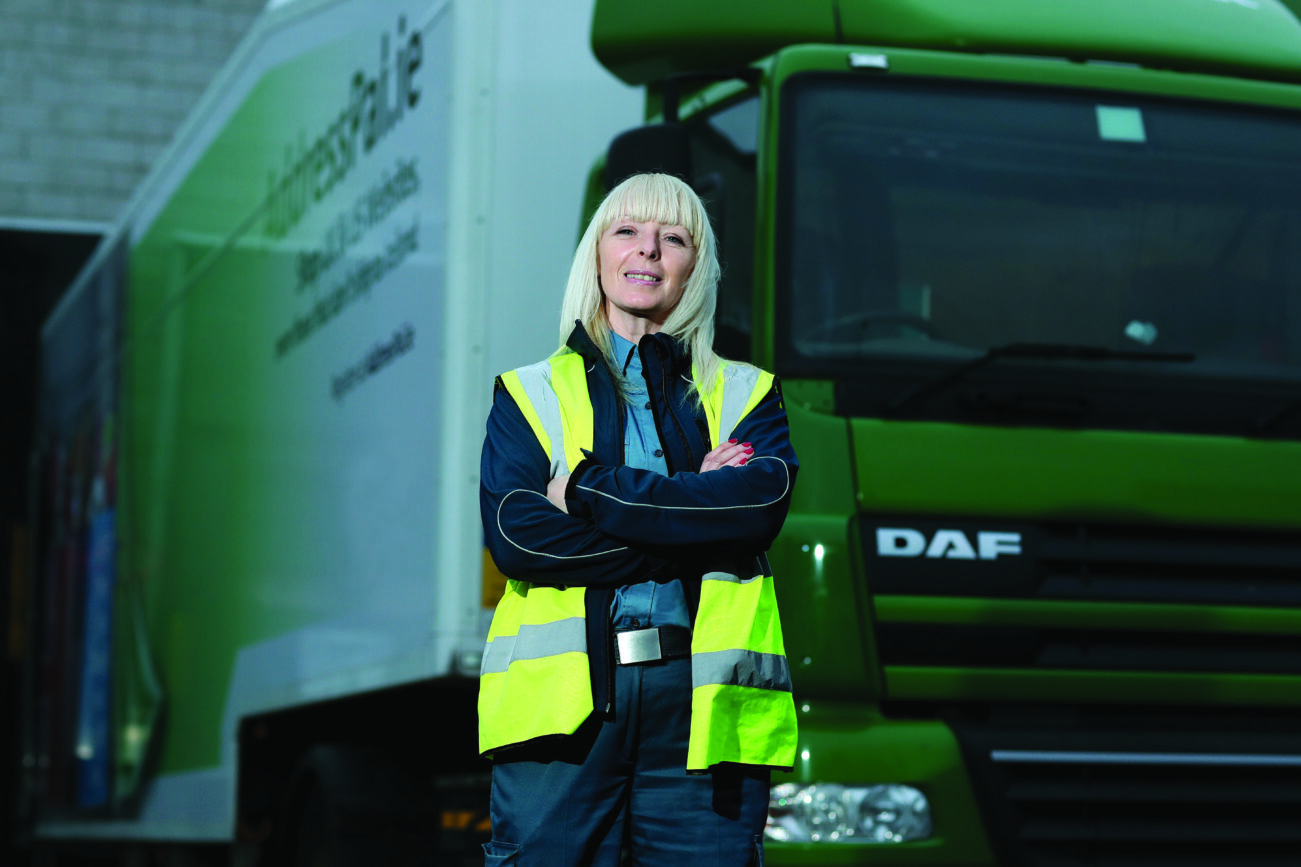 What are the challenges of increasing gender equality at An Post?
We have made great progress at a management board level, where we have a 50:50 gender balance, which prior to 2017 had been 100% male. As we move down through the organization into our senior manager teams we are improving this by ensuring our shortlists are gender balanced and, if not, questioning why not. While the best candidate will always secure the position, we want to have a gender balance in our recruitment process.
At an operational level we still have a way to go. Our commencement times can be perceived as a challenge for many working mothers who have primary responsibility for childcare; however, this is something we want to address. In our mail centers we have a far better ratio between male and female, with the availability of different shift patterns being attractive to more women.
Retail and corporate roles requiring traditional working hours have an excellent balance in terms of gender diversity. In contrast, the mails and parcels roles, which require early start times, can prove challenging for some females, and this is something we are examining. It is important that we remove barriers to application for roles as best we can. On the other hand, gender diversity within our mail centers is very good, given the availability of part-time work and different shift patterns.
Who are you working with to increase gender equality, e.g. government bodies, independent agencies, charities, etc?
We work with our group of unions on our gender diversity initiatives. An Post is a partner of the 30% Club, a voluntary international movement of companies who are committed to better gender balance at all levels of business. We also work with the Professional Women's Network Dublin and IBEC [Ireland's largest lobbying and business representative group].
What advice would you give to other posts looking to achieve more gender equality?
It is not something that you can leave to evolve; you need to take action and make it happen. I would also ensure there is commitment from all stakeholders to improve gender equality, make sure it stays on the agenda and recognize that it is vital to the organization's continuing success. As a society we have come a long way but there is still a significant journey left for everyone and we all have a role to play.
Have you taken inspiration from other sectors that have higher levels of gender equality? What lessons have been learned?
Studies in Iceland comparing the career trajectory of a woman with children to a woman without children have found that the gender pay gap is not so much about being a woman so much as it is about being a mother. Iceland introduced obligatory paternity leave in 2000 and is a world leader in this respect. By encouraging fathers in An Post to take paternity leave, parents leave and parental leave, we as a company can ensure that a family status pay gap is not perpetuated.
Where do you see the industry in 25 years? Do you think we'll have equality by then?
I honestly hope it does not take that long to achieve gender equality! I believe that with the rapid pace of change in our industry, the changes in our business brought about by Covid, the new world of work and technology, we would want to use this to our advantage and ensure there are no barriers to any female seeking employment with us and building a career here at An Post.
Read more on how posts can encourage women into a wider variety of roles in the June issue of Parcel and Postal Technology International.