Qatar Post's Sustainable Development Program 2018-2019 focuses on reducing its environmental impact in two areas – reducing carbon emissions through buildings and operational activities, and through transportation and logistics operations. The post's overall goal is to reduce carbon emissions by 60% by 2030. For the financial year 2018-19, Qatar Post is projecting a total carbon emission reduction of 12% to 3,789.163 tones
Over the past year the operator has implemented a number of green initiatives including developing a new eco-friendly headquarters and sorting facility which will open in January 2021; installing intelligent lighting solutions in its general post offices – under this initiative 80% of fluorescent lights have been replaced with more efficient LED lights; and introducing delivery bikes instead of vans for domestic delivery. For the latter, in Doha the post has replaced 30% of its van fleet with city motor bikes.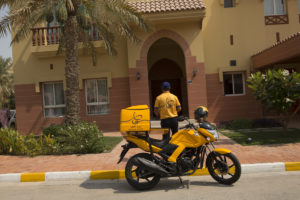 Qatar Post has also deployed a vehicle monitoring system using GPS trackers and ORTEC route optimization technology, which has resulted in a drastic reduction of petrol from 70,000 liters to 45,000 liters over the past three years.
Furthermore, the post has implemented a company-wide reduce, reuse and recycle methodology, which includes the signing of an agreement with the Elite Paper Recycling company to enable the operator to recycle paper waste effectively. In addition, 90% of the paperwork from Qatar Post's HR department has been diminished by the introduction of electronic and biometric attendance, electronic content management and Oracle self-service systems.
Qatar Post believes that sustainability can only be achieved through a collaborative approach, so when Qatar Rail launched the metro service in 2019 the post undertook an awareness campaign and as a result 30% of employees are now commuting to work through the metro. This has a significant reduction in carbon emissions by reducing the use of private vehicles.
Also shortlisted:
Austrian Post Group's letter box roll container
UPS and TerraCycle's Loop
DPD Group
An Post
Full coverage of the Parcel and Postal Technology International Awards will be featured in the January 2020 issue of Parcel and Postal Technology International magazine.