SOLYSTIC is a global leading provider for end-to-end automation of logistics process for postal, Express & Parcels, e-commerce and retail industries.
We have a strong legacy and broad capabilities in logistics process design and organization, program management, material handling, real-time image and data processing, mobile robotics, lifecycle services and digital twin data modelling.
SOLYSTIC is based in France and is a subsidiary of the American group Northrop Grumman Corporation. Headquarters are in the Paris area (15 minutes from Paris Orly international airport); in-house manufacturing site is In Rhône valley, South France area. SOLYSTIC employs around 450 well-qualified,
With its strong legacy of close to 4,000 pieces of equipment and smart IT application delivered worldwide, SOLYSTIC, since 1950s, is recognized as an industrial partner of the major postal and logistics operators in the world.
Our skills: design of bespoke tailored solutions, innovation-value, management of complex programs.
CST, our "packets" sorter, enables operators to deal with the growing flow of cross-border small parcels, generated by B2C e-commerce, and now largely handled manually.
One of the most compact and fastest machine on the market
Designed for sorting and preparation of numerous rounds of small e-commerce parcels
Manual infeed or robotic singulation and induction system
Outputs compatible with all types of containers (bins, bags and rolling cages)
Soly™Mobile robots for the container infeed and outfeed
Easy connection to existing systems (handling, address reading, IT)
Soly™ :
The Soly™ solution is based on a fleet of compact and agile mobile robots controlled, in real time, by a centralised information system. Associated with different types of trolleys, these robots respond to load transfer, sorting and order reordering needs.
These AGVs are made in France and designed on a modular principle; the level of automation can vary by adding different functions such as robotic battery replacement/charging; the use of the simulation tool SOSi™ enables the configuration to be sized and validated prior to commissioning.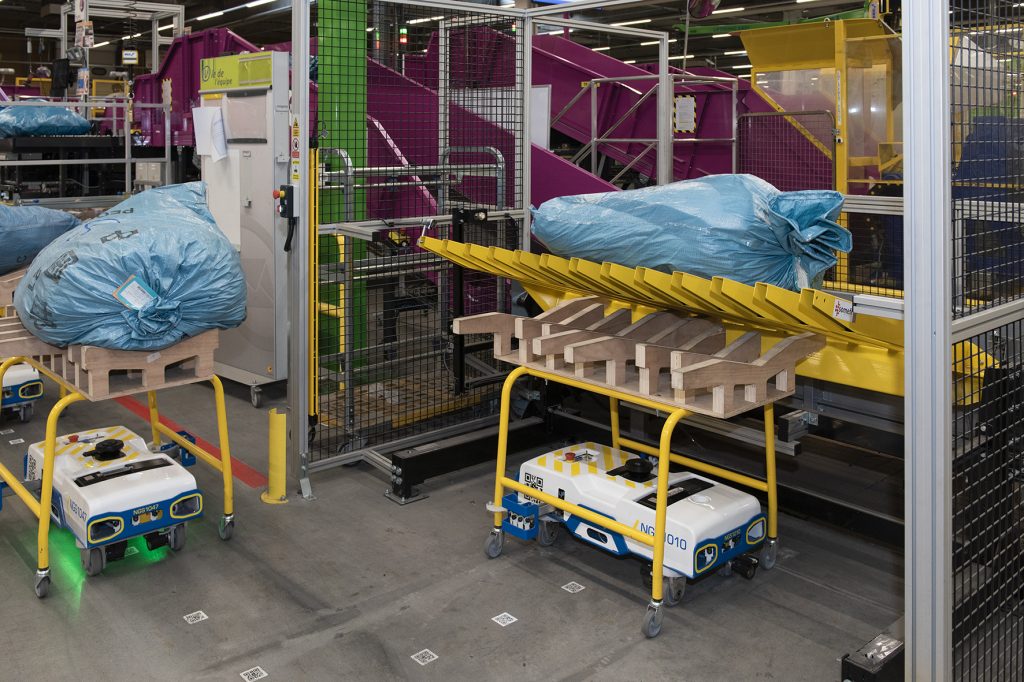 Many software applications are proposed:
ULD In/Outfeed for sorter (cf Sorting Factory),
Item transfer (non machinable /Parcels /bags /Tote handling),
Item sortation in bags, cartons and/or containers
Item / ULD sequencing (sequenced sorting process for van loading otimization).
The advantages of the Soly™ solution:
No fixed infrastructure
Flexible and scalable
Co-working with manual operations
Adjustment of the fleet according to activity peaks
Rental offer - RaaS / Robot as a service
SOLYSTIC has sold 500+ Soly™ units in Europe.
SOSi™ is the SOLYSTIC simulation tool that is used to verify the dimensioning of the solutions, to test and to integrate the various components of a system in the same way (virtually and physically) before they are put in place on the customer site.
SOLYSTIC put into practice SOSi ™ together with a rigorous methodology of continuous integration within the framework of its large projects, from pre-sales phases to the final integration on the customer's site: Using this tool, SOLYSTIC ™ can obtain the digital twins of complete systems in order to test, compare, upgrade and optimize solutions.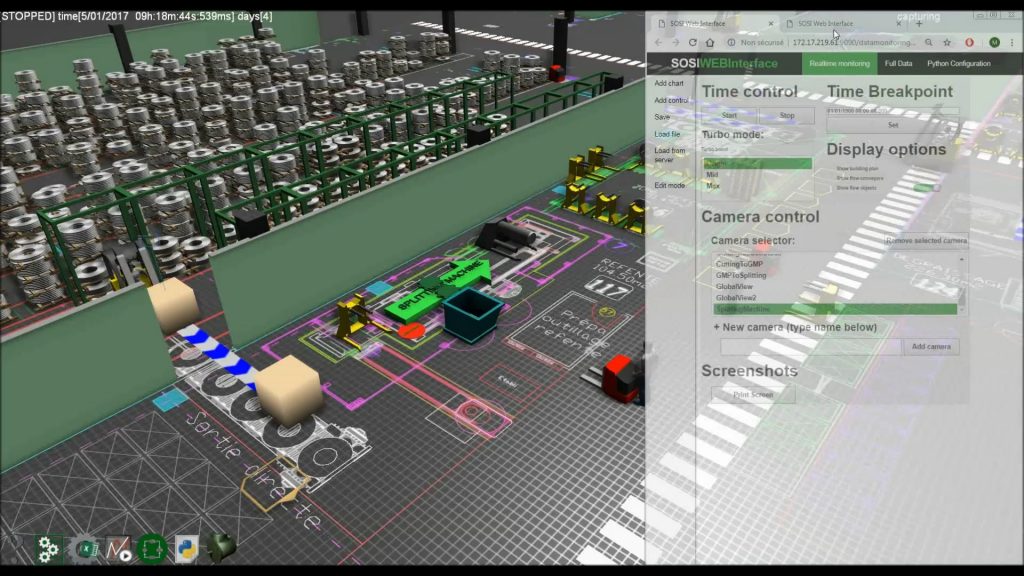 SOLYSTIC also provides "SLA" (Service Level Agreement), allowing logistic operators to outsource maintenance of their mission-critical sorting infrastructure: We guarantee the levels of availability (including recovery plan), performance and quality, improving the effectiveness and reducing the cost of ownership.
Sorting Factory: To sort growing flows of small e-commerce parcels to the finest level, SOLYSTIC designs 'sorting factories' that combine innovative technologies on a very limited footprint.
Using robotic singulation and induction to sorters, this integrated solution is also involving Soly™ mobile robots to execute a sequenced sortation process with two passes.
Supervised by in House IT system, AGVs extract, store temporarily and re-inject the packages with real time tracking while automatic buffer replace full containers by empty ones.
At the end of the second pass, the bags that make up the distribution rounds are directly loaded into trucks, avoiding a secondary sort on local distribution centres.
VIDEOS: