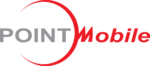 Founded in 2006, Point Mobile is one of the fastest growing handheld manufacturer enterprises in the world, focusing largely on OEM and ODM devices from 2006 to 2012. For years, Point Mobile has made mobile payment devices for companies such as Honeywell, Datalogic and even Ingenico.
Based on the increased ODM/OEM experience and expertise, Point Mobile's own brand of devices was introduced in 2013, offering a full range of handheld mobile computers, rugged smartphones, LTE/Android integrated mobile payment devices, healthcare terminals, RFID readers, and portable Bluetooth scanners. In addition, Point Mobile provides a broad portfolio of comprehensive accessories such as multi-slot cradles, vehicle chargers and holders. The latest Android and Windows operating systems and software solutions – such as EmKit – prepare customers for the future. As opposed to other, larger manufacturers, everything is done in-house, and devices are built vertically utilizing the company's own resources, which not only guarantees high product quality but gives fast turnaround time on new projects, suited to global standards.
Point Mobile is one of the leading experts in mobile business and No. 1 in the domestic market with a current market share of 30%. Strong relationships with partners such as Google, Qualcomm, SOTI and Teamviewer create a powerful foundation for successful projects.