Dirk van Lammeren, chief commercial officer (CCO) of Prime Vision, explains why automation is becoming an established method for retaining existing staff and attracting new hires in the warehouse sector 
Implementing automation in warehouse logistics always used to be about reducing costs and increasing throughput. However, labor shortages have meant many companies are adopting robots and computer vision systems to meet growing order volumes without putting extra pressure on staff. This change in warehouse infrastructure has shown that instead of automation taking jobs, the technology is crucial for improving working conditions and employee satisfaction, and overcoming staff shortages.
Problems finding and keeping the right people
Staff shortages are nothing new in logistics. A survey of warehouse executives revealed that the number of applicants they received per job fell from between six and 10 in 2013 to two to five by 2018. This issue was greatly exacerbated by the pandemic, with many workers retiring or otherwise leaving the sector. Aging populations combined with a lack of enthusiasm for warehouse work among younger generations has compounded the issue.
In the USA, a report by trade group MHI and consultancy Deloitte found that 57% of participants said that 'hiring and retaining qualified workers was the biggest supply chain challenge'. Across the Atlantic, The Chartered Institute of Logistics and Transport (CILT) in the UK surveyed its membership and discovered that 86% of companies had faced staff shortages in the past two years.
Staff retention is another big issue. Traditionally, warehouse work has been strenuous and boring. Manually moving heavy parcels for miles every day or engaging in mind-numbing repetitive processes are not conducive to job satisfaction. The result was high staff turnover. Hiring and training new replacements is a massive investment for a warehouse operation, and doubly difficult during a labor shortage.
All this is taking place in an era of continual e-commerce growth and its associated high order volumes. Attracting and retaining staff has become imperative for warehouse managers, as otherwise they simply won't have enough workers to meet demand and secure profitability. However, investing in automation is proving to be a solution. 
Robots join the team
Autonomous mobile robots (AMRs) are becoming a cornerstone of modern warehouse operations, moving parcels across facilities with the utmost efficiency. Furthermore, they are scalable, allowing greater room for expansion than static conveyors. As well as smoothing operations, robots are making a large contribution to improving warehouse working conditions.
It used to be the case that Prime Vision would need to demonstrate to customers' employees, unions and stakeholders that robots could work with staff without taking their jobs. In the past five years, perceptions have completely changed. Robots have officially become part of the team.
Robots can take on the strenuous work of moving heavy 30-40kg parcels to different areas, ensuring staff aren't subjected to undue strain. Lidar systems allow robots to identify obstacles and personnel, safely avoiding any collisions. Stop buttons on the robots themselves and small devices featuring a big red stop button on operators' wristbands offer exceptional redundancy and the ability to halt the entire system when needed. Whether segregated from staff or working in the same areas, robots actively improve safety levels and reduce the burden on staff.
Collaboration between robots and humans has been another key factor in improving the relationship with technology. There are multiple handovers in the warehouse sorting process, such as unloading items from a delivery truck. These interactions are pivotal as they take time, incur cost and introduce risk. However, by creating an environment where humans and robots can seamlessly interface, these difficult tasks can be simplified and expedited, all while reducing risk.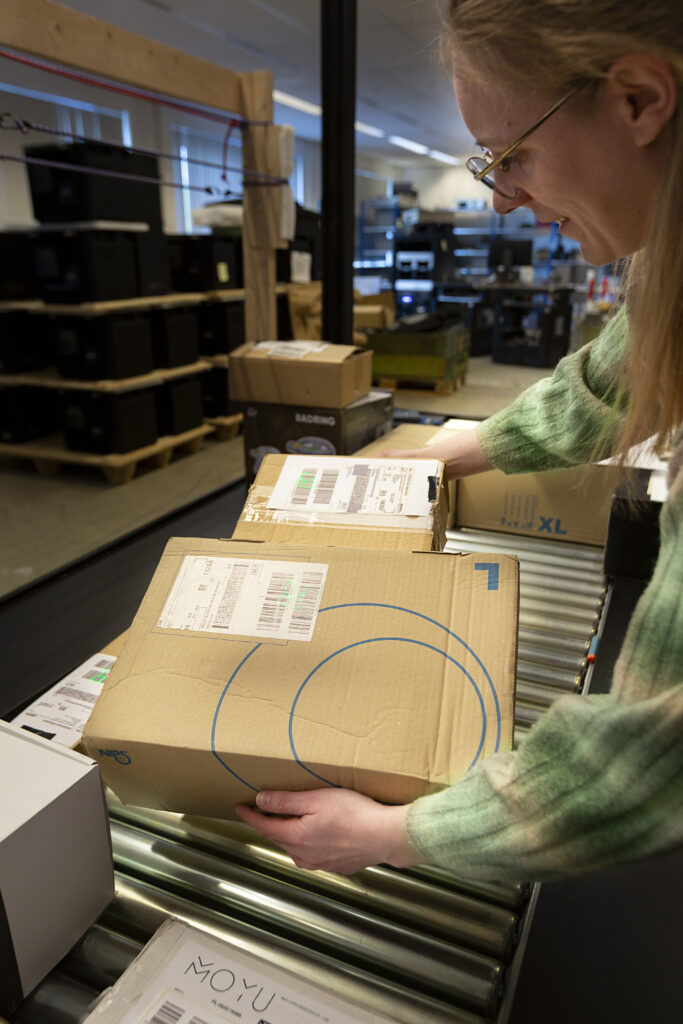 Prime Vision specializes in creating environments where humans and robots can act together. These environments are invariably influenced by customer processes, local legislation and safety. Improved efficiency and greater job satisfaction are often the result of successful implementation. To some users, robots are still scary, but with proper training comes confidence and even humanization. The staff of one of Prime Vision's American customers have given their robots name badges, while others in the Netherlands named them after the employee of the month. This shows how employees have accepted robots as part of the crew and appreciate the benefits they offer.
See it, sort it
Computer vision is also playing a crucial role in alleviating staff shortages and other challenges. A number of Prime Vision's customers admit that one of the largest challenges in logistics currently is overcoming language barriers. A lot of sorting work is conducted visually, and with multinational staff communicating in different languages, it can be difficult to train them effectively.
The Flow Projector simplifies this process by reading labels and barcodes and projecting a number onto the parcel that corresponds to an action or chute. This makes it much simpler for workers to sort parcels with minimal training. As well as being 30-40% more effective than existing processes, the system improves working conditions.
Reading or scanning labels is mind-numbing, manual work that can be eliminated by the Flow Projector. Furthermore, the system can remove the need for problematic glasses or sweaty hand scanners. This is important to employees. One customer reported that people clock in early to ensure they work at a chute where the Flow Projector is operational. There is satisfaction in doing a job well, and this system incentivizes and motivates staff in what would traditionally be an unengaging process.
Beyond the hard factors
Automation has the proven potential to improve the hard factors that help meet growing demand: efficiency, throughput and profitability. However, in the context of labor shortages, automation is also enhancing soft factors such as employee satisfaction, staff retention and working conditions.
Prime Vision's robots and computer vision solutions are not about replacing warehouse workers. Rather, they are designed to move laborious, boring jobs to machines so that people can focus on more engaging tasks. Where machines and humans interface, work is simplified and safety improved.
Would a person rather work in an old warehouse relying on manual labor, or a modern facility featuring advanced technology and helpful robots?
A new narrative of automation in the workplace
Moving past the trope of achieving more with the same human resources, automation is making warehouse work more fulfilling and meaningful and better rewarded. Ultimately, this makes it attractive to people, either keeping them in the industry or helping to recruit them for a logistics role.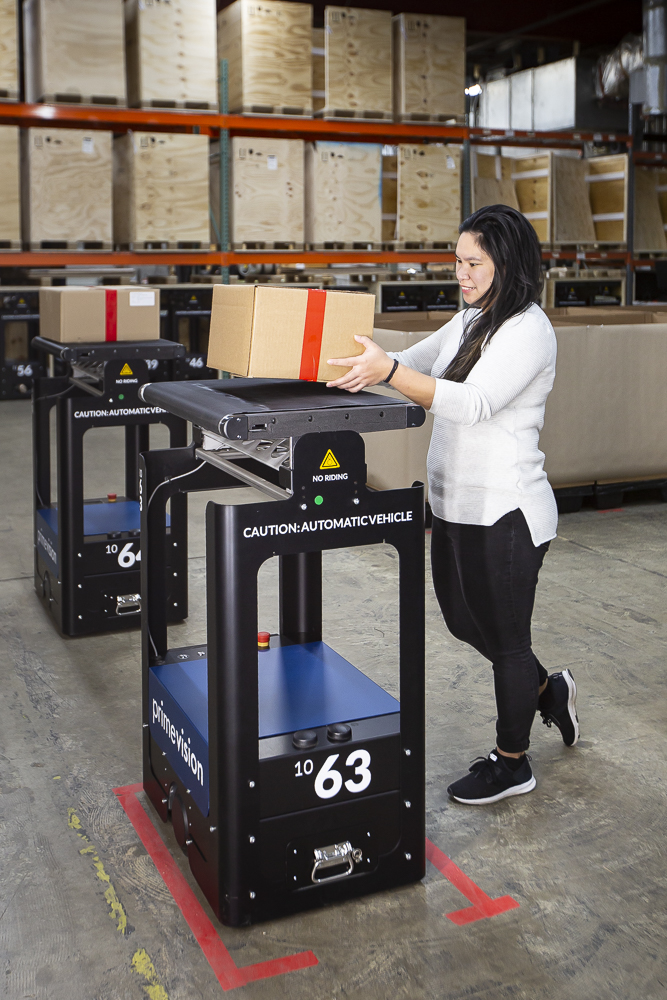 From a narrative where automation would cost people their livelihoods, the real story is how automation is providing people with new opportunities. Technical, supervisory or managerial roles that would have been inaccessible in a traditional warehouse are now more readily available. People are needed to supervise and service warehouse automation systems and these are far more safe, skilled and fulfilling jobs than moving heavy items from A to B. 
Existing warehouse employees are beginning to show this change in attitude. A global study recently found that 60% of warehouse workers thought that the adoption of new technology is a change for the good. More than improving efficiency and meeting higher volumes with fewer resources, automation is revolutionizing warehouse work to the point where fulfillment goes beyond the orders.
For more on automation, please click here.